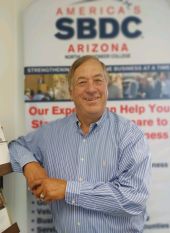 Recently, Arizona's Small Business Development Center (AZSBDC) presented Northland Pioneer College (NPC), Small Business Development Center Director Rich Chanick, with the agency's esteemed "Spirit of Excellence" award, the first of its kind. He accepted the honor during AZSBDC's annual statewide awards ceremony held virtually on Monday, September 20, 2021. Arizona's SBDC network consists of 12 centers in 23 locations throughout the state. All AZSBDC staff are eligible for nomination.
The award criteria consisted of going beyond what is expected or required; demonstrating care and a kind, positive, can-do attitude; acting professionally with clients and co-workers; looking out for the AZSBDC network and treating others within it like family; taking pride in the success of small business clients, and pioneering methods and processes to improve AZSBDC's efficiency and effectiveness. The criteria further stipulated that the awardee must be deeply committed to improving the communities they serve and be generous in spending their time helping others within the AZSBDC network improve and achieve their goals.
AZSBDC's selection committee notes, "Rich promotes everything good about the SBDC, our network, and the communities we serve. He is at the forefront of putting his client's needs first and advocating for small businesses. He goes above and beyond in promoting a culture of community, partnership, and resiliency. His efforts with the 'Shop Local' campaign in partnership with the local chambers and his work with the Governor's office for the 'Back to Work Grant' are just two examples of his exemplary leadership and commitment." The committee continues, "his work and ethics are an asset to NPC and the SBDC network. It was not an easy call when it came to determining the inaugural winner of the 'Spirit of Excellence' award. There was no second-place winner." The committee concludes, "Rich exemplifies what we should strive to be as community partners, leaders and stewards for small business in Arizona."
On receiving the award, Chanick states that he cannot take sole credit for the accolade and what it represents. "I was deeply honored to receive the Spirit of Excellence award on behalf of my team. Leaders are not honored if they have bad teams, and I have a great one," he explains.
Chanick has been employed with NPC since 2012. He is a graduate of the Air Force Academy, where he served as a former fighter pilot. Upon his retirement from the military, Chanick moved into the business world and founded, built, and sold three successful companies before residing in the White Mountains. He has spent the past eight years with the SBDC helping small businesses in Navajo and Apache counties with all aspects of their business.
For more information on NPC's SBDC, visit www.npc.edu/sbdc. The center offers individual guidance and help with educational programs and resources to assist prospective entrepreneurs and existing business owners be successful. Call (928) 532-6706 or email richard.chanick@npc.edu to set up a one-on-one appointment with him or a member of his team.