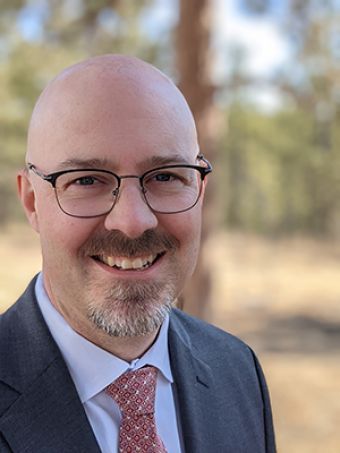 You are encouraged to meet and have a casual conversation with Northland Pioneer College's (NPC's), new president Dr. Chato Hazelbaker, over coffee and treats at two upcoming community events. NPC's Show Low campus will host a meet-n-greet event Tuesday morning October 12 from 8:00 a.m. to 9:00 a.m. outdoors, on the Aspen Center's lawn. A second opportunity to meet and converse with Dr. Hazelbaker will be held at the same time, Wednesday morning October 20th at NPC's Snowflake campus in the Performing Arts Center's veranda.

These events will offer everyone an informal opportunity to meet with Dr. Hazelbaker, who took the reins as NPC's ninth president this past July. "I'm excited to hear from you," he says. "I want to get to know our community members, local business leaders, current and past NPC students and potential students. I encourage you to share your ideas for helping NPC advance it's mission of providing educational excellence, that is affordable and accessible for the communities we serve," explains Dr. Hazelbaker.

Dr. Hazelbaker comes to NPC with a wealth of experience working with and for community colleges. Prior to landing at NPC, he served as Vice President of Enrollment Management and Marketing at Carroll College in Helena Montana. He also held the previous Chief Communications Officer position at Clark College in Vancouver, WA and earned is Doctor of Education in Organization Development from the University of St. Thomas in Saint Paul, MN. In addition, Dr. Hazelbaker holds a Master of Arts in Leadership from Crown College in St. Bonifacius, MN, and a Bachelor of Arts in English from Rocky Mountain College in Billings, MT.

NPC's presidential meet-n-greet events are free and open to everyone. The Show Low event is brought to you by the City of Show Low, Show Low Chamber of Commerce, NPC's Small Business Development Center, and NPC Friends and Family, Inc. The Snowflake meet-n-greet is being sponsored by the Snowflake Chamber of Commerce, NPC's Small Business Development Center and NPC Friends and Family, Inc. For more information please contact NPC's Small Business Development Center Director Rich Chanick, at 928-532-6706 or email him at richard.chanick@npc.edu.