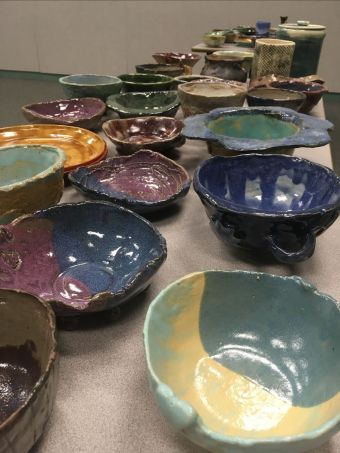 Food insecurity is a very real concern for many in the White Mountain region. One in four households in Navajo County and one in three households in Apache County do not know where their next meal will come from. That's nearly 40,000 White Mountain area residents. Arizona is tied at fifth in the nation for overall food insecurity.
Over the past five years, Northland Pioneer College's (NPC's) Visual Arts Department has responded to the local need by hosting an annual Empty Bowls fundraising event. The event raised over $5,000 for the Love Kitchen in Pinetop between 2015 and 2019. In recent years, due to the COVID pandemic and restrictions on large group gatherings, NPC has taken a break from the event. However, while the event remains on pause, this year the college is inviting the community to participate in a different way.
Magda Gluszek, NPC art faculty and director of the Talon Gallery explains, "Over the past several years, I have accumulated a number of community-made and donated bowls, as well as several additional ceramic donated items and class demo pieces." As such, NPC's Visual Arts Department will be holding a community "Empty Bowl Sale," September 20 through October 8, 2021 at the Talon Gallery located on NPC's Show Low campus. Gluszek says, "I have displayed everything… and am inviting everyone to come visit and shop!" All proceeds go to the Love Kitchen to aid in the fight against hunger in our communities.
The bowls will be sold for $10 each (unless otherwise marked). All sales will be cash only. The Talon Gallery is open Monday through Thursday, 7:30 a.m. to 7:30 p.m. and Friday's from 7:30 a.m. to 4:00 p.m. The college requests that gallery occupancy be limited to no more than ten people at a time and that individuals follow NPC's current COVID-19 guidelines while visiting the gallery.
For more information about NPC's 2021 Empty Bowls sale please contact Gluszek at 532-6176, email magda.gluszek@npc.edu.