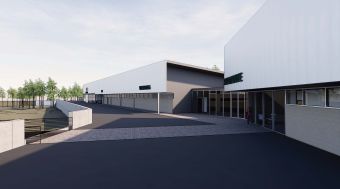 Northland Pioneer College's (NPC's), District Governing Board members, the college's new President Dr. Chato Hazelbaker, and NPC administration and staff, joined Navajo County government and City of Show Low officials early Tuesday morning August 17 to officially break ground on the college's newest development, a 28,820 square foot skills center at the Show Low Campus.
The new skills center project will include a football field sized building located in the wooded area off 8th Avenue and W. Whipple St. It is the first in a series of expansion and improvement projects planned for NPC as part of the college's master facilities plan. The new building will house the following instructional programs: energy and industrial technology (EIT), welding, and automotive. The building will also house the maintenance department.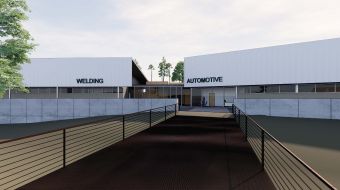 "This building is going to be a showcase for the city, bring new students and visitors, and will turn out great future employees throughout the White Mountains," NPC President Dr. Chato Hazelbaker remarked. "As a college, two of our strategic goals are to improve student enrollment and to improve student success, this building will help us achieve both. This space will not only be equipped to provide the best educational opportunities, it will also be an attractive learning environment," Hazelbaker explained. "There are thoughtful elements to the design of this building that will be very positive for students. And when our students succeed, the community succeeds," he continues. "The technical fields housed in this building teach important job skills, they pay well, and are important to the community."
NPC's Director of Facilities and Transportation, David Huish emphases, "The value of the building will not just be in the building materials and the cost of labor, the true value of this building will be the learning that will go on in the inside. This building will provide opportunities for freedom of choice because when a person has learned valuable skills it gives them the freedom to choose what they want to do with their lives, where they will go, how they will provide for their family and how they will improve their lives," he explains. "The value isn't in the brick and mortar of the building; the value is in the students who will leave this building having accomplished their goals."
The project is expected to be completed by Fall 2022. Commercial contractor TSG Constructors LLC, out of Phoenix will start construction soon. Design and architectural plans were provided by SPS+ Architects out of Scottsdale.
Northland Pioneer College serves the residents of Navajo and Apache counties through four regional campuses and five centers with a variety of educational options for academic, career and technical and personal enrichment. NPC supports each student's educational goals through affordable tuition, small class sizes and caring, professional instructors. For more information about NPC programs and services, call (800) 266-7845.
Pictured from left to right: Navajo County Supervisor Daryl Seymore, NPC President Dr. Chato Hazelbaker, Show Low City Councilman Mike Allsop, NPC Board Member Derrick Leslie, NPC Board Member Everett Robinson, NPC Board Member Frank Lucero, City of Show Low City Manager Ed Muder, NPC Board Member Kristine Laughter, NPC Board Member Elias Jouen, Show Low Planning and Zoning Director Justen Tregaskes, Show Low City Councilman Brent Hatch, City of Show Low Mayor John Leech Jr.