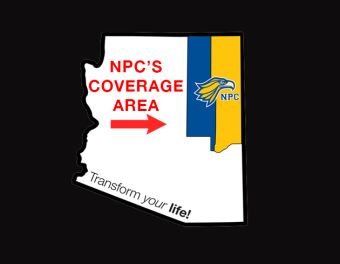 Imagine a cause, to which you are very dedicated, that is fraught with ongoing problems to be solved. Then imagine someone calling out of the blue and offering a wonderful, incredibly generous gift to help solve some of those problems. That is exactly what happened in late spring of 2021, when a retired couple who would like to remain anonymous, got in touch with Betsyann Wilson, executive director of NPC Friends and Family, the nonprofit organization which raises funds for NPC student scholarships.
The couple wanted to explore how they could help NPC's Native American students earn college certificates and degrees.
They had learned about NPC Friends and Family through their estate-planning attorney. Having moved to north-central Arizona five years ago from southern California, they had never even heard of NPC at the time.
They visited the college and learned that NPC is a unique institution in that it serves an area of over 21,000 square miles – roughly the size of West Virginia – through nine different campuses and centers, and a sophisticated distance learning network. There is no central campus. There is no student housing. Most of NPC's students are working adults who must juggle the responsibilities of employment and caring for children and elders, with their studies.
The pair came away from their visit to the college having learned a lot about the rural college, the likes of which they had never encountered. They recognized that NPC students, especially those who reside on tribal lands, are challenged by the constraints of time, poverty, and many are the first in their families ever to attempt a college education. They become keenly aware that one of the greatest barriers NPC students face is distance.  Even with the college's state-of-the-art distance learning technology, getting from home to classes can be overwhelming. This is especially critical if the student wants to learn construction technology, nursing, welding, or any of the many skill areas that require hands-on, face-to-face learning.
Rather than being daunted, they were even more resolved to help. The result was an initial endowment of $100,000 which will fund the AndyVon Transportation Grant for Native American Students at NPC.  This incredible gift will provide $1,000 to each student who qualifies this semester, so that they can gain access to degrees and certificates that will help them transform their lives.
"There is great good in this world," emphasizes Wilson. "There are people out there like this pair of angels, who literally materialize to help solve seemingly insurmountable problems, just because they care, and they can. It is something quite like a miracle. Imagine a world full of angels like this, who care, and who can, and who DO," she says.
Information on how to apply for these funds can be found at https://www.npc.edu/scholarships/andyvon-transportation-grant-native-american-students. This site includes the required application form, which is a fillable pdf document. All applications must be submitted electronically. All qualified applicants will be awarded on a first-come, first-served basis, so apply today! For specific questions, please contact Betsy Wilson at betsy.wilson@npc.edu or 928-536-6245.