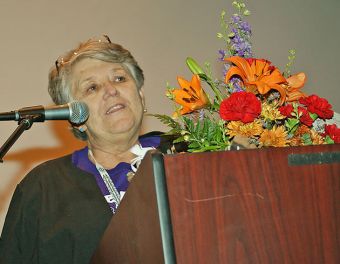 In 2016, Claude Millet Endfield retired from Northland Pioneer College (NPC), having spent over forty years of her life there. She began as a student, and was part of the very first NPC graduating class, receiving her associate degree in 1975. Endfield continued her education, focusing on Early Childhood Education (ECD). Claude returned to NPC as a faculty member in the ECD program, and retired as the program chair. All her children attended NPC, and have gone on to get advanced degrees
Because of her love for the college, and passion for the field of Early Childhood, Endfield asked for a unique retirement gift. She wanted a scholarship that would assist NPC students in earning their degrees in Early Childhood Education. At her retirement party, the scholarship received over $15,000 in donations. Since then, the fund has grown continuously, thanks to the ongoing support of Endfield's friends and family. Now an endowment, it is worth more than $80,000.
This month, additional generous gifts were provided by the Horne Foundation; Dr. Junlei Li, Saul Zaentz Senior Lecturer in Early Childhood Education and Co-Chair of the Human Development and Education program at the Harvard Graduate School of Education; and the Turrell Fund, founded in 1935 by Herbert and Margaret Turrell, to assist organizations that help youth with special emphasis on the needy youngster. This groundswell of added support has allowed NPC Friends and Family to offer three more scholarships, worth $1,000 each, for the 2021-22 academic year, to students in NPC's Early Childhood Development program
All information on how to apply for these funds can be found at https://www.npc.edu/scholarships/claude-millet-endfield-early-childhood-development-scholarship. This site includes required forms, and tips on writing a scholarship essay. All applications must be submitted electronically. The deadline is Monday, August 30, 2021 at 12:00 noon, MST.
Students who are new to the scholarship process, or who would like assistance with writing their essays are encouraged to attend a FREE workshop on Wednesday, September 1 from 5:00 p.m. to 5:50 p.m. Contact NPC Friends and Family Executive Director Betsyann Wilson at betsy.wilson@npc.edu for the link. Wilson has made it a priority to assist any student with learning to seek and apply for scholarships. She welcomes students' questions.
Since Fall 2014, NPC Friends and Family has awarded over 350 scholarships to NPC students, making a tremendous difference in their pursuit of a post-secondary education. Over 95% of awardees have either completed an NPC degree or certificate program, or are still enrolled at the college. To learn more about NPC Friends and Family, and how you can help to transform a student's life, contact Betsyann Wilson at 928-536-6245 or betsy.wilson@npc.edu. You can also make a tax-deductible donation at www.npcfriendsfamily.org