Like many restaurateurs, 2020 was a long and difficult year of being shut down, then open for takeout only.  Friends Chris Corbin and Matt McGowen, who own the popular eatery and gathering place, The House restaurant in Show Low, wanted to give back to the communities that supported them through the darkest days of the pandemic.
Dedicated champions of education, they gave $6,000 to NPC Friends and Family to fund a brand-new scholarship for 2021. NPC On The House scholarship will award $2,000 each academic year to one new graduate from Snowflake, Blue Ridge and Show Low High Schools.
This year's winner from Blue Ridge High School is Christian Cabrera, who will study computer information systems. Christian was enthusiastically recommended for the scholarship, due not only to his excellent grades, but also for his prowess with technology, particularly robotics. He has competed as both a member of a three-person team, and as an individual, in designing robots. As an individual, he won the judge's pick for most unique design in a VEX Robotics competition. VEX Robotics is a robotics program for elementary through university students. Christian has also already earned 18 credits toward his associate degree.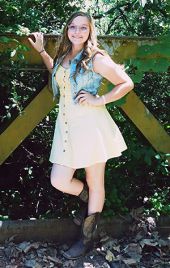 Lila Taylor, the awardee from Snowflake High School, has worked since the age of 14 to save money for college. She aspires to become a nurse. Not only highly recommended for her academic ability, Taylor has also been very active in the National Honor Society, 4-H and FFA. That's an impressive balancing act for a student who earned excellent grades in both high school and college courses before she graduated from high school! In addition to the NPC On The House Scholarship, Lila also won NPC Friends and Family's inaugural Arvin Palmer, Ph.D., Memorial Scholarship, which will provide her an additional $500 each semester to help her reach her goals. Dr. Palmer a former NPC Vice President, was instrumental in the founding of the college.
Show Low High School is well represented by graduate and awardee Audrey King. She aspires to become an elementary school teacher. King will earn her Associate of Arts in Elementary Education from NPC, then pursue her bachelor's degree at the University of Arizona in Tucson. King was inspired to follow this career path by her mom, who ran a pre-school and daycare while she was growing up.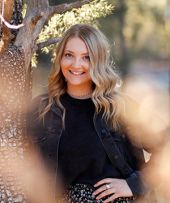 When King was twelve, she began babysitting, and became a volunteer junior leader with the City of Show Low Summer Play Days program. During her senior year of high school, she got an internship with Whipple Ranch Elementary School to work in a kindergarten classroom, and as she put it, "I fell in love with the classroom environment!
All three of these very worthy scholars will be honored at an awards presentation in August at The House restaurant. While this will present a great opportunity to recognize each of them, and to applaud their accomplishments, it will also be a nice send-off for them as they embark on their college careers at NPC for the Fall 2021 semester! Students like these, who show such enthusiasm, dedication, and promise, and thanks to friends like Chris Corbin and Matt McGowan, who so tangibly demonstrate their belief in them by providing this terrific scholarship, are truly what community is all about.