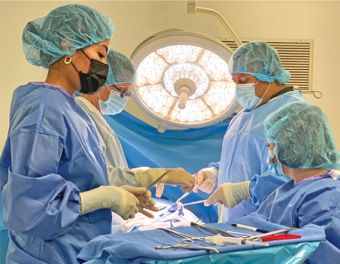 Northland Pioneer College is only one of five community colleges in Arizona that offers a degree program in Surgical Technology, providing one of the more comprehensive degree programs in the state. The curriculum prepares individuals to assist in the care of surgical patients as a member of the surgical team in the operating room.
Students apply theoretical knowledge to the care of patients undergoing surgery and develop the skills necessary to prepare supplies, equipment, and instruments, as well as maintain aseptic conditions, preparing patients for surgery, and assisting surgeons during operations. The demand for employment in the field is extremely high and comes with a very promising salary – a nice silver lining. Employment opportunities include working in settings such as hospitals, inpatient/outpatient surgical centers, labor/delivery/emergency/trauma departments, dialysis units/facilities, and physicians' offices.
"Those who love medicine and go on to complete the program will come out with near instantaneous job opportunities," says Mardi St. Michel, NPC's Surgical Technology educator. St. Michel's many years of teaching surgical technologists or 'operating room technicians,' has allowed her to prepare students for this rewarding and enjoyable profession. "Serving alongside physicians, surgeons, registered nurses and other health care workers, preparing patients for surgery and assisting surgeons during operations while conducting immediate post-operative care, creates a high demand for certified surgery technologists who have a heart for helping others," she explains.
The crucial role of a surgical tech requires students to think critically and manage surgical supplies, equipment and surgical setups unique to each surgical procedure. Instructor St. Michel notes, "to qualify for NPC's Surgical Technology program students must complete 22 hours of prerequisite classes and pass the HESI placement test (Health Education Systems Inc. test) to receive professional licensure."
Robby Titla and Camra Solomon are two of the outstanding NPC students who recently graduated from the program this past December. "I look forward to working in the White Mountain community helping others," Solomon shared, "I have always wanted to work in the medical field – probably since I was about five years old. I dealt with some serious health issues as a young child. Working with the doctors and nurses and seeing their kindness and generosity inspired me to follow a medical career path. After I saw a flyer promoting NPC's surgery tech courses, my dad who was an EMT, encouraged me to pursue my passion for helping others and become a surgical tech in an operating room setting."
Fellow graduate, Robby Titla of Whiteriver, a former coach and heavy machinery operator, did not know much about the surgery tech curriculum at first. He explains, "The NPC program has small class sizes and personalized one-on-one instruction which helped me through the rigorous study requirements both with book and hands-on practice. The knowledgeable instructors install confidence in you for all facets of surgery and the 'real life' operating room learning environment prepares you for a variety of surgery situations. I am looking forward to working in a trauma center now. My wife is a registered nurse, so medicine and helping others definitely runs in our family. "You've got to have a heart for taking care of people. It's the real reason you get into healthcare, because you care about helping people," said Titla
The Surgical Technologist program runs four semesters and requires students to participate in lectures and labs in the NPC classroom. During their final semester, students participate in clinical training at one of the area's four medical centers: Summit Healthcare Regional Medical Center in Show Low, Little Colorado Medical Center in Winslow, Sunrise Ambulatory Surgical Center in Lakeside or Flagstaff Medical Center.  NPC grads are well positioned for immediate employment earning an Associate of Applied Science degree in Surgical Technology. The degree requires completion of 68 total credit hours including the core requirement of seven classes and hands-on practicums providing students with valuable experience in implementing the skills they have learned while studying more than 100 real-life surgical cases
NPC's tuition is currently the lowest in the state enabling surgical technologist graduates to begin their careers with little to no college debt. If you have a passion for helping others and are interested in this exciting and rewarding field, visit www.npc.edu/surgical-technology or call (800) 266-7845 to speak to an NPC academic adviser to get started.