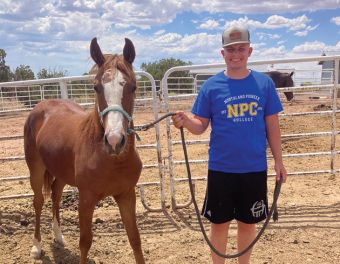 Northland Pioneer College (NPC) Friends and Family is proud to announce the first student to win the Taking Flight Scholarship in Memory of Dr. Eric B. Henderson. The scholarship was established in spring 2020 to honor Dr. Henderson, who dedicated over twenty years to NPC, both as a faculty member and administrator. What began as a way for friends and loved ones to make memorial donations in recognition of Eric's devotion to higher education, grew into an endowed scholarship fund worth over $56,000.
Dr. Henderson's family, which includes NPC mathematics professor, Xander Henderson, wanted to help students go beyond community college, in pursuit of advanced degrees. NPC Friends and Family Executive Director, Betsyann Wilson, was delighted by this decision. "We are so grateful to Eric's family that they chose to provide this very unique scholarship," notes Wilson. "We have nothing else like it. We have a number of great scholarships that help students who are enrolled at NPC, but before the Taking Flight, nothing to assist those who want to continue their education."                                                
The Henderson Family was particularly concerned about the needs of students who must move away from the area to attend a university. Applicants for the Taking Flight scholarship must be accepted to a residential, rather than an online, baccalaureate program. Wisely, the Henderson Family also sought to get applicants to reflect on their future educational goals by asking them to include in their applications, not only a detailed description of their degree plans, but an essay addressing this: "Describe a major challenge that you have faced in your life and how you overcame it (or are working to overcome it). Describe the challenges that you anticipate over the next five years as you leave home, complete your bachelor's degree, and go on from there to further studies or a career.  How will your past experiences help you to overcome these new challenges?"
The inaugural Taking Flight scholar is Trace Hancock of Taylor. Hancock graduated from NPC in May with an Associate of Science degree, knowing in January 2021 that he had been accepted into the University of Arizona's (UofA's), College of Agriculture and Life Sciences as a Veterinary Science major. In his scholarship essay, Hancock described the experience of being a teenage missionary in Mozambique, far away from home for the first time, and barely able to speak or understand the official language - Portuguese.  Through sheer determination, and by "forcing myself to use it at any opportunity," Hancock passed as a native speaker within a year. He will begin classes at the UofA in Tucson in Fall 2021, with the career goal of becoming a veterinarian and of one day owning his own practice. Hancock reflected on the many facets of this challenge, from balancing his studies with employment and family, to learning how to successfully run a veterinary practice. Clearly his eyes are wide-open to the future, and he is well-prepared to reach his goals.
In a serendipitous twist, Hancock's grandfather, Dr. Arvin Palmer, also dedicated many years of his life to NPC. Dr. Palmer was among the grassroots group that began efforts to found the college in the late 1960s. Like Dr. Henderson, he also taught at NPC for many years, and retired as a vice-president. Dr. Palmer passed away in fall 2020, and his legacy also lives on through a scholarship that benefits graduates of Snowflake High School. All of Dr. Palmer's children attended NPC, including Hancock's mom, Jeanette, who serves as assistant to the facilities coordinator at the Silver Creek Campus in Snowflake.
Throughout their careers, Dr. Eric Henderson and Dr. Arvin Palmer helped an untold number of NPC students to transform their lives through education. How fitting it is that the family of one of those students is now helping the families of other NPC students to further this beautiful tradition; thus, carrying out the legacy of both of these champions for education far into the future?
Since fall 2014, NPC Friends and Family has awarded over 350 scholarships to NPC students, making a tremendous difference in their pursuit of a post-secondary education. Over 95% of awardees have either completed an NPC degree or certificate program, or are still enrolled at the college. To learn more about NPC Friends and Family, and how you can help to transform a student's life, contact Betsyann Wilson at 928-536-6245 or betsy.wilson@npc.edu. You can also make a tax-deductible donation at www.npcfriendsfamily.org.