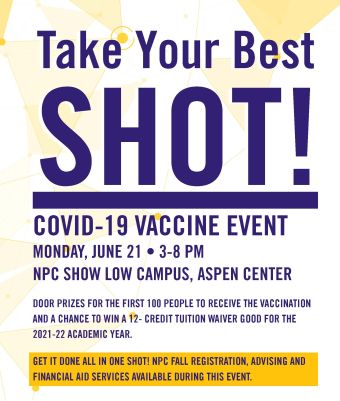 Northland Pioneer College will kick off fall '21 registration with a free COVID-19 vaccine clinic and social event Monday, June 21, from 3 p.m. to 8 p.m. at the Aspen building on the Show Low campus.
This is a free event and open to the public. There will be giveaways, fun activities, and a live radio remote. Interactive booths and demonstrations will spotlight NPC programs and highlight student activities. NPC representatives will be on hand to provide and assist with registration and to answer questions about NPC programs, scholarships, financial aid, and more. The first 100 individuals to "take their best shot" at the clinic will take home NPC swag bags and all vaccine recipients will be entered for a chance to win a free 12-credit tuition waiver at NPC, good for the 21-22 academic year - a value of $984.
"This is a fun event offering the public a chance to learn more about the college," explains Rebecca Hunt, an NPC recruitment specialist. "You'll be able to meet with instructors and students in many study areas, visit the beautiful Show Low campus and learn more about our partnerships with area high schools, businesses and all that we offer at NPC."
"Student organization and club leaders will also be on hand, showcasing the many opportunities NPC students have for cultural and social enrichment and exploring the exciting learning environment in our area," adds Ryan Orr, an early college advisor and student government advisor for NPC.
Indian Health Services (IHS) is partnering with NPC to administer the Pfizer 1st and 2nd doses (for those 12-years and older), or the single dose Johnson & Johnson (for those 18-years and older) free of charge during the event. IHS has vaccinated almost 15,000 individuals off reservation lands through similar events. For those who receive their first dose of the Pfizer, a second vaccine event will be held July 12 at the same time and NPC location. The public is invited to receive the Pfizer and the Johnson and Johnson vaccines during the July event as well – those receiving a first dose at that time will be scheduled to receive a follow up through IHS.
Minors receiving the vaccine must be accompanied by a parent or guardian and all participants will need to bring a photo ID and health insurance documentation (insurance not required). Those who receive the vaccine can expect to wait 30 minutes for observation after vaccination. You should not get vaccinated during this event if you have a history of allergic reactions to vaccines; cannot return in the 21 days for the second dose of the Pfizer vaccine; are not age eligible; have tested positive for COVID-19 in the previous 21 days or are under quarantine; if you have already received the Moderna vaccine; or if you have received monoclonal antibodies or convalescent plasma as part of COVID-19 treatment.
Additional information about this and NPC's July 12 vaccine event can be found at http://www.npc.edu/shot-clinic. Direct questions to 928-338-3683. NPC's Show Low campus is located at 1001 W. Deuce of Clubs, Show Low, AZ across from Show Low park.
Northland Pioneer College serves the residents of Navajo and Apache counties through four regional campuses and five centers with a variety of educational options for academic, career and technical and personal enrichment. NPC supports each student's educational goals through affordable tuition, small class sizes and caring, professional instructors. For more information about NPC programs and services, visit www.npc.edu or call (800) 266-7845.