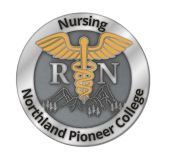 Northland Pioneer College (NPC) would like to introduce and congratulate NPC's 2020-21 nursing program completers from the White Mountain and Winslow campuses. These students have worked extra hard during the COVID-19 pandemic to maintain their work, family, school, and clinical schedules to become the area's next generation of nurses.
A virtual pinning ceremony honoring NPC's class of 2020-21 nursing completers was held Wednesday evening, May 12, for those from the Show Low campus and another, on Saturday, May 15, for those graduating from the Winslow campus. Hundreds of live online attendees comprised of family, friends, and NPC faculty, staff, and administrators congratulated and made an emotional sendoff to 41 NPC nursing graduates.
In addition to their coursework, and while navigating busy schedules, the class of 2021 came together to design their new pin for NPC's College of Nursing, which now will be passed on to future generations of nursing students as the tradition of NPC nurse pinning's continues. They created the pin to show how proud they are of becoming nurses in the White Mountains and earning their degrees from NPC. The design, which includes recognizable white mountain peaks and tall pines, represents membership in this unique white mountain nursing family. Melinda J. Klug, DNP, AGACNP-BC, CCRN, nursing faculty at NPC's Show Low campus and orchestrator of the virtual event for the Show Low students explains, "The trees reaching tall is a symbol of both deep roots as well as strength and growth, for these students."

NPC's Interim President, Dr. Jeannie Swarthout, expressed her congratulations and profound thanks to the nursing completers and their supportive loved ones who made it possible for the students to complete the nursing program. She notes, "you are entering a noble profession, one that the world has come to slowly understand because of the pandemic. It's critical to global health and is very much the soul of a caring society. You are individuals ready for this calling. You are caregivers at heart, those who hold the hands of those who are dying and those who are birthing. You will take care of both the young, the old, and everything in between who depend on you for nursing knowledge but even more so for the care and attention you give everyone you come into contact with. We are all celebrating your completion, and we look forward to everything you will continue to provide us; it is the greatest of rewards. It should not take a pandemic to make us realize that healthcare professionals are heroes, not just in a crisis, but every single day. You perform the duties of a hero every day, you are always heroes, and I know that you will rise to that. You make us all very proud. You are why we do everything we do at NPC."
The Show Low ceremony's keynote speaker, NPC's Dean of Nursing and Allied Health, Dr. Ruth Zimmerman, stated, "I absolutely believe in you, you are indeed our heroes, and you are going into a profession that will be very rewarding. What makes a nurse is not the ability to use the technology and read the monitors; what makes a nurse is what's in your heart—putting everything in your life away and putting others first. It's worth it. It truly is worth it." Zimmerman continued with a bit of advice, "just be human, be who you are, remember why you took this journey, and go forward and do great work in the world."
2020-21 Nursing graduates from the Winslow campus are Kelsey, Ahmann; DeeAnn Boggs; Nichole Brown; Efren Campos; William Carlyle; Korrie Fields; Kellie Flake; Abigail Frost; Shelly Henley; Erin Lee; Lauren McDade; Canon Williams; Matraca Yazzie. Completers from the Show Low campus comprise Amberly Bjornn; Ladonna Brady; Karra Casey; Angela Colwell; Don Davis; Bryce Earl; Brittany Eveland; Amber Fejes; Brionna Finch; Emily Higginbotham; Timothy Howard; William Humphrey; Merissa Kvitkovich; Jessica (Little) MacNeille; Cody Meek; Darce Montierth; Regina Murphy; Crystal Plehn; Megan Ray; Meagan Rogers; Glenda Romney; DeeDee Stevenson; Tanette Stites; Chelsea Strube; Erin Talasek; Derlene Tortice; Diane Vaoga and Jacob Wilcock.
The virtual pinning ceremonies included heartfelt moments bringing happy tears by many, as the students were presented with the nursing pins and other traditional tokens by their children, spouses, and family members in the safety of their own homes. Personal messages were read aloud about each of the graduates who shared tremendous joy and thankful tributes to the families, friends, and instructors for their support and motivation in their accomplishments. 
The virtual pinning ceremonies for this year's nursing completers can be viewed online on NPC's YouTube channel at https://www.youtube.com/user/NorthlandPioneerCol. Questions about NPC's Nursing Program should be directed to Tamora VanDriel in NPC's Nursing and Allied Health office at (928) 532-6134 or email tamora.vandriel@npc.edu.