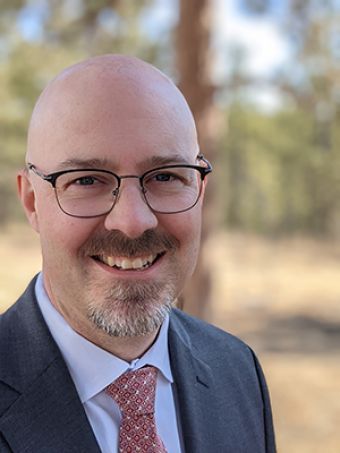 A nationwide search to fill the position of president for Northland Pioneer College (NPC) has fruitfully ended. Dr. Hazelbaker, currently Vice President of Enrollment Management and Marketing at Carroll College in Helena Montana, was named as NPC's new president after receiving unanimous board approval during the Navajo County District Governing Board's (DGB's) April 20 meeting.
"I could not be happier or more honored at the opportunity. It's been a great process and I'm looking forward to being a part of the excellent work going on at NPC. I can't wait to get there," stated Hazelbaker when accepting the new position.
NPC's selection of Hazelbaker, comes after a joint national search effort in collaboration with the Association of Community College Trustees (ACCT), NPC's District Governing Board, a committee made up of NPC staff and faculty, and the college as a whole. In March, three candidate finalists visited in-person spending time at NPC's Show Low, Snowflake and Holbrook campuses and touring the Whiteriver Center.
Hazelbaker reflects of his visit, "I was very impressed by what I saw at NPC. The dedication of the staff and how much they truly care about the students is evident. Students are the college's number one priority. NPC's ability to offer quality programs and just be 'really smart' about the use of their resources is so important. I appreciate the thoughtful planning efforts by the college as a whole and look forward to advancing those."
He adds, "I couldn't be happier or more impressed by Dr. Swarthout and her dedication to the college. She has laid a new foundation for the next president at NPC," Hazelbaker continues. "Having dealt so well with the struggles of the past year, she is devoted to moving the college ahead and into the future."
NPC's District Governing Board agrees. "The Board offers its sincere gratitude to Dr. Jeanne Swarthout, Interim President for her counsel throughout the search and selection process," they note in a statement regarding the decision. ACCT Search Consultant Cecilia Cervantes states, "I also would like to extend my appreciation to the entire College community for your participation. Your input was reviewed and greatly valued by the Board." District Governing Board member Everett Robinson echoed that sentiment, "We extend our appreciation to the search committee for their hard work and diligence in bringing such an excellent candidate to NPC."
Hazelbaker says, "I was really struck by the unique character of the communities and the locations NPC serves. It's distinctive and interesting. I love the geographic diversity of the area and one's ability to go from place to place and be in significantly different natural, beautiful surroundings at each. One of my goals as president is to visit all of the towers that serve NPC," he explains. NPC maintains an extensive data/technology network through an assortment of tower locations covering roughly 22,000 square miles in both Navajo and Apache counties.
On his role as NPC's new president, Hazelbaker emphasizes, "I look forward to genuinely listening to what the community needs, to working with local partners and leaders and getting involved. I want to find out what they would like to see NPC bring to the table. What are the programs NPC should be looking at in the long term? How can we plan for the future and benefit the communities we serve? What do we need to do educationally for the community to prosper?" He notes that he "loves the trades – I enjoy walking into a hands-on environment." Hazelbaker reflects that he enjoyed seeing welding students at work during his visit and watched construction students deconstruct a tiny home at the Whiteriver Center. "I love the 'hands on' learning opportunities available at NPC."
About the college, Hazelbaker explains, "There is so much diversity. I'm Impressed by the work the college has done in collaboration with the tribal nations, the various communities it serves, and am particularly interested in learning more about the relationships we have and the students we serve on the Navajo Nation, White Mountain Apache and Hopi lands. I am very much looking forward to working with the tribal nations. It's about making NPC ready for all students."
Hazelbaker and his family are excited to be relocating to the area. His wife Shari is a registered nurse and he laughs, "I like that I can leave all that medical stuff to her." Together they have three adult children (two daughters and a son). "Our kids look forward to visiting. They tell us we have to make sure there's a place for them to stay." Bridger, the Hazelbaker's black lab mix, is also eager to join them on their new adventure. In his down time, Hazelbaker enjoys a variety of podcasts and reading. He admits to having a very "healthy and 'eclectic' appetite" in that regard. He and his wife also enjoy hiking and exploring the outdoors and look forward to paddle boarding and golfing in the area.
Dr. Hazelbaker previously served as Chief Communication Officer at Clark College in Vancouver, WA. He earned his Doctor of Education in Organization Development from the University of St. Thomas in Saint Paul, MN; a Master of Arts in Leadership from Crown College in St. Bonifacius, MN; and a Bachelor of Arts in English from Rocky Mountain College in Billings, MT.
Hazelbaker has extensive experience working for and with community colleges and notes that he enjoys leading and managing teams and working with people. With a vast background in strategic planning, teaching, and marketing, he is ready to get to work for NPC.