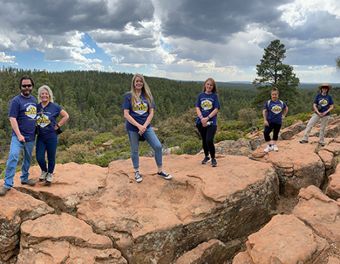 "It really is a few caring people who change the world!" commented Betsyann Wilson, executive director of Northland Pioneer College Friends and Family, at the conclusion of Arizona Gives Day, Tuesday, April 6. The nonprofit alliance raised a record $43,850 in 176 unique donations during the one-day fundraising campaign.
"We led the field in the 'Small Non-Profits' category for the entire event," added Wilson. Unofficial totals showed organizations statewide raised $5,455,731 over the 24-hour campaign period.
"There were 982 nonprofits registered for this year's AZ Gives campaign, and NPC Friends and Family finished 15th overall including small, medium and large groups from around the state," continued Wilson. NPC Friends and Family is considered a small nonprofit based on the organization's annual revenues.
Gifts were designated for the NPCFF Emergency Fund, the Pres Winslow, Charles Lisitzky, VAL 153, Martia and Louis Smith Memorial Scholarships, the Jon Graff, Ph.D., scholarship fund, and the Claude Millett Endfield Early Childhood Development Scholarship.
As a fun incentive this year, donors were challenged to give at least $50 to any Friends and Family scholarship and join the organization's inaugural "Take A Hike!" virtual event. Participants received tee shirts and joined the Take A Hike! Facebook group where they posted photos and stories of their hiking adventures.
"Chris Corbin and our friends at The House in Show Low donated $6,000 to fund the restaurant's new 'NPC On The House Scholarship,' which will provide $2,000 next year, $1,000.00 per semester, to graduates from Snowflake, Show Low and Blue Ridge High Schools. No matter how you look at it, NPC students won big through the generous donations of many people," remarked Wilson.
"I am most grateful for the continued outpouring of love for Dr. Eric Henderson," Wilson noted. Of all the donations, $26,366, (over 60%) were to fund 'The Taking Flight Scholarship in Memory of Dr. Eric B. Henderson'. This new scholarship was established by Henderson's family following his death in March 2020. "In his 20 years as an administrator and professor at NPC, Eric was forever a champion for our students and I think he would be happy, and probably amazed to know he is still one of their biggest champions," says Wilson.
All donations to NPC Friends & Family, a 501 (c) (3) organization, are tax deductible. NPC Friends & Family is organized exclusively to support the mission and goals of Northland Pioneer College through advancement of college programs and services, establishment and growth of student scholarships and positive promotion of NPC. For more information about fundraising events or creating or donating to a scholarship, please contact Betsyann Wilson at (928) 536-6245, betsy.wilson@npc.edu, or consider making a gift today by visiting www.npcfriendsfamily.org