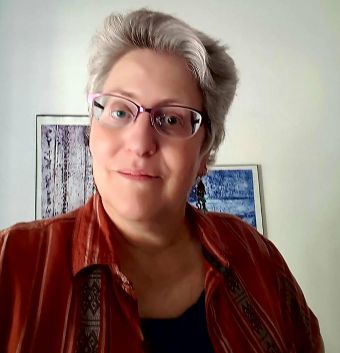 Dr. Inez Schaechterle, an English professor at Northland Pioneer College (NPC) who teaches creative writing, has sold her short story "Ghost Riders at Hutchinson's Two Pump" to Fantasy Magazine, joining many notable writers, such as Peter S. Beagle and Caitlin Kiernan, who have been published in the magazine. Dr. Schaechterle studied creative writing at the University of Nevada, Reno under sci-fi/fantasy author Susan Palwick, followed by obtaining her Ph.D. from Bowling Green State University, where her thesis research interestingly was on 19th century female reformers. In addition to creative writing, she teaches composition and literature classes at NPC.
A fan of early and modern Western history who grew up watching John Wayne films with her dad, as well as being a fan of Johnny Cash's version of the song Ghost Riders in the Sky, Schaechterle came up with her story while watching a long train loaded with truck containers as she drove to Flagstaff on highway I-40. As she glanced at the train, she wondered what old-time train robbers would think about this kind of loot?                                                              
Dr. Schaechterle imagined a cast of four ghostly characters that try to rob a modern train. She explained that, "The story begins describing a gang of train robbers and cattle rustlers who died while escaping from a posse after killing a man at The Roundhouse Saloon in Winslow – and who return 140 years later to pull off one final job."
Eventually the reader follows the gang of four robbers as they discover they are all ghosts who cannot affect the modern world and then run into a modern-day character named George, a down and out alcoholic widower bent on killing himself in his wife's '57 DeSoto Firedome vehicle with a Webley 38 revolver. Instead, George joins the gang to rob the Hutchinson's Two Pump Convenience Store in Holbrook. This story doesn't end with the robbery… and no spoiler alerts here; it is good reading, with well-rounded characters, full of history, tenderness, surprise, fun, and one delightful horse named Tempe.
Dr. Schaechterle says that fantasy, science fiction, and horror fall under the umbrella of Speculative Fiction. It is a broad category of stories that may combine reality, recorded history, nature, the present universe, mythology, urban legend, etc. This literature examines the human condition and asks the question: "What if a world existed in which this or that were true?" -- even an old time Western kind of world that meets a modern one head on.
For more information on NPC's English and creative writing classes visit www.npc.edu. The summer 2021 class schedule is now available online at www.npc.edu/class-schedule. Classes begin June 1. Call (800) 266-7845 to speak to an academic advisor and get started today.