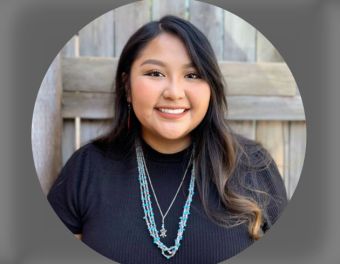 For Celena Ambrose, 2020 was most assuredly a fulfilled year in spite of all the negativity that occurred during this time for many of us. Ambrose, a recent graduate of Northland Pioneer College (NPC), completed her degree in NPC's early childhood development program under the leadership of Faculty Chair, Dr. Allison Landy. This past December, Ambrose, who grew up in Keams Canyon, AZ went on to be nominated and was elected to join the team of the Arizona Early Childhood Alliance (AZECA), which partners with 53 cross-sector cohorts statewide. The group provides a shared and unified voice on early childhood, with a goal of ensuring that all Arizona's children are prepared for kindergarten and are on track to succeed by the end of third grade.
Kelly Murphy, facilitates AZECA and states, "we are thrilled to have Celena come on board to make strides in the rural areas of our state. She represents multiple social and tribal communities including a younger demographic; AZECA works on early childhood policy issues and works closely with the legislature.  This is the first time we have had a student representative nominated by Dr. Landy at NPC."
The alliance works in tandem with others to create an Arizona where every child is safe, loved, and has access to quality education and affordable health care. AZECA, says Dr. Landy, "Is genuinely a big deal in Arizona, with previous ties to the governor's office the agency will give Celena an opportunity to sit with long-standing, nationally recognized leaders providing an authentic voice to state advocacy. She will be providing data and input that will allow our legislature and policy makers to come up with plans to benefit children in the State of Arizona. It is a huge honor."
For more information about AZECA visit the alliance's website at https://azeca.org/. To learn more about NPC and the college's programs, including Early Childhood Development, visit www.npc.edu or reach out to NPC's Early Childhood Development Faculty Chair Dr. Allison Landy at 928-536-7335 or email allison.landy@npc.edu.