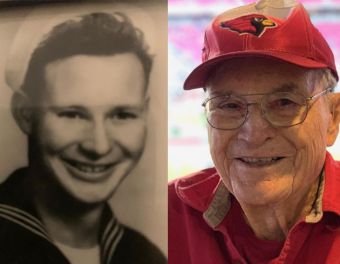 Louis L. Smith, who established the prestigious Martia A. Smith Memorial Art Scholarship with NPC Friends and Family, has died. Smith created the endowment fund in memory of his late wife, who was a popular and talented adjunct art faculty at NPC. Martia was a gifted and award-winning ceramicist who also created beautiful works in stained glass. The scholarship provides up to $3,000.00 each year to a full-time NPC student who is academically and artistically talented.
In an affirmation of Louis and Martia's resolve that art is a vitally important part of culture and can take many forms, applicants to the scholarship need not be art majors. Past recipients have included Ariel Shirley, a photographer who went on to graduate from the University of Arizona Mel & Enid Zuckerman College of Public Health after completing an internship focused on community education at the UA Sarver Heart Center. She is continuing her education, seeking a Master's of Public Health degree followed by a medical degree. Ariel's dream is to work to improve health in her Navajo community and address disparities in the health-care system. Another Smith Scholar, Amber Shepard, draws and paints. She was an All-Arizona Academic Team member in 2017, and graduated Summa Cum Laude in 2019 from Arizona State University's Walter Cronkite School of Journalism and Mass Communication. She is now pursuing her Juris Doctor degree from the University of Arizona's James E. Rogers College of Law. A freelance journalist, Shepard's stories have often been featured in the White Mountain Independent.
Through his efforts to establish the memorial scholarship, Louis became acquainted with former NPC Art Chair Lee Sweetman. The two became inseparable, and they shared many happy times and adventures together, traveling the world, visiting with family, relaxing at their Pinetop cabin, and rooting for the AZ Diamondbacks and Cardinals. Lee was at Louis's side when he passed away peacefully in the early morning of December 12 at their home in Peoria.
Born in 1926, the third of twelve children, Smith's family homesteaded in the Williams, AZ area early in the last century. He grew up a child of the Great Depression, and served in the US Navy in both World War II and the Korean War. These experiences formed in him a profound love of country, an unimpeachable work ethic, a strong sense of personal responsibility and a passion for the power of education. He helped to establish Glendale Community College, and served for many years as chair of its Reading Department; he also taught Adult Basic Education in both reading and mathematics. He was a true raconteur, so his stories about his personal history and that of his family, conveyed a wonderful sense of time and place and the perspectives of one of America's Greatest Generation.
Through his endowment, Louis Smith will continue to help the students of NPC in perpetuity. At Lee's request, the scholarship will be renamed the Martia and Louis Smith Memorial Art Scholarship. The application window is open for the Martia and Louis Smith Memorial Art Scholarship for funding for the 2021-22 academic year. For complete details visit https://www.npc.edu/scholarships/martia-smith-memorial-art-scholarship. The deadline is Friday, February 26 at 12:00 noon, MST. Please honor Louis, Martia and Lee by sharing this scholarship opportunity with potential applicants. Students must be enrolled in 12 or more credits in Fall 2021-Spring 2022, have a cumulative GPA of 3.5 or better, and have an interest in developing visual art, including drawing, painting, ceramics, sculpture, photography, textiles, etc. The two-part application includes an essay and a digital portfolio of the applicant's artwork.
In lieu of flowers, Lee Sweetman asks that donations be made to the scholarship fund in Louis' memory. You can become a patron of the Arts in our White Mountain communities, and a patron of Northland Pioneer College, by making a donation to the Martia and Louis Smith Memorial Scholarship. Your tax-deductible contribution will promote the perpetuity of Mr. Smith's generous gift, as well as the spirit of the artist, philosopher, and educator, Martia Smith. In these times, when art is the first thing to be cut from school and municipal budgets, Martia Smith reminds us of its importance through her words: "A culture is known by the art it has." You can give by check made payable to NPC Friends and Family, 1611 S. Main Street, Snowflake, 85937, or online at www.npcfriendsfamily.org, using the DONATE button. To learn more about applying for the scholarship, or donating to the endowment, please contact Betsyann Wilson, Executive Director of NPC Friends and Family, at 928-536-6245 or betsy.wilson@npc.edu.Your gift can transform a student's life