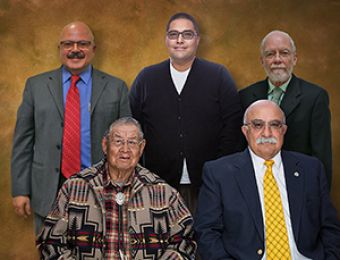 "Retirement? What's that?" laughs Northland Pioneer College's (NPC's) District Governing Board (DGB) member Daniel Peaches, who joined the board's virtual December 15, 2020 meeting donning a fishing hat complete with dangling lures. Although the meeting was his last as a Board Member, the story isn't quite over for Peaches, who after serving six consecutive terms on the DGB spanning 35 years, is now stepping down. And, it's been quite a story…
Peaches has represented District One for the Navajo County Community College District (NPC), which encompasses areas of the Navajo Nation along the I-40 corridor including Kayenta and other neighboring Black Mesa communities. He has served on the board since 1985, the majority of which, as the Board's Secretary (1988 – 1990, 1997 – 1998, 2000 – 2004, 2013 – to present) and as Chair from 2005 to 2007.
A dedicated public servant, prior to joining the DGB, Peaches represented Northeast Arizona in the Arizona House of Representatives from 1975 to 1984, while also serving as a staff assistant to then Navajo Tribal President, Peter McDonald. He later served a tenure as the Tribe's Ethics Official.
Nearing the end of his legislative service, Peaches returned to his hometown of Kayenta, providing consulting services to tribal entities. Conscious of his advocacy for educational opportunities, Peaches' friends convinced him to run for a seat on the governing board of the then 10-year-old Navajo County Community College (NPC).
Like many public servants, Peaches has served in multiple capacities while on NPC's Board. His involvement in tribal government resumed in 1999, when he successfully ran for a seat on the Tribal Council. He even campaigned for the Tribal Presidency In 2010, on a platform for better education and job opportunities for the vast tribal nation.
It was during that presidential campaign, that Navajo Times editor Bill Donovan asked his readers, "Who is this Daniel Peaches?" Donovan recounted how he had been impressed by the multiple letters to the editor that came in from the hatáli (medicine men) from Kayenta. One in particular, from the winter of 1967-68, was filled with words of encouragement and hope for a better future. "Peaches' letters were always concise, provided a solution that respected the Diné culture, and offered a ray of hope," Donovan recounts.
(For those who were not in Arizona at the time, a moist low-pressure system had anchored itself over the Four Corners, swirling successive storms across the region. The National Weather Service reported over 110 inches of snow on the ground in Flagstaff and McNary. Conditions on the Navajo Reservations were even worse with impassible dirt tracks labeled as highways and residents cut off from water and food supplies. The area was dependent on Arizona's National Guard helicopters to deliver supplies for themselves and their livestock. The reservation's human death toll that winter was unsurpassed until the current pandemic.)
Whether he was leading a Beauty Way to the four sacred mountains, urging the Tribal Council to grant self-rule to the Kayenta Township, or seeking more course offerings for native students in the area, Peaches earned the lasting respect of all generations.
Fellow DGB member Everett Robinson relayed these undertakings among others during the December 15 DGB meeting, and offered tokens of esteem for Peaches stating: "I first met Daniel when he was a candidate for the Arizona House of Representatives in 1974. He probably doesn't remember talking to a young bilagáana (white man) reporter in Page." Robinson is a retired journalist and former long-time NPC employee, who wrote for and covered newsworthy events for NPC for 25 years. "During one of his campaign stops, his friendly smile and deep concern for education earned my vote," explains Robinson. "On behalf of the several hundred thousand students who transformed their lives through NPC, and the multitude of employees who benefitted by your wisdom and insight – thank you. I consider it an honor to have served with you these last 13 months and only hope that I can continue your legacy of public service to benefit future NPC students and employees," Robinson concludes.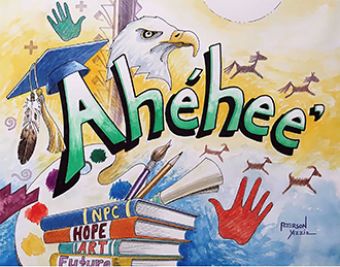 As a parting gift from the college, Peaches was presented with an original work of art commissioned by former NPC president Mark Vest. Crafted by Peterson Yazzi, a current NPC art faculty member and well-known Native American artist, the piece symbolizes both Peaches' commitment to NPC and its students, as well as his passion for the native people and culture.
"The college has been blessed by Mr. Peaches. It is very difficult to say goodbye," emphasizes current interim NPC president Jeanne Swarthout in her parting words.
When asked what he will do now, Peaches explains, "Yeah y'all, I got a lot to do up here in Kayenta, Black Mesa and beyond… cattle to take care of, sheep to take care of, rope to fix... I could go on and on," he chuckles. "I'll be busy."
(DGB member Everett Robinson contributed to the writing of this article)