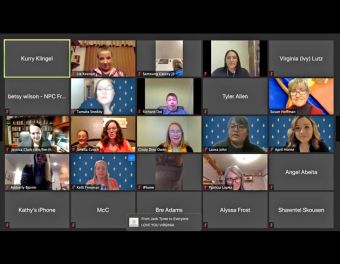 Northland Pioneer College's Alpha Gamma Tau Chapter of Phi Theta Kappa (PTK), the international honor society of two-year college students, welcomed 61 new members during a virtual induction ceremony, Friday, November 20.
NPC's Interim President, Dr. Jean Swarthout addressed the inductees, many of whom participated with friends and family via the virtual session. "We are proud of these scholars, in all they have accomplished both in learning and in leadership, they have the capacity to change our communities for the better and to bring innovation to the academic world; we look forward to your future contributions to society."
Dr. Jessica Clark, NPC's vice president for learning and student services continued with congratulatory praise. A first-generation college student herself, Clark stated that her parents were very supportive of to her attending college. "I am now a lifelong learner and I love every minute of it." Clark shared a quote by Oprah Winfrey, "We can't become what we need to be by remaining what we are." "This means keep focus on the future, keep your eye on the prize," she explains. "There will always be obstacles, but you can flip the script on obstacles and make them opportunities… opportunities to learn, to grow, opportunities to be better than are today. You are taking those steps now by being a student at NPC and now a member of the PTK."
Division Four PTK International Vice President Mariah Mayhugh, also addressed the group. Having suffered from Petit Mal, or "absence" seizures (a rare form of epilepsy) her entire life, she admitted to having struggled through high school and college. However, she explains "I would not accept 'you can't' as an answer." She worked hard and ended up graduating high school with honors and was later accepted to the PTK in college. Mayhugh recently wrote a children's book featuring a relatable character "Mimi," with the same epileptic condition and was invited by executives of Paramount Pictures and Disney to attend an exclusive writer's workshop on full scholarship. Addressing the inductees Mayhugh states, "Somewhere along the line, you or someone else might have told you that you couldn't do it, but you didn't accept that… you decided to keep trying… no matter how hard it was. You knew that your education was worth fighting for." She continues, "Now you are joining a family of scholars that will always encourage you and cheer you on. I'm so excited for you!"
Chapter President Tyler Allen gave the charge to the inductees, swearing them in by oath. Assisting with the ceremony were Chapter Advisors, Susan Hoffman, April Horne, Chantel Kescoli and Kurry Klingel, and, PTK Vice President of Leadership, Cindy Dies Owen, PTK Vice President of Social Media, Brandi Kakavas, and PTK Vice President of Fellowship, Robert Case. A recording of the virtual ceremony can be viewed HERE!
To be eligible for membership in PTK, students must complete a minimum of 12 hours of associate degree course work and earn a grade-point average of 3.5 or higher. Students must maintain a high academic standing throughout their enrollment in the two-year college, generally a 3.25 GPA. As members, students are eligible for a number of scholarship programs, and in some cases, distinguished placement at four-year colleges and universities.
For membership information, contact an NPC academic adviser, or PTK chapter adviser Susan Hoffman at (800) 266-7845, ext. 6144.
NPC's 2020 PTK Inductees are as follows:
Angelica Abeita - Second Mesa

Breanna Adams - Show Low

London Austin - Kayenta

Danielle Baker - Joseph City

Jolina Barron - Holbrook

Destin Bauer - Holbrook

David Bejarano - Saint Johns

Kavya Bhatt - Winslow

Ethan Bia - Indian Wells

Amberly Bjornn - Show Low

Ciara Brown - Show Low

Naomi Cosen - Whiteriver

Janella Czech - Snowflake

Garrett Dewitt - Taylor

Richard Doi - Snowflake

Amber Fejes - Show Low

Kelli Freeman - Lakeside

Alyssa Frost - Taylor

Armando Gomez - Winslow

Taya Hancock - Taylor

Samuel Hartnett - Winslow

Sondra Harvey - Show Low

Judythe Hutchins - Show Low

Samuel Ingham Newman - St. Johns

Janissa  James - Kayenta

Lavea John - Keams Canyon

Matthew Jones - Show Low

Abagayle Keicher-Kimmins - Show Low

Lowanda Kessay - Whiteriver

Kiara Kilpatrick - Lakeside

Kandace Koontz - Pinetop

Falencia Lewis - Fort Defiance

Taylor Lopez - Taylor

Horacio Luna - Holbrook

Virginia Lutz - Concho

Madiana Martinez - Saint Johns

Tyler McDaniel - Show Low

Crystal Morrison - Lakeside

Graham Nielsen - Saint Johns

Lindsey Owen - Snowflake

Allan Paxson - Polacca

Tasha Perkins  - Show Low

Jesse Pollock - Overgaard

Stephanie Redhorse - Winslow

Glenda  Romney - Saint Johns

Rebekah Roznovak - Overgaard

Nathaniel Saldana-Campos - Snowflake

Jose Silva Sevilla - Whiteriver

Allyssa Skeet - St Michaels

Tamara Sneddy - Kayenta

Noah Snell - Show Low

Lauren  Stidham - Show Low

Demarce Swaby - Show Low

Moroni Verschoor - Heber

Elizabeth Waddell - Lakeside

Paige Wegele - Concho

John Wilson - Taylor

Kaylen Wilson - Taylor

Jailyn Yanez - Lakeside

Winterfred Yazzie - Holbrook

Marcus Yellowhair - Show Low