The talent of residents from throughout Navajo and Apache counties is evidenced in the 'Locally Grown 2020" exhibition currently on display virtually at Northland Pioneer College's Talon Gallery. It is viewable at the gallery's webpage www.npc.edu/talongallery and is the current exhibition. 
The Locally Grown exhibition runs through December 11. It was juried by Leslie Nichols, 2D artist and Assistant Professor at South Central Kentucky Community and Technical College, based in Bowling Green, KY. "In these uncertain times, the impulse to create and the dedication to exhibit works of art is a testament to the best aspects of our culture," Nichols explains. "To represent the local creative spirit and diverse studio practices of Navajo and Apache Counties, I included up to two pieces by artists and chose 2d and 3d works for awards. From finely crafted painting to playful recreations of popular cartoon characters, thank you for creating work for this Locally Grown exhibition."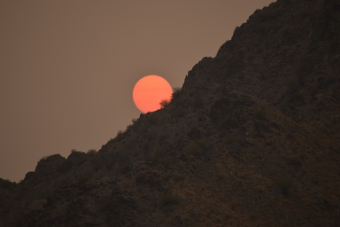 Among the works viewable in the virtual exhibit, are pieces particularly indicative of social and environmental happenings in the year 2020. "Sun Behind Smoke," a digital photograph of an eerie sun rising over a cliff face by Vicki Bessinger, portrays the catastrophic fire season of 2020. "The photo was taken mid-September 2020 in San Tan Valley, and the mountains are part of the San Tan Mountain Regional Park," Bessinger notes. "The time was about 6:00 in the evening. This was during the fires in California when the smoke had migrated toward Arizona and had covered the greater Phoenix area."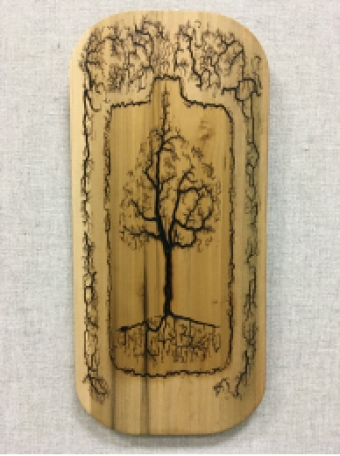 Another work by Reed Bradford, shows how creativity and resourcefulness, and maybe a little going "crazy" in COVID can yield beautiful things. The wooden piece displays an image of a tree born by combining water and electricity to burn designs on the wood surface. He describes the process, "A salt-water solution painted on clean, sanded exteriors leaves a trail for the electricity to follow. Different wood grains accept the salt solution differently therefore, at times, making designs awkward and sometimes problematic. Using high voltage (+ 10,000 volts) and low (23 milliamps) amperage one can design and attempt to burn exotic patterns." He cautions, "microwave transformers are dangerous and have claimed the lives of many inexperienced frackers. By manipulating the solution and electricity, beautiful art can be created." He admits, some may say 'he's out of his fracking mind!'"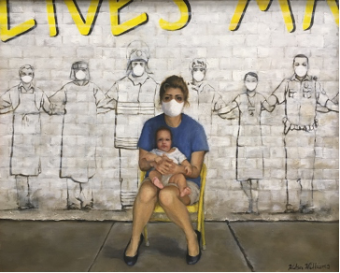 One piece is especially telling, an oil painting by Teri Williams, titled "It Takes a Village," captures the essence of constant change, absolute love and human sacrifice felt in our world's current state. Williams explains the work stating, "Every life is important. It takes a village to maintain food, health, and safety for all. Each and every one of us has a role to play in creating a world we can be proud of. We all have a responsibility to do our best to create a beautiful future for our children, our country, and our planet. Are you doing your part?"
The exhibit displays a wide assortment of original works, from paintings and photography, to jewelry and ceramic sculptures. "I was so impressed by the submissions for the show this year," states Talon Gallery Director, Magda Gluszek. "It was demonstrative of the diversity and uniqueness of those 'secret' artists in our community. I am always amazed by the new and interesting art that is 'Locally Grown' in our communities. Winners names will be announced at the gallery's Locally Grown 2020 awards ceremony, which will take place virtually on Zoom on December 11, from 6:00 to 7:00 p.m. The public is welcome to attend.
For more information or if you are interested in participating in Locally Grown next year, please send an e-mail to: magda.gluszek@npc.edu.