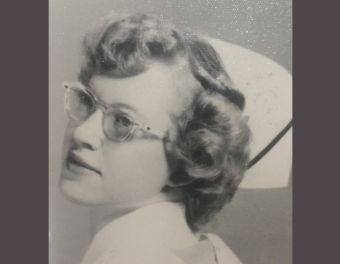 Doris Reed was born in Brooklyn, New York and moved to Arizona with her parents at the age of twelve. After graduating from Yuma High School, she trained as a nurse at the Good Samaritan Hospital School of Nursing in Phoenix, graduating in 1956 as a Registered Nurse. As a single mom, Reed raised her children mostly on her own, while working as an RN.
In nursing school, she made lifelong friends who stay in touch with her to this day, even as they are all now in their eighth decade of life. Reed enjoyed a rewarding career spanning over fifty years as an Emergency Room and Labor and Delivery Nurse. Those who worked with her know that she is always ready for a fun time. She enjoys fond memories of her experiences with her fellow nurses.
Throughout her career, Reed enjoyed being involved in the training of other health professionals. Her family contacted Betsyann Wilson, Executive Director of NPC's Friends and Family, the nonprofit foundation that supports NPC students, in October asking how to start a scholarship for nursing students. They especially wanted it to honor Reed, who is still alive and well and very healthy in her 80s.
Thus was born the 'Doris Reed Nursing Scholarship.' Each semester, the family's generosity will provide a $1,000 scholarship to an NPC nursing student who is achieving academically, but who also has unmet financial need. "Their relationship with and love for Doris Reed has created this beautiful tribute, a gift to our students, and to Doris herself," Wilson explains.
"The family says Doris is excited to offer a scholarship to deserving nursing students. We will award the first Doris Reed Nursing Scholarship in the spring 2021 semester, and we too are excited for Doris to meet the very first winner of the scholarship that bears her name,"states Wilson. "My board and I are delighted to be able to provide this wonderful opportunity. We are especially inspired by the story of Doris and by the love and respect her family has shown her through this gift that will keep on giving through the lives and work of the future nurses who receive the Doris Reed Nursing Scholarship."
The application deadline is December 17, 2020. The full application, along with instructions and details may be found at: https://www.npc.edu/scholarships/doris-reed-nursing-scholarship.
To learn more about NPC Friends and Family, or to find out more about donating to student scholarships please go to www.npcfriendsfamily.org or email Executive Director Betsy Wilson, at betsy.wilson@npc.edu.