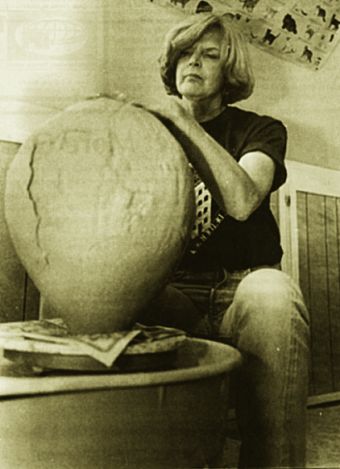 Martia A. Smith was a gifted artist who worked in the mediums of ceramics and glass. Northland Pioneer College (NPC) was fortunate to have her as an adjunct faculty in the art department, where she shared her passion and her talents with NPC students. Art was not just Martia's hobby, it was a prominent part of her life, and she was involved with it on many levels. She was a member of the Peoria Arts Commission, and served as secretary of the Northeastern Arizona Fine Arts Association. Her work was displayed in their High Country Gallery in Pinetop, but her reach far transcended the mountain. Her glass and ceramics were routinely on display throughout the Valley, in shows at the Tempe Art Center, Grand Canyon University's A.P. Tell Gallery and Phoenix's Shemer Art Center. She received numerous awards for her work, including first place at the annual CLAY Show and Best of Show in the Arts Alliance of the White Mountains Annual Juried Art Show. Her work is in many private and public collections today.
Martia's husband, Louis Smith, chose to honor her memory through the establishment of the Martia A. Smith Memorial Art Scholarship. Louis Smith, a native Arizonan and lifelong educator, sought to create a scholarship that would foster student artists for generations to come and encourage the growth of art in our communities. Wisely, he established this fund, the first-ever endowed scholarship at Northland Pioneer College, to be available to all full-time, degree-seeking students. Applicants need not be art majors, but they must demonstrate that art is, as it was for Martia, an important part of their lives. The application process requires that they show examples of their art and also reflect upon it through a written essay. As Martia put it, "The artwork which I do is primarily that of self-fulfillment…It is the means by which I come to know myself."
NPC Friends and Family is very proud to offer the Martia A. Smith Memorial Art Scholarship, a full-tuition scholarship of up to $3,000.00 for the 2021-2022 academic year, to a highly motivated, academically and artistically talented student. Applicants need not be art majors, but they must demonstrate artistic talent in a visual medium. Past applicants have included ceramicists, photographers, painters, and artists in charcoal, pencil, pen and ink, and textiles. The application deadline is Friday, February 26, 2021. A full application, along with instructions and details may be found at https://www.npc.edu/scholarships/martia-smith-memorial-art-scholarship.
You can become a patron of the arts in our White Mountain communities, and a patron of Northland Pioneer College, by making a donation to the Martia A. Smith endowment. Your tax-deductible contribution will promote the perpetuity of Mr. Smith's generous gift, as well as the spirit of the artist, philosopher, and educator, Martia Smith. In these times, when art is the first thing to be cut from school and municipal budgets, Martia Smith reminds us of its importance through her words: "A culture is known by the art it has." To learn more, please contact Betsyann Wilson, executive director of NPC Friends and Family, at 928-536-6245 or betsy.wilson@npc.edu, and visit www.npcfriendsfamily.org. Your gift can change a student's life!