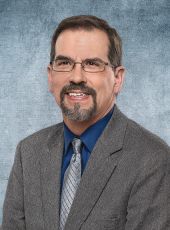 On Tuesday, October 13, in a special board meeting, the Northland Pioneer College District Governing Board accepted the resignation of President Mark Vest, effective Tuesday, October 27. Mr. Vest has served as the College's president since July 1, 2018, and in various positions at the college since 2001.
Following the Board motion to accept his resignation, President Vest thanked the Board and the College for the opportunity to serve in leadership roles within the College, much of that time as Vice President for Learning and Student Services, later as President.  Mr. Vest noted, "This is purely a personal decision for me, based on what is best for me and my family.  I would like to thank the District Governing Board for honoring my request to step away from the role of president at this time. NPC is a vibrant and strong organization that has responded admirably to this year of education during a pandemic, and the College has a bright future to which it can look forward.  I am proud to have had the opportunity to serve the citizens of Navajo County for the past twenty years, and am excited to see what happens next for NPC."
The Board thanked President Vest for his service and wished him well in the future. Board member Elias Jouen of District 2 said, "I believe you have led the college admirably, with exemplary leadership through the arduous accreditation process and at the onset of this pandemic, you were the first with an action plan to move to online learning at a lightning speed, your accomplishments are tremendous."
 Board member Everett Robinson of District 4 said, "I worked very closely with Mark over many years, I respect his leadership, respect what he has done for the students of this college … his contributions will be greatly missed but they will be greatly remembered as well. Mark, thank you for your service, it was a pleasure serving with you."
The Board will choose an interim president at a special board meeting on October 27, at 1pm. Copies of the agenda will be posted online, www.npc.edu/board-meeting-agendas-minutes, at least 24 hours in advance. The College will begin a search for President Vest's permanent successor in the coming months.