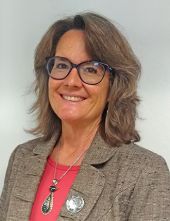 By Betsyann Wilson, NPC F&F
This is a story about love, and about making a precious life count, and continue to matter, even after that life has ended. It's about a scholarship, but it's also about a struggle lost, and about telling others who struggle that there is hope. But it's mostly about love.
NPC Friends and Family, the non-profit foundation that supports the students of Northland Pioneer College, is honored to announce the Jennifer Lee Witt Memorial Scholarship. The scholarship is funded through a $200,000.00 endowment, generously provided by Janice and Dan Witt, in loving remembrance of their daughter.
Jennifer Witt was a professor of English and Creative Writing at NPC, much-loved by her students, peers, friends and her husband, fellow English professor Ryan Rademacher. In September 2017, she lost a nearly-lifelong battle with depression and took her own life.
Since then, Ryan has continued to observe important dates, like her birthday and their wedding anniversary, by gently reminding us to do something nice for those we love the most. He is also an outspoken advocate for those who are suffering. On September 3, he posted this on Facebook:
September is suicide prevention month. If you're hurting, afraid, or need someone to talk to, please reach out.
Please stay.
You are so deeply valued, so incomprehensibly loved—even when you can't feel it—and you are worth your life.
If you are ever feeling suicidal, please talk to somebody. You can reach the National Suicide Prevention Lifeline at 1-800-273-8255.
Jennifer's parents contacted me in early September. They found themselves in a position to establish a scholarship in memory of their only child, and they wanted it to help the students to whom Jen was so dedicated. Her mom told me that Jen had always been a champion of the underdog, that she seemed to innately sense when someone needed help, and that she always gravitated to those who yearned for someone who would heed their troubles and care about them.
Magda Gluszek remembers the first friend she made when she came to NPC to teach 3-D art. She treasured her friendship with Jen and saw her as a person who exuded quiet compassion and listened without judgement. Jennifer sought to teach her students, but also to reach them and raise them up. She recognized the power of education in their lives, and endeavored to help them realize their potential and succeed in bettering themselves through knowledge.
Ryan Orr's academic journey began at NPC, where he earned his associate degree. Jennifer Witt was his Phi Theta Kappa advisor and encouraged him to apply for the All-Arizona Academic Team scholarship. He won it, and went on to earn his bachelor's degree before returning to NPC as an Academic Advisor. Jennifer and Ryan Rademacher also introduced Ryan Orr to Magda Gluszek, and the two are now married.
Larrilyn Oso, an NPC alumna, summed up Jen's devotion to her students when she shared these thoughts:
Jennifer gave me more than just the technical knowledge required for creative writing. She taught me the importance of finding my voice as a young writer; to trust in it and to respect the process of fearless self-expression. She did this through love, kindness and patience - which I believe is why she has helped enrich my life then and even now in my adulthood. People like that are special, and rare. Throughout my academic career and life, I try to carry that spirit with me as a way of thanking her and honoring her work. I'm sure I'm not the only person who feels this way and that's the wonderful thing about Jennifer. She was a true educator and a fantastic, lovely person who made everyone she met just that much better for knowing her. 
I think she and Ryan did more for me than they will ever know. They taught me how to fall in love with writing and to respect its purpose. I have been looking for a way to pay them back and I hope this is a tiny start. Each year on Jennifer's birthday, I've decided to do a random act of kindness for a stranger. My hope is it gets passed on throughout the day but I figure it's the least I can do. 
It is always bittersweet to announce a memorial scholarship, but this one is particularly so, and also particularly special, because it truly does carry forward the work of a remarkable young woman and educator. In establishing this endowed scholarship, Jen's mom and dad have truly created a lasting legacy to their daughter for the students to whom she was so devoted.
Please join Ryan Rademacher in showing a little extra love to those you love, and in being fearless about reaching out to those in need. Join Larrilyn Oso in random acts of kindness. And if you are a student, believe in yourself and your abilities. Education is the great gift you give to yourself, that you will have and use forever, and that nobody can take from you.
To learn more about the Jennifer Lee Witt Memorial Scholarship, please visit www.npc.edu/scholarships, and use NPC Friends and Family as your search term. You can also help to change the life of an NPC student by giving to this and other scholarships at www.npcfriendsfamily.org, or by sending checks payable to NPC Friends and Family to Betsyann Wilson, Executive Director, NPC Friends and Family, 1611 S. Main Street, Snowflake, AZ 85937. Please contact betsy.wilson@npc.edu for more information.
(About the Author: Wilson is a long time facilitator of NPC student scholarships and advocate for the success of others. She has mentored and overseen the procurement of thousands upon thousands of dollars to aid students who would otherwise have no option to pursue a higher education – her efforts with this and other F&F scholarships help dozens of students attend college each semester and her work with fundraising events such as Pedal the Petrified are well received and successful.)