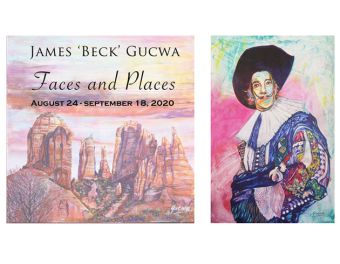 While the physical gallery at the Show Low campus is currently closed to the general public due to COVID-19 restrictions, Northland Pioneer College's (NPC's) first art exhibition of the fall 2020 semester is available virtually for all to view and enjoy remotely on the college's website at www.npc.edu/talongallery.
The virtual exhibition features Jim 'Beck' Guçwa's "Faces & Places," and runs through September 18th.
Jim 'Beck' Guçwa was born with a paint brush in his hand. There was never any doubt in his mind that, one way or another, he would become a professional fine art painter.

Since 1986 he's had one-man exhibitions year after year in some of the finest galleries in the country, from Miami to Scottsdale to Santa Monica to San Francisco and ultimately New York City. He is often referred to as 'Kingneon' because of the hundreds of photorealistic canvases he has painted of the American roadside, mostly using the subject of vintage neon signs. In 1998 he was made an "Officially Licensed" fine artist for Harley-Davidson, Chevrolet/Corvette, and Mattel Toys/Hot Wheels Division.
Besides painting 'The History of Memphis' mural for the National Historic Landmark, the famed, Peabody Hotel, he was commissioned by the City of Mesa to paint six historic murals at The Mesa Southwest Museum.

After years of painting photorealistically, most recently he's discovered a new freedom in painting—Fauvism. Whereas previously one of his photorealistic paintings often took him a full month to complete, the collection of originals featured at the Talon Gallery first began in January of 2020.

Guçwa would like everyone who enjoys his art to be able to afford to buy an original painting - not just the wealthy. For the first time ever, he is offering these original paintings within reach everyone can afford. He also accepts commissions.

James and his wife, Katie, live in Pinetop. Besides painting, he loves to write and has published two, full-length fiction novels, along with one non-fiction book, plays the saxophone professionally, and enjoys chess. To view more of the artist's work visit, www.kingneonfineart.com.

For more information on the Talon Gallery and upcoming art exhibitions contact NPC's Gallery Director, Magda Gluszek at magda.gluszek@npc.edu or call (928) 532-6176.