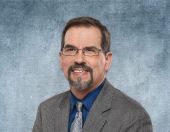 As I sat on my back porch this weekend, reflecting on how to offer some useful, profound, or at least helpful thoughts to community members living through very stressful times, one idea kept resurfacing in my mind: we don't get to choose the circumstances of the moment, but sometimes we can choose how to respond to those circumstances.
Anyone who knows me, knows that I love science fiction, fantasy, and comics. One of my favorite passages in The Lord of the Rings trilogy occurs in the first book, when Frodo is struggling with the burden of carrying the Ring. He tells Gandalf, "I wish the ring had never come to me. I wish none of this had happened." Gandalf's reply has always stuck with me, especially during some of the difficult times in my own life. He tells Frodo, "So do all who live to see such times, but that is not for them to decide. All we have to decide is what to do with the time that is given to us." Our job, in other words, is to choose a response, hopefully positive, in difficult times.
At NPC, we see our role in part, as providing hope and opportunity – to achieve a new goal, to start a career, to transform your life. A few weeks ago, I told a national reporter doing a story on how NPC is providing education during the pandemic, that when our communities are most stressed, they need us the most. A lost job points to the opportunity for acquiring new or improved skills or even heading down a new career path. The goal of acquiring a bachelor's degree today should be taking two years of transferable courses at a much lower cost ($40 per credit this year at NPC) in familiar surroundings, rather than incurring the skyrocketing debt of four years of university coursework in overflowing classrooms far away from home. NPC's low tuition rate offers students an opportunity not found almost anywhere else in the United States.
Since its creation by Navajo County voters, NPC has had one mission – to provide quality, affordable education to our citizens that helps them improve their and their family's lives. How NPC has achieved that mission has changed over time, and is changing again now. We are managing a dual commitment this academic year – to provide our students with a quality, accessible education – and to do so in an environment that minimizes risk for all members of the college community.
How to do that during the COVID-19 pandemic has been a challenging question. It is the college's goal to operate this fall in a safe and productive manner, maintaining compliance with directives and guidance from the CDC as well as local public health and governmental entities. We are prepared to amend our current plans as needed in response to evolving circumstances related to COVID-19.
Fall registration is currently open online and by phone and most classes are scheduled to begin August 24. Our plan for classes this fall will involve conducting courses with a designated hands-on component such as Nursing, Welding, Cosmetology, Construction, etc., on-site for those components while observing physical distancing and sanitation procedures. Parts of those classes that can be delivered virtually will be, in order to minimize physical interaction. All courses without a needed hands-on component will be delivered in a solely virtual environment.
College facilities will be open to students, prospective students and those with specific college business, but not to the general public. Public services such as NPC libraries and Cosmetology services will be closed and only available for current students. You can find more specific and up-to-date information on college operations and policies at www.npc.edu/covid19.
I have stressed to our faculty and staff that we need to learn from our experiences this past spring, and learn again from what will happen this fall. We will learn, adapt, and improve. We won't always get it right the first time – no one does. but everything we do this year, and in the years to come, will continue to create educational opportunities that enhance the knowledge, prosperity, and lives of all of us in northeastern Arizona.
I'm blessed to have the opportunity to lead this College and to serve all of you, and I thank you for the trust and support you continue to give Northland Pioneer College.