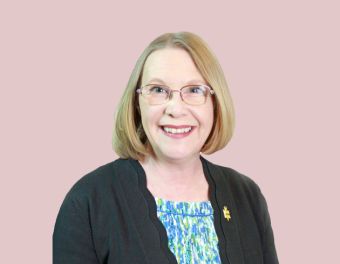 It's been an amazing year for Cindy Dies Owen, a Northland Pioneer College student at the Silver Creek Campus in Snowflake. She's serving as Student Government Association president at NPC, and she has been selected a co-winner of the coveted Orlowski Award, one of the highest honors presented by the Phi Theta Kappa (PTK) Honor Society. An Associate of Arts degree student at NPC, Dies Owen is planning to transfer next year to the University of Arizona's College of Agriculture and Life Sciences to major in Agricultural Technology Management and Education.
"I was completely surprised!" Dies Owen said of winning the Orlowski Award. "Usually one person wins this award. If they have a tiebreaker, they break the tie. However, this year was a little different. Because of COVID-19, the international convention in Texas had to be moved into an online format. That extended the selection period from about two to five weeks. This year was actually a three-way tie. They decided not to break the tie, but to award it to all three of us. To have your fellow candidates choose you for this award is very humbling."
Dies Owen was inducted into the NPC chapter of Phi Theta Kappa Alpha Gamma Tau in November 2019 and currently serves as its public relations officer. The Orlowski Award winners were selected from 38 candidates for five international PTK leadership positions. They exemplify the hallmarks of Phi Theta Kappa: scholarship, leadership, fellowship and service. This is the first time three candidates have received the award.
The Orlowski Award honors the memory of Steve Orlowski, a former student at Wilbur Wright Community College, in Illinois. He served as a national PTK officer in 1986-87 until he died of leukemia that year. The award comes with a $1,500 scholarship and a framed medallion plaque for each winner.
"The Orlowski Award is one of those special honors that you can't campaign or compete for — it's all about who you are as a person," said Dr. Blake Ellis, PTK's vice president of Student Engagement. "The fact that we have three recipients this year speaks to the high quality of student leaders in Phi Theta Kappa. All of our candidates faced special challenges this year as they campaigned solely online for a virtual event. The selection of these candidates speaks to their strength of character, and we are proud of each one of them."
Phi Theta Kappa is the premier honor society recognizing the academic achievement of students at associate degree-granting community colleges and helps them to grow as scholars and leaders. The society is made up of more than 3.5 million members and nearly 1,300 chapters in 11 nations, with approximately 240,000 active members in the nation's colleges. Award winners were announced virtually April 16-17 during PTK's Catalyst convention.