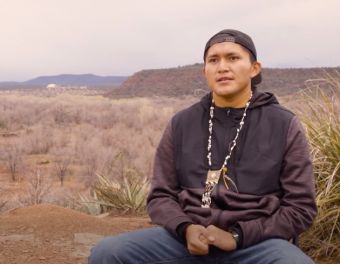 Restricted by limited resources and remoteness, high schools in rural Northeastern Arizona had few opportunities to provide college level classes. Students like Roger Lupe, a resident of the Apache Reservation, were resolved to thinking a college education was beyond their reach. All that changed in 2016 when Northland Pioneer College used a government grant to purchase Cisco Systems Webex technology to create the TALON distance learning program. Since then, NPC has literally been transforming the lives of thousands of rural students by providing opportunities for them to take college courses and expand their career potential.

The Technology to Advance Learning Outcomes at Northland (TALON) program is delivering college-level courses to 6,000 students at 16 remote high schools in the region. During the 2019-2020 academic year, NPC broadcasted nearly 100 classes to these students, said Renell Heister, project director of the Title III TALON Grant.

Cisco Systems is so impressed with NPC's use of its technology that the global corporation made a best-case promotional video to demonstrate the life transforming solutions provided by TALON.

The Cisco video explains that NPC needed an affordable and effective way to connect high school students in the region to the college classroom. Through TALON, NPC instructors are delivering college level courses in mathematics, college composition, American government, advanced Spanish classes and more to high school students in Navajo and Apache counties. NPC also uses the system to provide college advising, career and financial planning and tutoring.

Dr. Jessica Clark, vice-president of Learning & Student Services at NPC, appears on the Cisco Systems video explaining the transformational benefits of TALON: "Having a program like this, with technology like this, opens the doors of education for a lot of students who would probably never come to a college. We are opening the doors for these students to change their lives. Which also opens the doors for the communities to change their economic stability. Faculty have adapted to this different way of distance delivery. It's engaging. It's interactive."

One of those doors was opened for Lupe, a dual enrollment student taking NPC courses transmitted to Dishchiibikoh Community School, in Cibecue. Roger is taking two TALON classes and will graduate from high school in May. He has been accepted to attend Northern Arizona University. 

Principal Phil Endfield said, "The Cisco system really provided that opportunity for our kids. For instance, with Roger Lupe, in his experience at one point he said, 'I'm not going to college. I'm just going to get a job.' But now he's really eager. He's more confident now. He is ready to move on to the next level of his education."


"That is my goal, to go out in the world," says Lupe, "to experience it outside of my reservation and come back with that experience and hopefully make my reservation a better place."

Curtis Stevens, coordinator of Technical Services at NPC, said Cisco "has been amazed at what NPC has been able to accomplish in distance communication." Michael Meeks, NPC's support center operator for TALON, said a Cisco engineer's "jaw dropped when he learned that we ran 98 classes through our Cisco equipment this year."

Paulina Quiñonez Gonzalez and Eivind Christensen, of Cisco Norway, were highly impressed with NPC's TALON program during their September 2019 visit to the NPC Show Low campus. After their meetings with technical and academic personnel and observation of classes broadcasted throughout the region, Cisco made a follow-up visit to produce the promotional video, "Case Study: Northland Pioneer College, Using Video To Connect Students In Rural Arizona." That video is available for viewing at: https://www.cisco.com/c/en/us/about/case-studies-customer-success-stories/northland-pioneer-college.html.

Northland Pioneer College serves the residents of Navajo and Apache counties through four regional campuses and five centers with a variety of educational options for academic, career and technical and personal enrichment. NPC supports each student's educational goals through affordable tuition, small class sizes and caring, professional instructors. For more information about NPC programs and services, call (800) 266-7845.