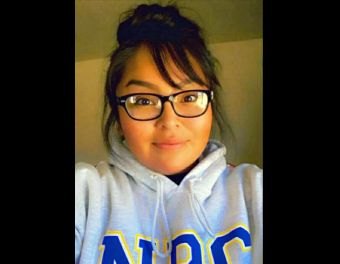 "Since I was a small child I've wanted to have a career caring for people. When I was a young girl, my parents left before dawn and traveled about two hours just to provide for their children. Being the youngest of four kids, and having no babysitter to watch and care for me, I was shipped off to Grandma's house. My grandmother and Aunt were important in raising me to be the woman I am today, whether from tending to the livestock or cleaning and cooking in their loving home, my Nalii's (paternal grandparents) and Aunt were my teachers throughout my childhood. As a child of four years old, I learned to be a reliable helper to my elderly grandparents, and began to be depended on to help my physically disabled aunt. As young as I was, that's when I knew that my help would often be needed, and my desire to help others began to grow inside me."
These are the words of Lavea John, a 22-year-old Navajo woman from Na Ah Tee, Arizona. Lavea is Tódích'íi'nii (Bitterwater Clan), Born for Kinyaa'áani (Towering House Clan). She is extremely proud of her culture and she has a great deal to offer. Lavea was recently chosen as the winner of four NPC Friends and Family scholarships for the Fall 2020 semester. Four independent selection committees reviewed her applications and awarded her the Charles Lisitzky Memorial Scholarship, Jeanne Swarthout Presidential Excellence Scholarship, Pres Winslow Memorial Scholarship and NPC Friends and Family Fill-the-Gaps Scholarship.
"We at NPC Friends and Family feel honored to be able to award a student like Lavea a scholarship. As with so many of our students at Northland Pioneer College, Lavea has faced, and will face many challenges," explains NPC Friends and Family Executive Director, Betsyann Wilson. "She became a mother at 16. In May of 2016, she lost her father; in June, her mother also passed," Wilson continues.
As Lavea puts it, "2019 was the year I felt the need to push myself out of the mud." Her focus is on being a great wife and a great mother to her daughter, and this means getting her college education. To take classes to prepare her for Certified Nursing Assistant (CNA) licensure and prerequisites for admission to the NPC Associate Degree in Nursing program, she will travel from her home to the NPC Hopi Center, a round trip of 60 miles, and to the Little Colorado Campus in Winslow, a round trip of over 160 miles. "Lavea resides in a place that is marked by incredible natural and cultural beauty, juxtaposed by the effects of appalling poverty," Wilson notes. "Opportunities for gainful employment are slim, yet she is using her ingenuity, work ethic and resources to earn, save and pay for college." As Lavea says, "…challenges always make us better than we were before."
To learn more about NPC Friends and Family scholarships, including over $15,000 still available for the Fall 2020 semester, please visit www.npc.edu/scholarships and use NPC Friends and Family as your search term. You can also make a tax-deductible contribution to NPC Friends and Family at www.npcfriendsfamily.org.