Acting on the direction of the District Governing Board to assure students maintain social distancing safety during the COVID-19 pandemic while allowing them to complete the semester, Northland Pioneer College has successfully transitioned all classes to an online format. Teaching online classes since April 6, NPC is committed to helping students still achieve their academic goals.
NPC suspended all classes for two weeks to allow faculty to move all their classes fully online. During that time, NPC advisers personally called all of NPC's almost 3,000 students to ensure they understood the transition to online classes and helped them resolve any barriers they faced. Those who were in danger of dropping out because they didn't have a computer or needed a hotspot were connected with the NPC Friends and Family Foundation for assistance.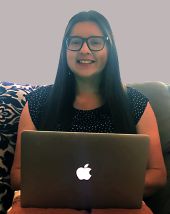 Now that the transition is complete, NPC spoke to two students about their recent experiences with online learning and both gave the college two thumbs-up reviews.
"NPC professors make it easy and work with you," said Taylor Lopez, a Snowflake student taking 13 credits online, including classes in geology, history, mathematics and humanities. "It's been an adjustment, but a very successful adjustment, and I am enjoying it. It is a different situation, but successful. I would rate it as excellent with five out of five stars!"
Cindy Dies Owen, another Snowflake student who is president of the NPC Student Government Association, says she misses in-person class lectures, but her instructors are accommodating during this time of online learning. She's also taking 13 credit hours, including courses in humanities, education, mathematics and geology.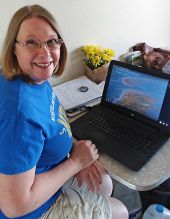 "My instructors have been amazing through all the transitions," Dies Owen said. "My math instructor, Cathy Burson, has reached out to me personally to make sure I'm figuring things out. My geology instructor, Dr. Amelinda Webb, has done an excellent job providing the adjusted course material."
Planning to transfer next year to the University of Arizona to major in Agricultural Technology Management and Education, Dies Owen says the feedback she is hearing from her fellow NPC students is positive. "People are seeing how hard their instructors are working to help them succeed in this new format. They are happy with the quality."
Lopez, who will transfer to Northern Arizona University this fall to seek a teaching degree, also says she's hearing positive reactions. "Students say the online classes are mostly going well. There are always some technical issues, but the professors are understanding and working with us to get us on board with the changes."
Dr. Jessica Clark, vice president for Learning and Student Services at NPC, said, "Instructors and advisers quickly adapted to new online technologies, and have been committed to helping all of our students.  They have been innovative and quick to respond to student needs. As an additional service to our students, NPC librarians have transformed themselves into virtual librarians. They are serving students in a digital format – from locating E-books and audio books, to creating video tutorials on research and writing. Students can also seek assistance using our email or text, Ask-a-Librarian service and our librarians will respond during normal operating hours."
Instruction for NPC's summer semester classes will also be offered online as well, and students will be assured of receiving the same high-quality education they've received previously in actual classroom settings. The summer tuition rate is offered at 50 percent, or $38.50 per credit hour.
Northland Pioneer College serves the residents of Navajo and Apache counties with a variety of educational options for academic, career and technical and personal enrichment. NPC supports each student's educational goals through affordable tuition, small class sizes and caring, professional instructors. For more information about NPC programs and services, visit www.npc.edu or call (800) 266-7845.