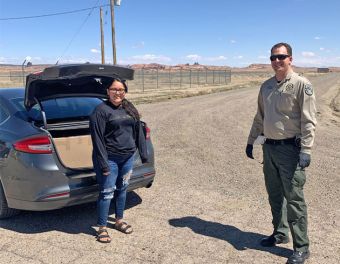 Deputies from the Navajo County Sheriff's Office, and officers from the White Mountain Apache Tribal Police Department helped to keep some of Northland Pioneer College's most vulnerable students connected to their classes, in spite of the COVID-19 closures of physical locations. "Our first concern about the campus closures was the students in the most remote locations in our service area, where there truly is a digital divide," explained Betsyann Wilson, executive director of NPC Friends and Family, the college's nonprofit foundation.
Wilson described how college faculty reacted to the closures immediately, placing course materials in alternative formats that could be accessed online. "Even those who didn't have extensive experience with this kind of instruction quickly rose to meet the needs of their students," says Wilson. Faculty proficient in online instruction methods acted as mentors to their peers, and classes were student-ready in anticipation of the April 6 virtual reopening of the college after an extended spring break.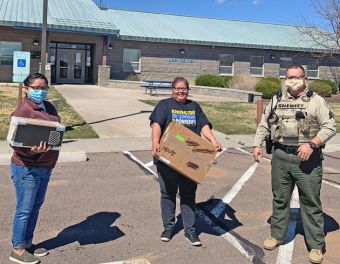 While faculty were preparing to provide instruction and assessment via internet connectivity, Wilson was working with NPC's Student Services division to identify those students who were unprepared to make the transition. "Some had no computer; some had no internet; some were without either," she explains. Armed with a list of names, Wilson began to seek Chromebooks and Wi-Fi hotspots she could purchase using the NPC Friends and Family Emergency Fund. It wasn't a matter of being able to buy the required number, because in their March meeting, the NPCFF board had authorized Wilson to amend the budget, moving $30,000.00 from regular scholarship accounts into the Emergency Fund to respond to the COVID-19 crisis. The problem was availability. Suppliers were rapidly running out of stock, due to the large number of American workers and students who suddenly found themselves having to work from home. Wilson was able to secure the Chromebooks and Wi-Fi hotspots from Cellular One she needed but then the difficult task became how to get them to the college's most outlying centers in Kayenta, Polacca and Whiteriver.
Enter law enforcement. Wilson reached out to Jon Wisner, Director of Public Safety Education at the Northeastern Arizona Training Center. "Jon called me back in a matter of only a few hours with solutions," Wilson says. Wisner had contacted the chiefs of police in all NPC communities and received permission for NPC students to work inside their closed vehicles, in NPC parking lots, where they could access the college's Wi-Fi using their student accounts. "As long as no one violated imposed curfews, the chiefs were supportive!" Wilson notes. This would give students a way to keep up until she could get the devices to them.
Wisner had also addressed the issue of delivering the needed laptops and hotspots. "He told me the Navajo County Sheriff's Department was going to fly them up to Kayenta," she says. "I was in disbelief," she laughs. "I said, 'You mean, like in an airplane?'" Which is exactly what happened. Wilson took boxes of devices to deputies at NCSO in Holbrook, and they flew them to Kayenta, and drove additional boxes to the college's Hopi Center at Polacca, where center staff assisted in disseminating them to students, using safe social distancing practices. Wilson met an officer from the WMAT police department at Hon-Dah, and he transported additional devices to the college's Whiteriver Center. College staff assisted with distribution of devices at other campus and center locations.
"I have always been inspired by our NPC students," Wilson says. "They face so many barriers on the path to gaining a postsecondary education, yet they ask for nothing, they expect nothing, they just put their shoulders to the wheel and make it happen. But the situation created by this pandemic reveals something else: We have a wonderful community of caring, giving people all across Navajo and Apache counties, exemplified by the NCSO and all area law enforcement agencies. They have proven once again that they are heroes, and that they truly care for the people they serve. We may be rural, we may not have the services or the supplies or the finances that are readily available in urban locations, but we have each other."