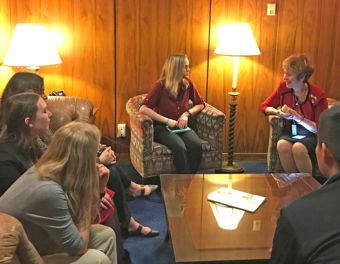 Six dual enrollment students from Northland Pioneer College and Northeast Arizona high schools impressed state lawmakers during a recent visit to the Arizona Legislature in Phoenix. The students engaged state senators and representatives on the importance of education in rural schools and community colleges. Enrolled in area high schools and also taking distance learning courses through the NPC TALON program, the students are enrolled in an NPC economics class taught by Jennifer Bishop.
Students met with state senators Jamescita Peschlakai and Sylvia Allen and state representatives Walter Blackman, Arlando Teller and Myron Tsosie, all serving Northeast Arizona legislative districts. Among the topics raised by students in discussions with the lawmakers were funding for more education programs, the importance of career and technical education, high teen unemployment and others.
"The legislators were very surprised and impressed by the students' comments and questions," Bishop said. Likewise, the NPC students were amazed at the time and attention they received from lawmakers and viewed it as an outstanding learning experience.
Sen. Sylvia Allen, a past winner of the Legislator of the Year award presented by Arizona Community Colleges, said she was glad to see young students visiting the legislature and found the interactions meaningful.
"I am really a fan of Arizona's community colleges because they serve a critical role in providing higher education for our rural areas," Sen. Allen said. "Northland Pioneer College's students were very engaged during our meeting. We had great conversations, they were excited to be here and wanted to learn about the law-making process. One young lady said she developed an interest in going into public service in her career. I'm glad we're bringing young college students down here and look forward to meeting more students in the future."
The student referred to by Sen. Allen is Kaybree Raisor, from Snowflake. Raisor said she was very impressed by the legislators and is now interested in possibly pursuing a political career. "I had a fantastic time while on the trip to the Arizona state capitol! We were able to talk to several representatives and senators to advocate for funding to rural Arizona schools."
Ellie Smith, from Woodruff, described the experience as "incredible! I was surprised that we were able to spend so much time with the representatives and senators. After going on this trip, I realized how fortunate we are to live in America where the citizens can voice their concerns and be heard by our leaders. I became aware of just how much responsibility the citizens of America have in our government. We talked to them for about an hour, and I was very impressed with their kindness and willingness to actually listen to what we had to say. After going on this trip, I realized that I have a great responsibility to my country to vote and be involved with the decisions our leaders are making."
Angelo Duncan, of Ft. Apache, said he enjoyed meeting minority members of the legislature and speaking with them in his native language. "It was great seeing what they do on a daily basis and hearing what they had to say about the education we have right now with TALON," he said. "After that, I thought to myself that anything is possible."
Anthony Gabaldon, also of Snowflake, was impressed that the students were acknowledged by the House of Representatives in one of their meetings. "I am glad we got the opportunity to talk to these people about education because we are the products of them passing the bills."
Kate Johnston, another Snowflake student, said the event was a great learning experience. "Overall, I was able to see how much these senators and representatives cared about the issues. They spent a lot of time with us answering questions, while most people don't get that kind of time with them."
Northland Pioneer College serves the residents of Navajo and Apache counties through four regional campuses and five centers with a variety of educational options for academic, career and technical and personal enrichment. NPC supports each student's educational goals through affordable tuition, small class sizes and caring, professional instructors. For more information about NPC programs and services, visit www.npc.edu or call (800) 266-7845.