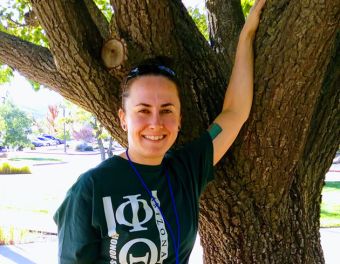 NPC student Tyler Allen, of Show Low, is an honorable mention winner in the Honors Case Study Challenge sponsored by Phi Theta Kappa (PTK), an international honor society for community college students. Allen will be recognized during the Parade of Scholars at the event "PTK Catalyst 2020" in Grapevine, Texas at a date to be determined.
Recently accepted into the NPC Nursing program, Allen was recognized for her case study, "Dynamics of Discovery: Alzheimer's Disease Treatments." She has a personal interest in the disease because her late great uncle struggled with Alzheimer's Disease, and she plans to continue involvement with the topic through her college studies and career. Nearly six million Americans are living with Alzheimer's, and this number is projected to reach 14 million by the year 2050. Every 65 seconds, someone develops Alzheimer's, and deaths have increased by 145 percent since 2000.
"This honor was unexpected," Allen explained. "Only four entries received honorable mention, and PTK had a record number of entries this year."
The Honors Case Study Challenge provides students with an opportunity to learn real-world skills they'll be able to use in their class work and careers. Participating students select a topic to research, then select five newspaper reports on the subject, write a 500-word case study summary and a 200-word essay on the future implications of the topic. Additionally, they develop discussion questions on the topic, among other requirements.
In Allen's case study summary on Alzheimer's Disease, she reports that implants in mice applying deep brain stimulation and drugs have shown reductions in cognitive and functional decline. As this experimental technology advances, it is hoped that positive results will also be made during human clinical trials.
Allen said, "My great uncle was diagnosed with Alzheimer's Disease, and this is something that has always interested me. My brother works in neuroscience research and is a master's student in health sciences. When I was in high school I worked in philanthropy for a national Alzheimer's organization." As a student in Dr. Gary Reyes' psychology class at NPC, she also wrote a research paper on reversing the decline of dementia.
Allen's goals include becoming a registered nurse, earning a bachelor's degree in nursing through Northern Arizona University, pursuing a doctorate in public health and working with patients suffering from neural diseases.
An Indiana native who has lived in Arizona for 15 years, Allen enjoys her involvement in NPC's Phi Theta Kappa chapter. "PTK is an organization that emphasizes scholarship, leadership, fellowship and service. It brings us together as students in service to life in the community, building leaders. PTK challenges us to ask, 'how can I help people and make a better community?' "