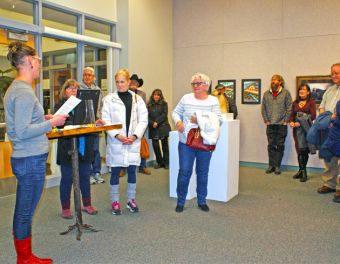 SHOW LOW — The talent of residents from throughout Navajo and Apache counties gleaned three top artists distinguished awards during Northland Pioneer College's (NPC's) juried Locally Grown art exhibit's awards reception Friday, December 6 2019 at the Talon Gallery. Karen Lewis (Show Low), Suzanne Taylor (Show Low), and Deborah Wright (Pinetop) captured first, second and third place awards for their entries.
This year's exhibition, which ran from November 4, through December 6, was juried by Jason Bohnert, a professional potter and senior lecturer in the School of Art at Northern Arizona University. "Upon reviewing the entries for this exhibition, I immediately noticed a connection to nature in each and every entry," notes Bohnert. "Animal forms, mountain imagery, floral motifs, people in nature, as well as a use of natural materials all appeared to show a strong connection to the natural world."
Karen Lewis's "Karenized Fox," earned her first place among the entries. This "playfully rendered fox, with life and energy in its eyes," combined a 3D form with a creative and interesting 2D surface that "drew me to the piece right away and kept me coming back to look again," Bohnert explains. "I appreciated the carved and inlaid line work which compliments the geometric planes of the face, and meander throughout the form, reminding me of the fox's own curious nature," he continues.
Lewis is a local artist and previous owner (having passed the reins off to her daughter Courtney), of White Mountain K9 Camp, LLC. She has entered and placed in several local art shows and currently takes art and ceramic classes at NPC.
Second place went to Suzanne Taylor, for her multi-media piece titled "Katie" for its "ambitious scope and interesting integration of materials," explains Bohnert. "Both the skillful molding of the dear's antlers, ears, and physical features, as well as the 2D mosaic imagery on the surface keeps the viewer engaged."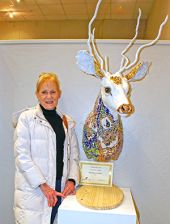 According to Taylor, "Katie," a taxidermy mount turned-work of art, was made nearly entirely of all-natural materials. "My neighbor found this dirty, used taxidermy mount discarded on the side of the road and brought it to me," she states. "It still had some scruffs of hair stuck on it," she said. "I just looked and looked at it and then, started creating." Taylor stripped the mold to its base and used clay, stained glass, paper and even branches her husband cut from a tree in their front yard, to create the enchanting creature.
For Deborah Wright, who recently moved to Pinetop from Tucson, this was a first as far as entering her work in an art exhibit. Her "Sour Lemon Daisies," watercolor earned a third-place award. "I started with a part of it, and it just kept growing and growing," she says of her work (she also entered a second painting titled "Majestic Diversity," a mountain scene that she says began as an odd, seemingly misplaced splash of gray paint).
 Ironically, Bohnert notes on Wright's piece, "the painter seems practiced and skilled at their medium, and the composition is well balanced and aesthetically pleasing. The atmospheric perspective and the soft light and color captured the essence of the lemon daisies extremely well."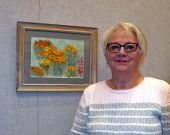 "I guess the artistic gene just runs in my family," laughs Wright, who's sister Susan's work was also featured in the Locally Grown exhibit. 
The annual NPC Locally Grown juried art exhibit features a selection of original artwork from artists living in Apache and Navajo counties. For additional information about the exhibit, contact Magda Gluszek, NPC art faculty and gallery director, 928-532-6176.