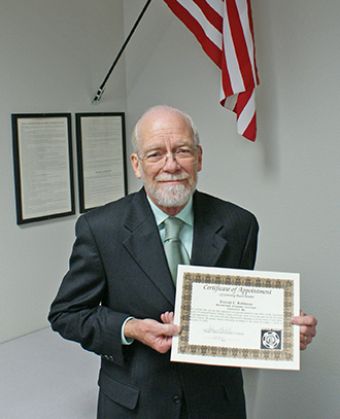 Long-time Show Low resident and former NPC public information/media relations coordinator (retiree) Everett Robinson has been appointed as Northland Pioneer College's District 4 representative on the District Governing Board (DGB). He will take over the position previously held by James Matteson, who resigned from the position in September. Robinson's term will expire December 31, 2020, at which time the seat will be up for a 6-year term elected by voters within District 4, which covers Show Low, Linden, Pinedale, Clay Springs and Heber-Overgaard.
Navajo County School Superintendent Jalyn Gerlich swore Robinson in on Thursday, November 7 at the college's Aspen Center on the Show Low Campus. "I'd like to congratulate and thank Everett for his willingness to take on this role in what will be a challenging position in the upcoming year," remarked Gerlich. "Everett has extensive experience with the college and knowledge of how the District Governing Board operates. Additionally, he genuinely cares about students reaching their educational goals. He's a great fit."
Robinson joined NPC in 1994 as the college's public information specialist, retiring this past June after 25 years. A seasoned news and media expert, his 58-year career in journalism began in junior high school when he trained as a "printer's devil" and linotype operator before serving as student editor of Phoenix College's Bear Tracks, and later as production editor of the Daily Lobo at the University of New Mexico. He went on to build an extensive newspaper career working at the Sierra Vista Herald-Dispatch, Lake Powell Chronicle, Pinetop-Lakeside News and White Mountain Independent and helped start the Navajo-Hopi Observer.
A resident of the White Mountains since 1984, Robinson was NPC's first graduate in the field of electronics, earning his associate of applied science degree from the college in 1991. He and his wife Debbie (who also attended NPC) have two adult children who joined their father as NPC graduates: Charles Robinson and Christina Boyer. A leader in his church, Robinson also serves on the administration team of the Desert Pines Baptist Association and typesets the concert programs for the White Mountain Symphony Orchestra and High Country Barbershop Chorus.
"I hope to use my experience covering the board and my history and knowledge of the college to improve opportunities for students," said Robinson. "What is best for the students has been and will continue to be my primary goal."