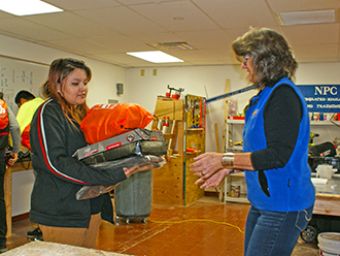 Seventeen students in Northland Pioneer College's (NPC's) Integrated Education and Training (IET) construction program in Whiteriver recently received the first of three rounds of "essentials" for successful employment in the field thanks to the Del E. Webb Foundation and NPC's Friends and Family, the college's nonprofit foundation.
Last fall, NPC's Friends and Family received a grant from Del E. Webb to assist disadvantaged students enrolled in the construction program at NPC's Whiteriver Center. The funding has allowed the nonprofit organization to provide students completing the program with items necessary to secure jobs in the construction field.
"We can teach and train them to be excellent tradespeople, but without the appropriate apparel, footwear (boots) and tools, these students can't seek entry-level  employment in the construction field," states Betsyann Wilson, executive director of NPC Friends and Family. "In most cases these students are challenged just to meet their own basic needs and those of their families. They don't have the extra money to spend on these items. Without the basic clothing and tools required by employers, they're unemployable in the very trade they've trained for," she continues.
This grant enables NPC's Friends and Family to purchase items crucial for working in the trade. The program works in stages, with the first round of items disbursed to those students who have satisfactorily completed the first nine weeks of competencies. These include: shirts, pants, work-boots, gloves, safety glasses and a hardhat. At the end of the first semester, students who have remained in the program are provided a basic set of hand tools. Upon successful completion of the program, students receive a full set of cordless power tools.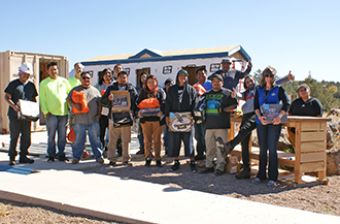 Steve Mills, NPC Construction Technology instructor at the Whiteriver Center, confirms that of the 15 students who benefited from the grant and completed the program last spring, nine were employed in construction jobs either before finishing their certificates, or immediately thereafter. Five of those nine students are currently pursuing their associate of applied science degrees. "These students are making huge improvements in their lives; securing the skills and education needed to not only gain employment, but to impact the community around them," Mills explains. "Our students serve as great examples of what happens when someone is given a chance and the basic necessities to succeed."