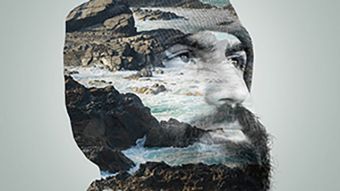 Dinner theatre reservations and show-only tickets are available for Northland Pioneer College Performing Arts Department's presentation of Under Milk Wood, the humorous, poetic and musical account of a spring day in a small Welsh coastal town by poet Dylan Thomas.
Completed just prior to Thomas' untimely death at age 39, Under Milk Wood was originally commissioned for radio by the British Broadcasting Corporation (BBC). The story begins with dreams and ghosts before dawn, moves through the brilliant, noisy day of the townspeople, and closes as the "rain of dusk brings on the bawdy night."
"When my artistic collaborator Patrick Day (who designed the production's set and lighting) approached me with the idea of producing Under Milk Wood for our fall production, I wasn't initially sure how to approach the script," explains the play's director, Dr. Michael Solomonson. "Thomas' use of language and his labeling the script as a 'play for voices,' made me consider doing it strictly as a radio drama. However, I felt that the script had an inherent theatricality and would be an excellent exercise for student actors."
Perhaps due to Solomonson's own experience, having worked at a small radio station in Iowa as a teen and young adult, combined with his extensive theatre background, he continues, "I felt the script would benefit from taking a hybrid approach to marrying theatre and radio techniques in its presentation style. Consequently, what the audience will experience is a cast of 29 actors who will portray over 60 characters," Solomonson explains. "The individual characters will be distinguished through costumes, makeup and the actors' abilities to define unique characterizations. Our production will also use live sound effects, in the tradition of Foley artists who created sound for the live radio shows during radio's 'golden age' in the 1930s and 1940s."

In a letter Thomas wrote to Marguerite Caetani (princess of Bassiano and duchess of Sermoneta in early Italy), about Under Milk Wood, Thomas states "…the idea was that I write a piece, a play, an impression for voices, an entertainment out of the town I live in, and to write it simply and warmly and comically, with lots of movement and varieties of moods, so that, at many levels, through sight and speech, description and dialogue, evocation and parody, you come to know the town as an inhabitant of it." 
Solomonson emphasizes, "That, will be our goal as a production team; to try and give the audience the experience of feeling like a part of a town." Therefore, he says, "the play is an ensemble piece with no single character having the primary focus. The play is driven by two narrators who guide the audience through the experience."
The narrators will be played by Vera Bennett and Brianna Waldroup. Accompanying cast members include in alphabetical order, Joey Beecroft, Cruz Denetso, Darion Douglas, Joella Douglas, Janetzy Gonzalez, Holly Hatch, Jocelyn Hatch, William Hough, Brian Scott Jackson, Josh Kishbaugh, Jackson Kittrell, Marco Luna, Kellen Nicholson, Lindsey Owen, Kayla Race, Claire Padilla, Anya Pitterle, KayBree Raisor, Allison Rydberg, Jacob Shriver, Rebecca Smith, Jane J. Smith-Stafford, Cassandra Snyder, Austin Stanislawski, Kelli Rae Stanton and Kobe Teller.
Lighting and set design are by the Emmy-award winning Day. Music composition will be orchestrated by Greg Hudson, music director. Rounding out the production team are Mikayla Pitterle, stage manager and Kari Rolfe, costume assistant.
Dinner theatre performances will begin at 6 p.m. on Saturday, Nov. 9, and Thursday, Nov. 14. Reservations are required for the $25, three-course catered meal and show. No refunds or discounts will be available. The menu includes a split Cornish game hen entrée with lemon glazed carrots and leek. Or, as a gluten-free vegetarian option, select a Welsh shepherd's pie. Seating is limited to 52 couples or 104 patrons per dinner performance.
Show-only performances will be held at 7 p.m. on Friday, Nov. 8 and 15, and Saturday, Nov. 16. There will also be a 2 p.m. matinee on Saturday Nov. 16. Advance tickets are $7, with day-of performance admission of $9. Senior citizens 60+, and NPC students and staff receive a $1 discount to show-only performances. All shows will be at the Performing Arts Center, 1611 S. Main in Snowflake. Reservations can be made by leaving a message with the Box Office, 536-6250, or online at www.npc.edu/tickets.
NPC's production of Under Milk Wood is produced through a licensing agreement with Samuel French, Inc.
Questions can be addressed to Dr. Solomonson, at (928) 536-6217 or email michael.solomonson@npc.edu.