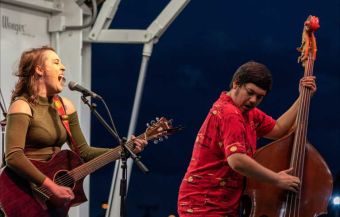 Northland Pioneer College will kick off the fall season with its biannual EagleFest Saturday, October 19, from 10 a.m. to 2 p.m. at the college's Holbrook-Painted Desert Campus.
This is a free event and open to the public. There will be entertainment for all ages, including live music by "One Eye High," Ernie's pumpkin art family craft sessions and a complimentary picnic lunch. Interactive booths and demonstrations will spotlight NPC programs, offerings and student activities. The first 50 families in attendance will go home with a free pumpkin, and there will be other prizes.
"EagleFest will be a fun event offering the public a chance to learn more about what the college has to offer," explains Rebecca Hunt, an NPC recruitment specialist. "You'll be able to meet with instructors and students in many study areas, tour the campus and learn more about our partnerships with area high schools and businesses."
"Student clubs and organizations will also be at Eaglefest, showcasing the many opportunities NPC students have for cultural enrichment and exploring the exciting learning environment in our area," adds Ryan Orr, an NPC academic adviser and student activities coordinator.
In addition, parents and youngsters can learn more about noncredit classes and NPC's summer Kids College program and the Science, Technology, Engineering & Mathematics (STEM) workshops for youngsters.
For additional information, contact Rebecca Hunt, 536-6271, or Ryan Orr, 536-6241. NPC's Holbrook campus is located at 2251 E. Navajo Blvd., near the water tower.
Northland Pioneer College serves the residents of Navajo and Apache counties through four regional campuses and five centers with a variety of educational options for academic, career and technical and personal enrichment. NPC supports each student's educational goals through affordable tuition, small class sizes and caring, professional instructors. For more information about NPC programs and services, visit www.npc.edu or call (800) 266-7845.