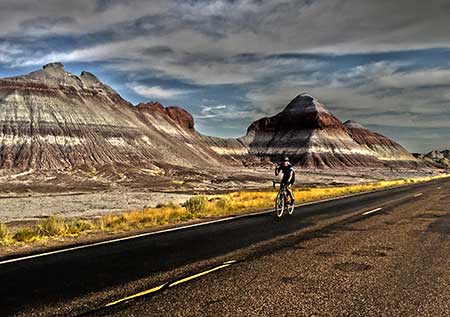 Pedaling through a serene landscape of mysterious geological formations, molten-like rock slides and unearthly scenery at Petrified Forest National Park, nearly 250 bicyclists netted over $34,000 for scholarships in this year's Pedal the Petrified bicycle tour Saturday, September 14th.
Produced by NPC Friends and Family, a nonprofit alliance supporting Northland Pioneer College students and programs, and in partnership with the Petrified Forest National Park and numerous sponsors and volunteers, the annual event attracts bicyclists from all over the nation, with participants from as far away as Minnesota and Connecticut. This year 85 percent of the event's participants traveled from outside the local area, 20 percent from out of state. From what began in 2013 with 45 riders in the first Pedal the Petrified, in recent years the event has grown to full capacity with 250 riders ranging in age from 15 to 78.
This year's event was particularly special for one bicyclist. Sandra Garrett-Shorty of Queen Creek spent many summers as a youth and young adult working on the Paulsell Ranch, owned by her late grandfather, Pat D. Paulsell Sr. Last year, a significant parcel of Paulsell ranchland was incorporated into the Petrified Forest National Park. According to the Friends of the Petrified Forest website, the land was acquired due to its high archeological and paleontological value, as well as its rich ranching history. The increase in acreage has significantly added value to the park, with the first guided tours to the former Paulson Ranch area kicking off earlier this year.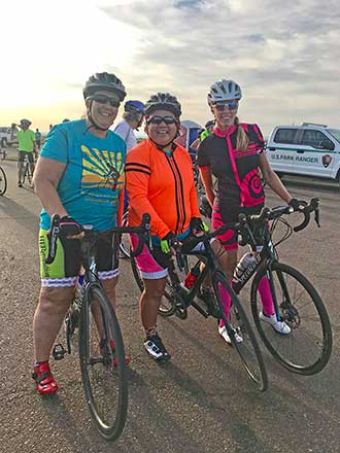 Garrett-Shorty also attended NPC in the early 90's and was on the college's (since dissolved) women's basketball team. She is currently a nurse practitioner in Sacaton working among the Gila River Indian community. She says it all started with her roots and having worked on her grandfather's ranch. In her late teens, she helped out on the ranch and neighboring ranches, interestingly enough, often by translating to local natives in trade deals. She also helped in ranch upkeep and did other odd jobs. She moved to Show Low, where she participated in a youth training program which led her to attend classes at NPC. Garrett-Shorty was hired as a respiratory therapist aid at Navapache Regional Medical center (currently Summit Hospital) and decided the heath care field was where she belonged. She went on to study phlebotomy at NPC and later earned her nursing degree from Yavapai College and her masters from Grand Canyon University. "Working on my grandfather's ranch, moving to Show Low and attending NPC… that was what built the bridge to my future," Garrett-Shorty explains. "Everyone needs a bridge and that was mine."
This was Garrett-Shorty's first-ever Pedal the Petrified event. When her good friend Bill Jeffers (a local rancher and longtime NPC supporter) mentioned the ride to her, she became excited about the idea of returning to and viewing, via bicycle, some of the ranchland she grew up on. She convinced several friends to join her. "I told them it would be an easy ride, hardly any hills," she relates. It wasn't until they were going that she realized that wasn't necessarily the case. "You would be surprised at how many hills there are on what seems so flat an area," she laughs. "It's not so flat after all. But it sure is beautiful."
Although the ride had a few more hills than she assumed, Garrett-Shorty says, "It was awesome. The SAG team stops were probably some of the best I've ever seen, (right up there next to the 'Bike the Coast' ride, which I participate in each year, and those are pretty extravagant)." Seeing some of her grandfather's ranchland brought back powerful memories. "I tried looking for the windmill and holding corrals that were down by Newspaper Rock, but nothing was there. It was kind of sad." She reminisces, "Tourists used to stop to take pictures of us as we pushed 100 head of cattle under the Agate Bridge (a well-known park feature). The idea of running herds of cattle across what looks like the moonscape of an alien planet is starkly different than any ranching snapshots most have ever seen," she explains.
When asked if she will participate in the Pedal the Petrified event again, Garett-Shorty was quick to respond. "Yes, I'll be ready for those hills next year."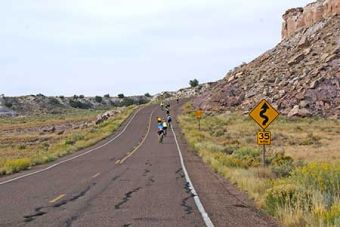 The Pedal the Petrified event entails a 100km (approximately 63-mile) round-trip ride titled the ''Metric-Century,'' or riders can opt for the 50km 'Metric-Half Century" ride. This year's event was fully sponsored by Summit Healthcare, La Posada and Holbrook's Quality Inn, OK RV, EconoLodge and Lexington Inn. Water for the event was generously donated by The Pour Station and White Mountain Purified Water and Ice. All proceeds go directly toward NPC student scholarships.
Executive Director of NPC Friends and Family, Betsyann Wilson, praised the efforts of those who participated, sponsored and volunteered their time. "We are fortunate to have such amazing people participating in and helping us with this event each year," she expressed. "It's often because of scholarship opportunities like those created through NPC's Friends and Family, that students are able to find a bridge to their future," says Wilson. "Events like Pedal the Petrified help us to help them in ways that are truly life-changing. Dreams are coming true each day through the path to higher education. We are helping students transform their lives and realize that path."
All donations to NPC Friends and Family, a 501 (c) (3) organization, are tax deductible. NPC Friends and Family is organized exclusively to support the mission and goals of Northland Pioneer College through advancement of college programs and services, establishment and growth of student scholarships and positive promotion of NPC. For more information about fundraising events or creating or donating to a scholarship, please contact Wilson at (928) 536-6245, by email at betsy.wilson@npc.edu, or consider making a gift today by visiting www.npcfriendsfamily.org.