SNOWFLAKE/TAYLOR – A sunny day of disc golf competition Saturday, August 10, at the Four Seasons Disc Golf Course raised nearly $4,000 toward Northland Pioneer College Friends and Family scholarships for student veterans.
This annual tournament was held in partnership with the towns of Snowflake and Taylor and hosted professional and amateur disc golfers from around the Southwest. The Four Seasons Disc course is nestled nicely within the Snowflake Municipal Golf Course and was designed by Disc Golf Hall of Famer Dan Ginnelly and "Snowflake" Steve Johnston, two pioneers of the sport.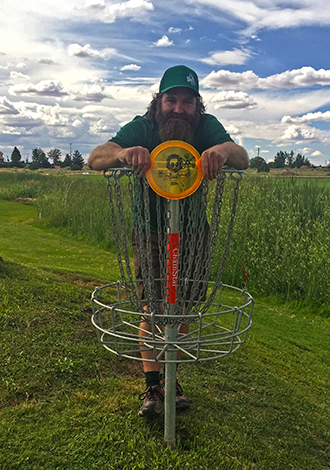 The tournament's hefty $2,000 Pro Purse was generously made possible by the Towns of Snowflake and Taylor and drew the attention of well-known disc golf professionals, noted for throwing distances of 600 feet plus. Those in this category included Jeremy Novack of Payson, who came out the overall leader in the MPO (pro male under 40) division with a score of 103, Pete Ulibarri, of Mesa, who finished close behind at third place with a score of 106, and Connor Rock, of Lakeside who finished sixth in the division and is known for drives measuring well over 700 ft. There are over 115,000-disc golfers registered with the Professional Disc Golfers Association, (PDGA) worldwide. Pros playing in this year's tournament rank among the top 1% of that elite group.
A highlight of the competition was an ace thrown by Brad Casarotto of Mesa, AZ on the number five hole; a "thumber shot" made with a bright orange Jerry Garcia disk sporting the legendary persona complete with his dancing bears. The field of players witness to the throw broke out in hearty applause as Brad, who also finished first in the MP40 (pro male over 40 division) called the shot, stepped up to the tee box and nailed the hole-in-one.
Finishing first in the FPO division (female pro under 40), was Sami Keddigton of Tempe, who stated, "This is just an awesome tournament and one I always look forward to and will continue to come to every year. It's built around a wonderful cause and with the hard work of so many beautiful people. There's truly a family feeling here and I just love it."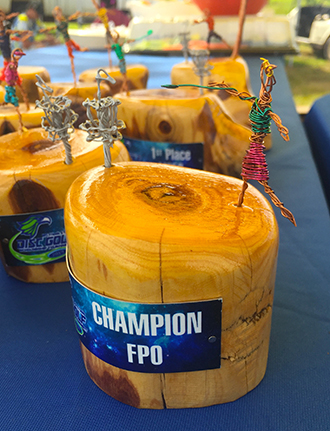 Players competed in categories for both men and women, pro and amateur, as well as under the age of 16 and 10. Gift bags given to participants included tie-dyed tee-shirts and bright tournament discs among other goodies. Tournament Director "Snowflake" Steve Johnston tie-dyed every shirt by hand, so each was a unique work of art. Winning players also received custom trophies designed and hand-built by Steve who is well-known for his unique creations. Kegan Erhart of Taylor, celebrated his 13th birthday at the tournament with a fittingly tie-dyed birthday cake, a much-needed sweet treat enjoyed by all during the warm, humid day.
Major sponsors of the event included Copperstate Farms, Summit Healthcare, The Country Store, and Innova Disc Golf to name a few.
NPC Friends and Family will be hosting their next fundraising event, "Pedal the Petrified" Saturday September 14, at the Petrified Forest National Park outside of Holbrook. More information about the event can be found at www.npc.edu/pedal4scholarships.
To learn more about NPC Friends and Family, visit their website, www.npcfriendsfamily.org, or contact Wilson at (928) 536-6245.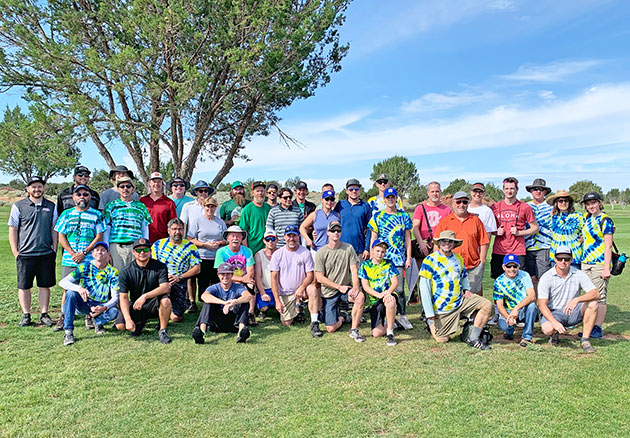 Top Pro Scores by Division:
MPO (under 40 male):
1– Jeremy Novack, Payson, AZ – 103
2 – Alex Miller, Phoenix, AZ – 105
3 – Pete Ulibarri, Mesa, AZ – 106
4 – Clayton Adams, Mesa, AZ – 108
5 – Stephen Dale, Pinetop – 109
6 – Connor Rock, Lakeside, AZ – 111
MP40 (over 40 male):
1 – Brad Casarotto, Mesa, AZ – 106
2 – Jesse Au, Chandler, AZ – 108
3 – Joshua Watts, Queen Creek, AZ – 120
MP50 (over 50 male):
1 – Roy Lopez, Flagstaff, AZ – 109
2 – Nick Mucha, Mesa, AZ – 112
3 – Andrew Hassard, Lakeside, AZ – 113
4 – Ken Swafford, Pinetop, AZ – 116
FPO (under 40 female):
1 – Sami Keddington, Tempe, AZ – 134