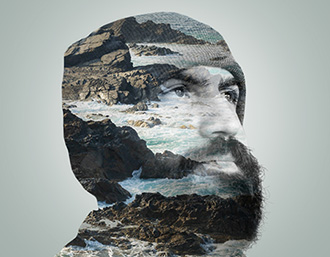 Auditions for the theatrical production of poet Dylan Thomas's masterpiece, Under Milk Wood, will be Tuesday and Thursday, August 20 and 22, from 6 to 9:30 p.m., at Northland Pioneer College's Performing Arts Center on the Snowflake/Taylor – Silver Creek Campus, 1611 S. Main St.
"Auditions are open to everyone," notes Dr. Michael Solomonson, who will be directing the NPC production this Fall. "There are roles for up to 17 male and 17 female actors of a variety of ages ranging from 14 to 85," continued Solomonson. Those who audition are encouraged to prepare a 1-minute comic or dramatic monologue. Cold readings from the script may be substituted for a prepared piece.
In a moving and hilarious depiction of a spring day in a small Welsh coastal town, Under Milk Wood begins with dreams and ghosts before dawn, moves through the brilliant, noisy day of the townspeople, and closes as the "rain of dusk brings on the bawdy night."  The play was originally commissioned for radio by the British Broadcasting Corporation (BBC), and the cast will be involved as old-time radio Foley artists, creating live sound effects to punctuate the stage action. "NPC's production will be theatrical," Solomonson notes, "with actors portraying the various townspeople, as well as serving as narrators of the events and people we meet during the course of the day."
In what Thomas himself called "a play for voices," the presentation will have opportunities for singing. "There are a few songs either sung in a group or solo," continued Solomonson. Those auditioning who would like to be considered for singing roles, can prepare an acapella 30-second audition piece in addition to their monologue/cold reading.
Performances will be held November 8, 15 and 16, at 7 p.m. with a 2 p.m. matinee on the 16th. Dinner Theatre showings will be Saturday, November 9,and Thursday, November 14,at 6 p.m. at NPC's Performing Arts Center. The show will be produced through a licensing agreement with Samuel French, Inc. For audition questions, contact Dr. Michael Solomonson, 536-6217, or email michael.solomonson@npc.edu.
– – – N P C — Expanding Minds • Transforming Lives – – –