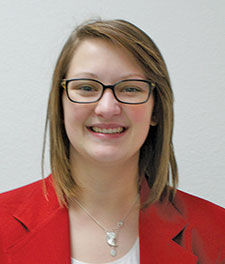 SHOW LOW -- Northland Pioneer College student Kylie Peck has made history for the second year in a row. She recently repeated as a national champion in SkillsUSA national competition, in the category of post-secondary employment application process. Last year she became just the second student in NPC history to win a Gold medal at nationals, and now she is the first NPC student to win two golds at the highest level of SkillsUSA competition. Four of the seven NPC students competing at nationals, June 24-28 in Louisville, Ky., earned top 10 finishes in their respective categories.
Peck, a Taylor resident, aced each of the requirements of the employment application process for a fictitious welding artist job, including the presentation of a portfolio, completion of an application and doing an interview. She now plans to continue her college education at NPC and earn associate degrees in cosmetology and welding, with the career goal of teaching both subjects.
Two NPC cosmetology students earned eighth-place finishes. Floy Carr, of Winslow, competed in post-secondary cosmetology, and Jasmine Ramirez, from Holbrook, competed in job interview.
Matt Meade, from Show Low, competed in post-secondary automotive technology for the second straight year. He placed 21st this time after a 20th-place finish a year ago.
Fire science student Alice Wilhem, of Vernon, placed 28th in her competition.
Two NPC students from Saint Johns competed in welding sculpture. Westin Lee, a high school student enrolled at NPC through the Northern Arizona Vocational Institute of Technology (NAVIT) program, finished ninth. Jordan Lunsford earned 20th place in post-secondary competition.
SkillsUSA is a partnership of students, teachers and industry working together to ensure America has a skilled workforce. SkillsUSA helps students excel by providing educational programs, events and competitions that support career and technical education in the nation's classrooms.
Northland Pioneer College serves the residents of Navajo and Apache counties through four regional campuses and five centers with a variety of educational options for academic, career and technical and personal enrichment. NPC supports each student's educational goals through affordable tuition, small class sizes and caring, professional instructors. For more information about NPC programs and services, call (800) 266-7845.
– – – N P C — Expanding Minds • Transforming Lives – – –