SHOW LOW – Lowe's Home Improvement and the Del E. Webb Foundation have both hammered home their support of the Construction Technology program at Northland Pioneer College. The Webb Foundation gave a grant to NPC Friends & Family to assist disadvantaged students in the Whiteriver Center's construction program, Integrated Education and Training (IET).
Betsyann Wilson, executive director of NPC Friends & Family, said NPC initially intended to purchase some tools for the IET program from Lowe's. When she visited the store to arrange the purchase, Sales Director Rex Bishop asked what it was for, and Wilson told him about the grant-funded project and its potential for helping at-risk students in the NPC Construction program in Whiteriver to gain employment. "He must have thought it was as cool a project as I do!" remarked Wilson, because when NPC officials arrived at Lowe's to pick up the items, Bishop generously offered a donation of fasteners and 720 square feet of TREX-type decking. "All this was just voluntary on the part of Lowe's," Wilson said. The estimated one ton of products is valued at more than $4,000.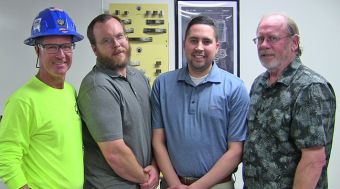 "Thank you, Lowe's," said Ken Wilk, instructional support specialist at NPC. "What an incredible investment in our local workforce! This remarkable support allows us to continue to promote construction-related trades and pursue meaningful endeavors related to the development of our local workforce. I am truly humbled by Lowe's generosity, and what really excites me is the passion Lowe's brings to investing in our local programs in the Navajo County area."
This is the largest single donation of materials the NPC Construction Technology program has ever received in the 10 years Wilk has served at the college. He said the donation of fasteners will benefit more than a hundred construction students who will use them throughout the year to assemble projects. NPC will also use these items for regional SkillsUSA competitions.
Steve Mills, NPC Construction Technology instructor at the Whiteriver Center, calls the Lowe's donation "awesome" and says its impact can be measured in more than dollars and pounds. "The Lowe's donation of screws, nails and specialty fasteners is a huge help to our construction program. And being in a location that doesn't have a lumber yard or hardware store close by, having all these materials on hand now allows us to focus more on teaching rather than going through our inventory to see if we have all the materials and supplies needed for each month's lessons. We now have every fastener needed to complete any construction job."
Lowe's has a strong history of supporting Career and Technical Education programs and is a major corporate sponsor of the national SkillsUSA construction competition each year in Louisville, Ky. NPC construction students compete annually in SkillsUSA events.
Store Manager Ryan Kessler gave the final approval for his company's donation. "We were going through some product changes, and that gave us the opportunity to donate some products," he explained. "We had previously donated items to local high schools, but had not done so with Northland Pioneer College. So NPC came to mind and it worked out pretty well to donate to the Construction Technology program. Being a small community here, it's very cool to be able to help out local organizations, and any time we can do so provides us a great opportunity."
Northland Pioneer College serves the residents of Navajo and Apache counties through four regional campuses and five centers with a variety of educational options for academic, career and technical and personal enrichment. NPC supports each student's educational goals through affordable tuition, small class sizes and caring, professional instructors. For more information about NPC programs and services, visit www.npc.edu or call (800) 266-7845.
Article and photo by Dennis Durband, NPC Staff Writer
– – – N P C — Expanding Minds • Transforming Lives – – –