Northland Pioneer College celebrates its 45th Commencement on Saturday, May 11, at the Show Low School District Auditorium, 500 W. Old Linden Road. Admission to the ceremony, which begins at 1 p.m., is restricted to individuals with reserved seat tickets. Doors to the auditorium open at Noon.
This year 633 students have applied for 868 associate degrees, certificates of applied science and certificates of proficiency. Participating in the Commencement ceremony will be 136 graduates with 69 transfer degrees, 20 Associate of General Studies degrees, 133 Associate of Applied Science degrees, 59 Certificates of Applied Science and 352 Certificates of Proficiency. Actual degrees and certificates will be conferred upon verification of final grades and credits.
Welcoming guests to the ceremony in the predominate languages within the NPC district will be Teresa Harvey, Hopi; Kevin Gilfillan, Spanish; Laurel Clarkson, Apache; Kiana Boyds, Navajo; and Kayla Downs, English.
Gwendena Lee-Gatewood, chairwoman of the White Mountain Apache Tribe, is the guest speaker for this year's ceremony.
Five outstanding graduates will also be addressing their peers during the ceremony. Kylie Sue Perkins, of Show Low, is the top Associate of Arts graduate. Tanisha Yazzie, of Holbrook, will represent the Associate of Business recipients. McKenna Rae Sargent, of Snowflake, is the top Associate of Science graduate. Angela R. Colwell, of Pinetop, will represent the Associate of General Studies students. Amanda Louise Hatch, of Taylor, is the top Associate of Applied Science graduate.
Guests and the graduates are invited to a President's Reception immediately following the ceremony.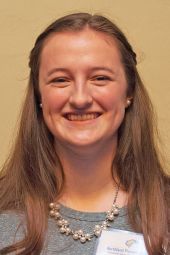 Sometimes love modifies our educational goals. Show Low High School graduate Kylie Perkins had plans to head off to an out-of-state university until she met the "love of her life," husband Allan, an electrician with MP Electric. "Since I met him, I abandoned my path to a university and chose to stay here with him and attend NPC," notes the Associate of Arts Outstanding Graduate.
"NPC provided a way for me to still reach my goals of higher education and stay with the love of my life. Allan has been a huge support of me at home and with my studies. I couldn't do it without him cheering me on." Now married for nine months, Perkins plans to attend BYU-Idaho, pursuing her degree in education online. "I want to be a mom and teach others," she adds.
Perkins is a Phi Theta Kappa Honor Society member and an NPC President's Scholar. Her hobbies include reading, baking, cooking, basketball and music. Her favorite quote is by Terry Pratchett: "If you trust in yourself, and believe in your dreams, and follow your star … you'll still get beaten by people who spent their time working hard and learning things and weren't so lazy."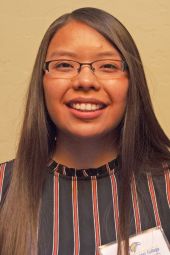 A first-generation college student, Tanisha Yazzie, the Associate of Business Outstanding Graduate, idolizes her good friend, Patricia, a full-time engineering student at NAU. In addition to her studies, "she has two part-time jobs and pays her $900/month apartment rent on time. So, whenever I feel overwhelmed, I always think to myself, 'If she can do all of that, then I can definitely do this.' I love you, Patti; you're my idol."
Born in Greasewood, and a graduate of Holbrook High School, Yazzie is the president of NPC's multi-cultural Eagle Club, helping to organize events that highlight the diversity of NPC's student body. She also served as a work study in the Financial Aid Office. Yazzie plans to transfer to the University of Arizona, where she will be pursuing her bachelor's degree in accounting, with a career goal of becoming an accountant or tax advisor.
Her hobbies include running and watching documentaries. She wants to learn more about playing the piano. Her favorite quote is by actor Johnny Depp: "I think the thing to do is enjoy the ride while you're on it."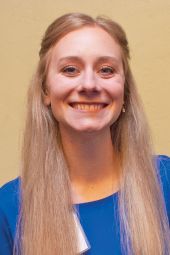 With determination, hard work and dedication, everything is possible, says McKenna Sargent, the Associate of Science Outstanding Graduate. This Snowflake native and 2016 Valedictorian graduate of Snowflake High School demonstrated her determination by balancing eight high school courses with one or two evening NPC courses during her junior and senior years.
Celebrating her 9-month anniversary today with husband Dallin, an ER Patient Care Tech. Sargent has been accepted into NPC's Nursing program, moving her a step closer to a career goal of becoming a Certified Registered Nurse Anesthetist (CRNA). She will also be utilizing her Arizona Board of Regents tuition waiver as a member of the 2019 All-Arizona Academic Team to be concurrently enrolled in the Bachelor of Science – Nursing program at ASU.
A member of Phi Theta Kappa Honor Society, Sargent thanks her parents for their support. "I had many long nights of homework and studying and my parents were always there encouraging me every step of the way." Sargent is very active in church activities; speaking at local conferences, serving as a summer youth tribal leader and a former missionary for The Church of Jesus Christ of Latter-Day Saints in Chile. "I love to sing and perform. I enjoy learning new things and being able to use my talents and knowledge in helping others."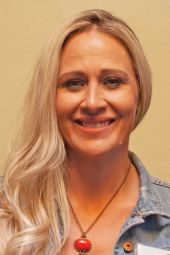 "Every time I feel discouraged I remember who is watching me and the importance of being the kind of mother my children can be proud of," explains Angela Colwell, the Associate of General Studies Outstanding Graduate. "My family has been my biggest influence while attending NPC," notes Colwell. "My husband, Michael (an NPC academic adviser in Apache County), has encouraged me every step of the way and has been my biggest fan."
Married for 18 years, the Colwells enjoy "pretty much anything outdoors" and spending time at their children's sporting events. She tutors Biology, Anatomy and Chemistry at NPC; is a member of Phi Theta Kappa; was named to the President's and Dean's list; is a director at "Hunt for Hunger," a nonprofit organization; and volunteers in school, sports and church programs.
She has been accepted into the NPC Nursing program and plans to concurrently enroll in NAU's Bachelor of Nursing program during her second year in NPC's program. "I was diagnosed with Bipolar Disorder nine years ago. It has presented many challenges in my life. But part of what drives me is the desire to change the face of mental illness and provide hope for those struggling." Colwell's career goal is to become a Psychiatric Nurse Practitioner.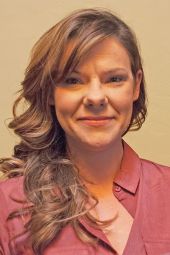 "Leadership is sharing the knowledge graciously given to me with others," explains Amanda Hatch, the Associate of Applied Science Outstanding Graduate. Hatch enjoys community activism, doing animal rescue work and serving as president of NPC's Phi Theta Kappa chapter for two years, and as the 2018/19 PTK Arizona Regional Vice President. She also served as the Student Government Association Vice President.
"The future is created and recreated daily by our interactions and the passing of knowledge, choices and inclusion," Hatch continues. "The future we live in is a direct result of the choices we make and the sharing of knowledge from all areas of life." Hatch is completing her second year in NPC's Nursing program and is currently also attending ASU's Nursing Program, working on her bachelor's degree, utilizing the tuition waiver she earned as a member of the 2018 All-Arizona Academic Team.
Her career goal is to earn her Doctor of Nursing Practice (DNP) and work for the United States Public Health Service. She would eventually like to work with Doctors Without Borders. Hatch is the recipient of multiple national scholarships, including the Guistewhite, Jannette Rankin Foundation and Coca-Cola Silver Scholar. "Live a life wide open and dream big," concludes Hatch.
Northland Pioneer College serves the residents of Navajo and Apache counties through four regional campuses and five centers with a variety of educational options for academic, career and technical and personal enrichment. NPC supports each student's educational goals through affordable tuition, small class sizes and caring, professional instructors. For more information about NPC programs and services, visit www.npc.edu or call (800) 266-7845.
Candidates for Graduation
Actual degrees/certificates will be conferred upon verification of final grades and credits.
* denotes Grade Point Average of 3.5 to 3.8 – Graduating with Distinction
** denotes Grade Point Average of 3.9 to 4.0 – Graduating with High Distinction
‡ denotes Phi Theta Kappa
§ denotes All-Arizona Academic Team
Alpine
Cristian Laurence Fish Certificate of Proficiency Welding Level I
Certificate of Proficiency Welding Level II
Meagan Rachelle Nicolds Associate of Science
Bellemont
Kimberly Dawn Ake Certificate of Applied Science Practical Nursing
Benson
Samuel White Associate of Applied Science Welding **
Certificate of Applied Science Welding **
Cameron
Carmelita Robbins Associate of Applied Science Early Childhood Development – Preschool *
Chinle
Antonio Sam Redhouse Certificate of Proficiency Automotive Technology – Electrical & Electronics Systems
Sherone Benson Yazzie Certificate of Proficiency Welding Level III
Cibecue
Atiana Jane Declay Associate of Arts
Clay Springs
Alyssa Thais Brewer Associate of Applied Science Cosmetology **
Certificate of Applied Science Cosmetology **
Certificate of Proficiency Cosmetology
Lehila Raedawn Brewer Certificate of Proficiency Cosmetology
Julie Ann Ellsworth Associate of Applied Science Cosmetology **
Certificate of Applied Science Cosmetology **
Certificate of Proficiency Cosmetology
Natalie Kate Webb Certificate of Proficiency Cosmetology
Concho
Laurence J. Bellows Certificate of Proficiency Fire Science – Firefighter
Taylor Madison Kurzhals Certificate of Proficiency Welding Level I
Certificate of Proficiency Welding Level II
Janet Marie Strebeck Associate of Applied Science Business – Modern Office Technologies *
Susan Thompson Associate of Arts ‡ †  *
Manuel Gilberto Villarreal Certificate of Proficiency Welding Level I
Certificate of Proficiency Welding Level II
Kaytlyn Rose Wallace Associate of Arts – Elementary Education ‡
Paige Wegele Certificate of Proficiency Cosmetology
Samantha Marie Weller Associate of Applied Science Welding ‡ **
Certificate of Applied Science Welding **
Certificate of Proficiency Welding Level III
Dennehotso
Samantha Renee Harrison Associate of Arts – Elementary Education
Eagar
Quintin Andre Adorno Certificate of Proficiency Welding Level I
Certificate of Proficiency Welding Level II
Brittnei Lynn Brown Certificate of Proficiency Welding Level I
Certificate of Proficiency Welding Level II
Jordan Scott Crick Certificate of Proficiency Industrial Maintenance & Operations – Industrial Plant Operations
Logan Michael Crooks Associate of Arts
Nathaniel Tucker Davis Certificate of Proficiency Welding Level III
Antony Earl Associate of Applied Science Industrial Maintenance & Operations – Operations & Maintenance *
Melissa Kaye Erhart Associate of Applied Science Nursing *
Dustin Bryce Finch Certificate of Proficiency Welding Level III
Irving J. Flores Certificate of Proficiency Energy and Industrial Technology – Industrial Plant Operations
Certificate of Proficiency Energy and Industrial Technology – Operations/Maintenance
Jayce Allen Garcia Certificate of Proficiency Welding Level I
Certificate of Proficiency Welding Level II
Britany Chari Hale Associate of Applied Science Medical Assistant *
Tracy Paul Holder Certificate of Proficiency Energy and Industrial Technology – Industrial Plant Operations
Certificate of Proficiency Energy and Industrial Technology – Operations/Maintenance
Charles Ray Holliday Certificate of Proficiency Welding Level III
James P. McCall Certificate of Proficiency Industrial Maintenance & Operations – Industrial Plant Operations
Certificate of Proficiency Welding Level I
Certificate of Proficiency Welding Level II
Jakob Ryan Palmer Associate of Applied Science Welding
Jared Ross Robberts Certificate of Proficiency Fire Science – Firefighter
Nicolas Aaron Salazar Certificate of Proficiency Welding Level I
Certificate of Proficiency Welding Level II
Kole David Soderquist Certificate of Proficiency Welding Level I
Certificate of Proficiency Welding Level II
Flagstaff
Melissa Hakes Associate of Applied Science Nursing
Lynneya Isaac Associate of Applied Science Nursing
Ramona Lynn Langham Associate of Applied Science Nursing
Pete Brian Nez Associate of General Studies
Kelsey Brooke Pinneo Associate of Applied Science Nursing
Jessica Reinoso Associate of Applied Science Nursing
Ashleigh Lynn Turley Associate of Applied Science Nursing
Travis Smith Wahl Certificate of Applied Science Welding **
Joscelyn Werhan Certificate of Applied Science Practical Nursing
Fort Apache
Tiara Terese Armstrong Certificate of Proficiency Early Childhood Development – Early Childhood Studies
Daunte Colelay Certificate of Proficiency Early Childhood Development – Early Childhood Studies
Shalicia Ivy Colelay Certificate of Proficiency Early Childhood Development – Early Childhood Studies
Devanie Kim Cosay Certificate of Proficiency Early Childhood Development – Early Childhood Studies
Richard F. Divalentino III Certificate of Proficiency Construction Technology
Pam Duryea Certificate of Proficiency Early Childhood Development – Early Childhood Studies
Maya Errin Endfield Certificate of Proficiency Early Childhood Development – Early Childhood Studies
Alfred Henry Certificate of Applied Science Construction Technology
Jerilynda Tara Hughes Certificate of Proficiency Early Childhood Development – Early Childhood Studies
Shakeem J. Jones Certificate of Proficiency Business – Entrepreneurship Fundamentals
Vercelia Jordanelle Martinez Certificate of Proficiency Early Childhood Development – Early Childhood Studies
Caleb V. Stevens Certificate of Proficiency Business-Entrepreneurship Fundamentals
Valyncia Kay Yazzie Certificate of Proficiency Early Childhood Development – Early Childhood Studies
Fort Defiance
William Tylor Curley Certificate of Proficiency Welding Level I
Certificate of Proficiency Welding Level II
Carol J. Davis Associate of Applied Science Early Childhood Development – Preschool
Carol J Davis Certificate of Applied Science Early Childhood Development-Preschool
Moriko Kimberly Nez Certificate of Proficiency Early Childhood Development-Infant/Toddler
Ganado
Sanchez Gomez Begay Certificate of Proficiency Welding Level III
Lance Keakota Benally Certificate of Proficiency Energy and Industrial Technology – Industrial Plant Operations
Certificate of Proficiency Energy and Industrial Technology – Operations/Maintenance
Laurie Y. Brown Associate of Arts – Elementary Education
Marlette A. Burton Certificate of Applied Science Practical Nursing
Oscar Lorenzo Hernandez Certificate of Proficiency Energy and Industrial Technology – Industrial Plant Operations
Certificate of Proficiency Energy and Industrial Technology – Operations/Maintenance
Robin S. James Certificate of Proficiency Early Childhood Development – Early Childhood Studies
Chasity Joelene James Certificate of Proficiency Mechatronics Industrial Electrical, Motors and PLCs
Certificate of Proficiency Mechatronics Industrial Mechanics and Fluid Power
Cherish Alison Seaton Associate of Applied Science Nursing ‡
Gilbert
Robert Charlton Certificate of Proficiency Mechatronics Industrial Electrical, Motors and PLCs
Certificate of Proficiency Mechatronics Industrial Mechanics and Fluid Power
Antonio Luis Lopez Associate of Applied Science Paramedicine **
Certificate of Applied Science Paramedicine **
Certificate of Proficiency Paramedicine
Heber
Nicolai Beaufeaux Certificate of Proficiency Cosmetology
Kaitlyn Elizabeth Cochran Certificate of Proficiency Cosmetology
Jessica Lynn Despain Associate of Applied Science Nursing
Damien Lee Jones Certificate of Proficiency "Automotive Technology – Drive Train, Suspension & Steering, HVAC
Certificate of Proficiency Automotive Technology – Brake & Transmission Systems
Certificate of Proficiency Automotive Technology – Engine Performance
Kaitlyn Porter Certificate of Proficiency Cosmetology
Holbrook
Samuel R. Baca Certificate of Proficiency Construction Technology
Layton Stephen Bauer Certificate of Proficiency Construction Technology
Tyler Larry Beck Certificate of Proficiency Welding Level I
Certificate of Proficiency Welding Level II
Taylor Berry Associate of Arts *
Kiana Rae Boyd Associate of Science
Brett Buckley Certificate of Proficiency Welding Level III
Tyler Anthony Cundiff Certificate of Proficiency Construction Technology
Ashley A. Demaria Certificate of Applied Science Practical Nursing ‡ † *
Cynthia Ann Etsitty-Begay Associate of Applied Science Computer Information Systems
Roslyn C. Garcia Associate of Applied Science Early Childhood Development – Early Childhood Management *
Certificate of Applied Science Early Childhood Development – Early Childhood Management *
Eric James Gene Certificate of Proficiency Welding Level III
Nichole Raichle Gohl Associate of Business
Abigail Anne Hamilton Certificate of Proficiency Early Childhood Development – Early Childhood Studies
Barbara Jean Hawkins Associate of Arts ‡ *
Meredith T. Huskey Certificate of Proficiency Early Childhood Development – Early Childhood Studies
Tyian Sonny Lee Certificate of Proficiency Welding Level III
Cheyenne Summer Lester Associate of Business
Anthony Ramon Marrietta Associate of Applied Science Film and Digital Video
Gavino Ramon Martinez Certificate of Proficiency Construction Technology
Miguel Angel Martinez Certificate of Proficiency Cosmetology – Hairstyling
Hayden Ray Mike Certificate of Proficiency Welding Level I
Certificate of Proficiency Welding Level II
Lori Michelle Moore Associate of Applied Science Business-Management and Leadership ‡ † **
Nicholas Thomas Robinson Certificate of Proficiency Cosmetology – Hairstyling
Logan Riley Rose Certificate of Proficiency Fire Science – Firefighter
Kevin R. Scheuerman Certificate of Proficiency Early Childhood Development – Early Childhood Studies
Ariah Secody Certificate of Proficiency Early Childhood Development – Early Childhood Studies
Amanda April Terry Associate of Science
Jared Wes Todacheenie Certificate of Proficiency Welding Level I
Certificate of Proficiency Welding Level II
Jimi Lynn Tyler Certificate of Applied Science Practical Nursing
Bobby Wauneka Associate of Applied Science Welding
Katelyn Leann Willis Associate of Arts – Elementary Education
Tamara Wilson Associate of Applied Science Nursing
Tanisha Yazzie Associate of Business
Lindsey Zalenski Certificate of Proficiency Cosmetology – Hairstyling
Reyna Zimmerman Associate of Applied Science Nursing
Indian Wells
Lavender Autumn Abe Associate of Applied Science Cosmetology *
Certificate of Applied Science Cosmetology *
Certificate of Proficiency Cosmetology
Shaun Dean Altsisi Certificate of Proficiency Welding Level I
Certificate of Proficiency Welding Level II
Dorraine Stacey Lester Associate of Arts
Daylon Alvin Nez Certificate of Proficiency Energy and Industrial Technology – Industrial Plant Operations
Certificate of Proficiency Energy and Industrial Technology – Operations/Maintenance
Joseph City
Jessica Elizabeth Bushman Associate of Applied Science Paramedicine
Bushman Certificate of Applied Science Paramedicine
Certificate of Proficiency Paramedicine
Niclaas Clark Hansen Associate of Applied Science Mechatronics ‡ **
Joshua Earl Kor Associate of Applied Science Fire Science
Dolores McGraw Associate of Applied Science Business – Accounting
Certificate of Proficiency Business-Accounting Fundamentals
Amber Brittany Sorgen Certificate of Proficiency Cosmetology – Cosmetology Instructor
Payton Nichol Tanner Associate of Applied Science Nursing
Susanna Wauneka Certificate of Proficiency Welding Level I
Kiara Westover Associate of Applied Science Cosmetology *
Kayenta
Candace Mae Begay Associate of Arts – Elementary Education
Sammy Jo Boyd Certificate of Applied Science Business – Accounting
Certificate of Proficiency Business – Accounting Fundamentals
Keshia Summer Crank Associate of Applied Science Early Childhood Development – Infant/Toddler
Brooke Dayzie Associate of General Studies
Laura Lynn Tallis Associate of General Studies
Terrance Edgar Tenakhongva Associate of General Studies
Certificate of Proficiency Business – Management and Leadership
Bobbie D. White Associate of General Studies
Certificate of Proficiency Nursing Assistant
Stephen J. Young Associate of General Studies
Keams Canyon
Nichole Nataly Bahe Certificate of Proficiency Early Childhood Development – Early Childhood Studies
Josten Ryan Chee Certificate of Proficiency Mechatronics Industrial Electrical, Motors and PLCs
Certificate of Proficiency Mechatronics Industrial Mechanics and Fluid Power
Kenath Naabaahii Cody Certificate of Proficiency Welding Level I
Certificate of Proficiency Welding Level II
Anthony Kaye Certificate of Proficiency Welding Level III
Trace Garret Thomas Certificate of Proficiency Welding Level III
Lakeside
Samantha Rae Atchley Certificate of Proficiency Cosmetology
Raelene Attakai Certificate of Proficiency Computer Information Systems – Commercial Graphics Fundamentals
Beyonce Bahe Certificate of Proficiency Computer Information Systems – Commercial Graphics Fundamentals
Aidan Cole Bomar Certificate of Proficiency Computer Information Systems – Commercial Graphics Fundamentals
Christina Grace Boyer Associate of Applied Science Film and Digital Video ‡ **
Certificate of Applied Science Film and Digital Video ‡ **
Certificate of Proficiency Film and Digital Video
Sarah Burnett Associate of Applied Science Business – Accounting
Certificate of Applied Science Business – Accounting
Certificate of Proficiency Business – Accounting Fundamentals
Theresa Marie Burris Associate of Applied Science Nursing ‡ *
Nathaniel Campbell Certificate of Proficiency Computer Information Systems – Commercial Graphics Fundamentals
Karra Olwyn Casey Certificate of Applied Science Practical Nursing
Cecoda Lee Clodfelter Certificate of Proficiency Automotive Technology – Electrical & Electronics Systems
Certificate of Proficiency Automotive Technology – Engine Repair
Jacqueline Renee Cook Certificate of Applied Science Practical Nursing *
Theryl Ivan Dillon Certificate of Proficiency Computer Information Systems – Commercial Graphics Fundamentals
Kayla Renee Downs Associate of Arts ‡
Associate of Applied Science Nursing PTK
Cassie Louise Dows Associate of Arts ‡ † **
Carson Reed Ellsworth Certificate of Proficiency Computer Information Systems – Commercial Graphics Fundamentals
Jessie Lee Ellsworth Certificate of Proficiency Computer Information Systems – Commercial Graphics Fundamentals
Brittany Ann Esparza Certificate of Applied Science Practical Nursing *
Chase Benjamin Esparza Certificate of Applied Science Welding
Certificate of Proficiency Welding Level III
Colby Benjamin Fairchild Certificate of Proficiency Welding Level III
John F. Fenslage Associate of Applied Science Welding ‡ *
Jace Wade Gardner Certificate of Proficiency Welding Level III
Annalece Golda Graham Associate of Applied Science Medical Assistant ‡ *
Certificate of Applied Science Medical Assistant *
Dominic Scott Hoffmeyer Certificate of Proficiency Fire Science – Firefighter
Clinton D. Holl Certificate of Proficiency Computer Information Systems – Commercial Graphics Fundamentals
Keren C. Horneber Associate of Applied Science Automotive Technology ‡
Certificate of Applied Science Automotive Technology ‡
Certificate of Proficiency Automotive Technology – Drive Train, Suspension & Steering, HVAC
Certificate of Proficiency Automotive Technology – Brake & Transmission Systems
Certificate of Proficiency Automotive Technology – Engine Performance
Cynthia L. Horneber Associate of Applied Science Nursing ‡ **
Edie Wylenn Hunt Associate of Applied Science Nursing
Alicia Jackling Certificate of Proficiency Computer Information Systems – Commercial Graphics Fundamentals
Damyn Tyler Loren Johnson Associate of Applied Science Computer Information Systems –Web Development & Graphic Designs ‡ *
Kiara Rayn Kilpatrick Certificate of Proficiency Welding Level I
Certificate of Proficiency Welding Level II
Megan Elizabeth Lawler Certificate of Proficiency Computer Information Systems – Commercial Graphics Fundamentals
Alysia Ann Malaguarnero Certificate of Applied Science Practical Nursing *
Jacqueline Ann Martinez Certificate of Applied Science Practical Nursing
Justyne Nicole Mason Associate of Applied Science Medical Assistant
Certificate of Applied Science Medical Assistant
Hailey Marie Maxfield Certificate of Proficiency Computer Information Systems – Commercial Graphics Fundamentals
Luis Carlos Munoz Certificate of Proficiency Automotive Technology – Electrical & Electronics Systems
Certificate of Proficiency Automotive Technology – Engine Repair
Certificate of Proficiency Welding Level I
Certificate of Proficiency Welding Level II
Colten Platt Nelson Certificate of Proficiency Computer Information Systems – Commercial Graphics Fundamentals
Alyssa Olson Associate of Arts – Elementary Education *
Cameron Timothy Ortega Associate of Applied Science Welding
Certificate of Applied Science Welding
Certificate of Proficiency Welding Level III
Claire Amy Padilla Certificate of Proficiency Computer Information Systems – Commercial Graphics Fundamentals
Sophia Ilyssa Patel Certificate of Proficiency Cosmetology
Cody Hunter Peake Certificate of Proficiency Computer Information Systems – Commercial Graphics Fundamentals
Isaiah Andres Pelagio Certificate of Proficiency Computer Information Systems – Commercial Graphics Fundamentals
Austin Jon Pierre Associate of Science ‡ *
Lindsey Jane Real Bird Certificate of Proficiency Computer Information Systems – Commercial Graphics Fundamentals
Blake Isaak Ridley Certificate of Proficiency Welding Level III
Jocelyn Karen Roberts Certificate of Proficiency Cosmetology – Hairstyling
Vanessa Rosales Certificate of Proficiency Computer Information Systems – Commercial Graphics Fundamentals
William B. Rova Associate of Applied Science Paramedicine *
Certificate of Proficiency Paramedicine
Caleb J. Rowell Certificate of Proficiency Industrial Maintenance & Operations – Industrial Plant Operations
Noa Jesus Sanchez Certificate of Proficiency Fire Science – Firefighter
Tyson Savage Certificate of Proficiency Automotive Technology – Electrical & Electronics Systems
Certificate of Proficiency Automotive Technology – Engine Repair
Abigail Paige Schmidt Associate of Applied Science Automotive Technology *
Certificate of Proficiency Fire Science – Firefighter
Lucas Emmerich Starkey Certificate of Applied Science Practical Nursing
Kai Lee Tainatongo Certificate of Proficiency Computer Information Systems – Commercial Graphics Fundamentals
Tycarsha Velasquez Certificate of Applied Science Practical Nursing ‡ *
Clay Matthew Wallace Associate of Applied Science Fire Science *
Certificate of Applied Science Fire Science *
Cade Michael Wallace Certificate of Proficiency Welding Level I
Certificate of Proficiency Welding Level II
Teal R. Webster Associate of Arts *
Joseph Warren West Certificate of Proficiency Computer Information Systems – Commercial Graphics Fundamentals
Kellie Wilcock Certificate of Proficiency Computer Information Systems – Commercial Graphics Fundamentals
Leupp
Lacretia Lynette Lee Certificate of Applied Science Practical Nursing
Lacey Leigh Williams Associate of Business
Tara Leaha Wilson Associate of Science
Many Farms
Moon Star Hart Associate of Applied Science Nursing ‡
McNary
Dortha Antonio Certificate of Applied Science Business – Medical Office Technologies
Wylene R. Perry Associate of Applied Science Early Childhood Development – Preschool *
Mesa
Dacey Lynn Hendrix Associate of Arts
Makenna R Tanner Associate of Arts
Michigan City
Julie Ann Beadle Associate of Arts
Navajo
Margie L. Apache Certificate of Proficiency Early Childhood Development – Infant/Toddler
Verla Jean Destea Certificate of Proficiency Early Childhood Development – Infant/Toddler
Vernee Hardy Certificate of Proficiency Early Childhood Development – Early Childhood Studies
Jaylona Treva Tsosie Certificate of Proficiency Early Childhood Development – Early Childhood Studies
Overgaard
Heather Berwager Certificate of Applied Science Practical Nursing **
Anthony A. Hill Associate of Applied Science Construction Technology **
Darian Joelle McLean Certificate of Applied Science Practical Nursing
Taylor Steeds Certificate of Proficiency Cosmetology
Payson
Mark Stuyvesant Certificate of Applied Science Practical Nursing **
Phoenix
Benjamin David Tatum Associate of Arts *
Pinedale
Shayna Kay Brewer Certificate of Applied Science Practical Nursing
Zakia Ann Rose Harrel Associate of Arts ‡
Kelsey Lyn Ramsay Associate of Arts – Elementary Education
Victoria L. Turner Certificate of Proficiency Paramedicine
Pinetop
Sherri Elizabeth Cobb Certificate of Applied Science Medical Assistant
Angela R. Colwell Associate of General Studies ‡ *
Thomas Deming Certificate of Applied Science Welding
Certificate of Proficiency Welding Level III
Veronica Endfield Certificate of Applied Science Business – Modern Office Technologies
Certificate of Proficiency Business – Modern Office Technologies Fundamentals
Andrew Brace Evans Certificate of Proficiency Automotive Technology – Drive Train, Suspension & Steering, HVAC
Certificate of Proficiency Automotive Technology – Brake & Transmission Systems
Certificate of Proficiency Automotive Technology – Engine Performance
Levi S. Hall Certificate of Proficiency Computer Information Systems – Commercial Graphics Fundamentals
Ezekiel Paul Hernandez Associate of Arts
Robert Augustus Heron Certificate of Proficiency Computer Information Systems – Commercial Graphics Fundamentals
Rebecca Paige Holland Associate of Applied Science Nursing
Charity Hope Johnson Certificate of Proficiency Early Childhood Development – Early Childhood Studies
Jesus Martinez Certificate of Proficiency Automotive Technology – Electrical & Electronics Systems
Grady Steven Massey Certificate of Proficiency Automotive Technology – Electrical & Electronics Systems
Certificate of Proficiency Automotive Technology – Engine Repair
Cassidy Arlene McClure Associate of Applied Science Nursing *
Madison Marie Moore Certificate of Proficiency Computer Information Systems – Commercial Graphics Fundamentals
Rodrigo Perez Certificate of Proficiency Computer Information Systems – Commercial Graphics Fundamentals
Jessica Perez Certificate of Proficiency Cosmetology
Anissia Maria Perez Certificate of Proficiency Welding Level I
Certificate of Proficiency Welding Level II
Anna J. Roman Associate of Applied Science Nursing *
Johana Elizabeth Sanchez Associate of Applied Science Cosmetology **
Certificate of Applied Science Cosmetology **
Certificate of Proficiency Cosmetology
Arvin Wayne Thompson Associate of Arts
Julia Alexis Way Associate of Arts ‡
Pinon
Analicia Muzzie Redhouse Associate of Science
Rock Point
Talon Foster Certificate of Proficiency Welding Level I
Certificate of Proficiency Welding Level II
Saint Johns
Ruben A. Aranda-Marin Certificate of Proficiency Industrial Maintenance & Operations – Industrial Plant Operations
Micah Archibald Certificate of Proficiency Automotive Technology – Drive Train, Suspension & Steering, HVAC
Certificate of Proficiency Automotive Technology – Brake & Transmission Systems
Certificate of Proficiency Automotive Technology – Engine Performance
Travis Arias Certificate of Proficiency Industrial Maintenance & Operations – Industrial Plant Operations
Ashlynn Paige Cordova Certificate of Proficiency Fire Science – Firefighter
Marissa Lynne Day Certificate of Proficiency Cosmetology
Davon Shane Hannah Certificate of Proficiency Automotive Technology – Electrical & Electronics Systems
Certificate of Proficiency Automotive Technology – Engine Repair
Kianna Belle Hansen Certificate of Proficiency Cosmetology PTK
Karin E. Hanson Certificate of Applied Science Practical Nursing
Trevor D. Harris Certificate of Proficiency Welding Level I
Certificate of Proficiency Welding Level II
Chase Stratton Jarvis Associate of Applied Science Welding *
Certificate of Applied Science Welding *
Certificate of Proficiency Welding Level III
Bradley Charles Kirk Certificate of Proficiency Paramedicine
Janet Lann Associate of Applied Science Cosmetology **
Certificate of Applied Science Cosmetology **
Certificate of Proficiency Cosmetology
Westin James Lee Associate of Applied Science Welding **
Certificate of Applied Science Welding **
Certificate of Proficiency Welding Level III
Joseph Michael Lucero Certificate of Proficiency Automotive Technology – Electrical & Electronics Systems
Certificate of Proficiency Automotive Technology – Engine Repair
Jordan Christopher Lunsford Certificate of Proficiency Welding Level III
Alan Jose Marquez Cervantes Certificate of Proficiency Welding Level I
Certificate of Proficiency Welding Level II
Darce J. Montierth Certificate of Applied Science Practical Nursing **
Graham Christoffer Nielsen Certificate of Proficiency Welding Level I
Certificate of Proficiency Welding Level II
Sean Perry Certificate of Proficiency Automotive Technology – Electrical & Electronics Systems
Certificate of Proficiency Automotive Technology – Engine Repair
Raymond Paul Rhodes Certificate of Proficiency Welding Level I
Certificate of Proficiency Welding Level II
Randon Micah Rogers Certificate of Proficiency Welding Level I
Certificate of Proficiency Welding Level II
Shelby Cheyenne Scott Certificate of Proficiency Cosmetology
Tate C. Skousen Certificate of Proficiency Welding Level I
Certificate of Proficiency Welding Level II
Nicholas Lee Tapia Certificate of Proficiency Welding Level I
Certificate of Proficiency Welding Level II
Jefferson Day Udall Certificate of Proficiency Industrial Maintenance & Operations – Industrial Plant Operations
Kace Merrill Udall Certificate of Proficiency Welding Level I
Certificate of Proficiency Welding Level II
Catelynn Nicole Ulibarri Associate of Applied Science Cosmetology
Certificate of Applied Science Cosmetology
Certificate of Proficiency Cosmetology
Kyren Mario Ulibarri Certificate of Proficiency Energy and Industrial Technology – Industrial Plant Operations
Certificate of Proficiency Energy and Industrial Technology – Operations/Maintenance
Robert Eric Vallejos Certificate of Proficiency Fire Science – Firefighter
Holly M. Wagoner Associate of Applied Science Nursing ‡ **
James Joel Womack Certificate of Proficiency Energy and Industrial Technology – Industrial Plant Operations
Certificate of Proficiency Energy and Industrial Technology – Operations/Maintenace
Luke August Zieler Associate of Applied Science Industrial Maintenance & Operations – Industrial Plant Operations
Sanders
Kira I. Henry Associate of General Studies
Ednei Eugene Yabeny Associate of Applied Science Welding ‡ *
Certificate of Proficiency Welding Level III *
Show Low
Tabitha Joy Adams Associate of Applied Science Medical Assistant ‡ *
Certificate of Applied Science Medical Assistant *
Alexandra Aguilar Certificate of Proficiency Early Childhood Development – Early Childhood Studies
Cindie Marie Alkire Associate of Applied Science LPN to RN
Carly Yandell Almeida Associate of Arts *
Jordan Elizabeth Alsobrook Certificate of Proficiency Early Childhood Development – Early Childhood Studies
Alex Mandel John Arellano Certificate of Proficiency Automotive Technology – Drive Train, Suspension & Steering, HVAC
Certificate of Proficiency Automotive Technology – Brake & Transmission Systems
Certificate of Proficiency Automotive Technology – Engine Performance
Certificate of Proficiency Business – Entrepreneurship Fundamentals
Aira Marian Anillo Austria Associate of Arts *
David Albert Azbell Certificate of Proficiency Automotive Technology – Drive Train, Suspension & Steering, HVAC"
Certificate of Proficiency Automotive Technology – Brake & Transmission Systems
Certificate of Proficiency Automotive Technology – Engine Performance
Joshua Arthur Baker Certificate of Proficiency Computer Information Systems – Commercial Graphics Fundamentals
Brianne Kaye Bell Certificate of Applied Science Practical Nursing
Michelle Diane Blair Associate of Applied Science Cosmetology ‡ *
Certificate of Applied Science Cosmetology *
Certificate of Proficiency Cosmetology
Jamie A. Blake Certificate of Proficiency Fire Science – Firefighter
Zachary Geoffarson Blessing Certificate of Proficiency Business – Entrepreneurship Fundamentals
Nicole C. Brown Associate of Applied Science Nursing
Rhiannon Stephanie Rose Cain Associate of Applied Science Nursing ‡ *
Daniel James Carlyle Certificate of Proficiency Automotive Technology – Electrical & Electronics Systems
Certificate of Proficiency Automotive Technology – Engine Repair
Ana Maria Carrillo Certificate of Proficiency Business – Entrepreneurship Fundamentals
Rachel Lauren Cavey Associate of Applied Science Nursing
Thomas Darrell Clement Associate of Applied Science Business – Entrepreneurship *
Certificate of Applied Science Business – Entrepreneurship *
Certificate of Proficiency Business-Entrepreneurship Fundamentals
Laticia Marie Dalton Associate of Applied Science Business – Medical Office Technologies *
Certificate of Applied Science Business – Medical Office Technologies *
Certificate of Proficiency Business – Medical Office Technologies Fundamentals
Rey De La Torre Associate of Applied Science Business – Entrepreneurship
Certificate of Applied Science Business – Entrepreneurship
Kristen E. Denbow Associate of Applied Science Nursing
Hannah M. Dwyer Associate of Science
Certificate of Applied Science Practical Nursing
Hassan El Bissat Associate of Business
Rebecca Rose Estill Associate of Applied Science Nursing ‡ **
Cauy Leon Fillingim Certificate of Proficiency Fire Science – Firefighter
Caitlin Brianne Finney Certificate of Applied Science Business – Modern Office Technologies **
Leland Clark Fountain Certificate of Proficiency Welding Level I
Certificate of Proficiency Welding Level II
Abigail Sierra Gaskins Associate of Science
Taryn Gessner Certificate of Proficiency Welding Level I
Certificate of Proficiency Welding Level I
Kevin Edward Gilfillan Associate of Arts *
Lance Michael Gillespie Certificate of Proficiency Business – Entrepreneurship Fundamentals
Katherine Marie Glenny Certificate of Proficiency Business – Entrepreneurship Fundamentals
Janetzy A. Gonzalez Razcon Certificate of Proficiency Business – Entrepreneurship Fundamentals
Certificate of Proficiency Cosmetology
Charity Diane Joy Hair Associate of Applied Science Nursing
Misty L .Hancock Associate of Applied Science Cosmetology *
Certificate of Applied Science Cosmetology *
Colten Jay Hatch Certificate of Proficiency Welding Level I
Certificate of Proficiency Welding Level II
Charles Roper Howard Certificate of Proficiency Fire Science – Firefighter
Katlyn Paige Judkins Associate of Applied Science Medical Assistant
Kevin Ray Jumbo Associate of General Studies
Payge R. Kerr Certificate of Proficiency Business – Entrepreneurship Fundamentals
Logan T. Kilber Certificate of Proficiency Fire Science – Firefighter
Jessica Kitchens Associate of Applied Science Business – Entrepreneurship
Certificate of Proficiency Business – Entrepreneurship Fundamentals
Samuel Klueber Certificate of Proficiency Automotive Technology – Drive Train, Suspension & Steering, HVAC
Certificate of Proficiency Automotive Technology – Electrical & Electronics Systems
Certificate of Proficiency Automotive Technology – Engine Performance
Certificate of Proficiency Automotive Technology – Engine Repair
Layne Russell Leon Kotterman Certificate of Proficiency Automotive Technology – Drive Train, Suspension & Steering, HVAC
Certificate of Proficiency Automotive Technology – Brake & Transmission Systems
Certificate of Proficiency Automotive Technology – Engine Performance
Sadie Jay Kress Certificate of Proficiency Business – Entrepreneurship Fundamentals
Certificate of Proficiency Cosmetology
Sh Brody Ervin Ledford Certificate of Proficiency Welding Level I
Certificate of Proficiency Welding Level II
Angelina K. Lewis Associate of Science
Lexy Y. Lofgreen Certificate of Proficiency Business – Entrepreneurship Fundamentals
Nicholas Walter Long Certificate of Proficiency Business – Entrepreneurship Fundamentals
Ashlee Rainie Loveall Certificate of Proficiency Business – Entrepreneurship Fundamentals
Alayna Michelle Luna Certificate of Proficiency Early Childhood Development – Early Childhood Studies
Jessica Marie Lunt Associate of Applied Science Nursing ‡ *
Steven Perfecto James Luque Certificate of Proficiency Automotive Technology – Electrical & Electronics Systems
Certificate of Proficiency Automotive Technology – Engine Repair
Holly Ann McDaniel Certificate of Applied Science Practical Nursing
Tyler McDaniel Certificate of Applied Science Practical Nursing *
Damian Joseph McGregor Associate of Science
Mercedes Joan McNeil Certificate of Applied Science Practical Nursing
Cameron A. McNeil Certificate of Proficiency Welding Level III
Cody Dean Meek Associate of Applied Science Paramedicine
Mysterie Justine Mills Certificate of Proficiency Business – Entrepreneurship Fundamentals
Prisila Montes Certificate of Proficiency Computer Information Systems – Commercial Graphics Fundamentals
Alejandra Daniela Montoya Associate of Applied Science Cosmetology *
Fernando J. Muro Mendoza Associate of Applied Science Nursing ‡ *
Samantha N. Neff Associate of Applied Science Automotive Technology – Electrical and Electronics Systems *
Certificate of Applied Science Electronics Technology *
Certificate of Proficiency Automotive Technology – Brake & Transmission Systems Certificate of Proficiency Automotive Technology – Drive Train, Suspension & Steering, HVAC Certificate of Proficiency Automotive Technology – Engine Performance
Kodie Michele Nicks-Cobal Certificate of Proficiency Business – Entrepreneurship Fundamentals
Shanice Orea Associate of Arts Early Childhood *
Bradley Orlowski Associate of Applied Science Nursing
Dennie Renee Parker Associate of Applied Science Medical Assistant
Certificate of Applied Science Medical Assistant
Kylie Sue Perkins Associate of Arts ‡ **
Ian Michael Pettit Certificate of Proficiency Automotive Technology – Electrical & Electronics Systems
Certificate of Proficiency Automotive Technology – Engine Repair
Taylor K. Plumb Associate of Applied Science Welding
Certificate of Applied Science Welding
Certificate of Proficiency Welding Level III
Ariel Dawn Proffer Certificate of Applied Science Practical Nursing ‡ *
Utah W. Reed Associate of Applied Science Welding *
Certificate of Applied Science Welding *
Certificate of Proficiency Welding Level III *
Jessica Michelle Reese Associate of Applied Science Nursing
Cameron Dean Reid Certificate of Proficiency Automotive Technology – Drive Train, Suspension & Steering, HVAC
Certificate of Proficiency Automotive Technology – Brake & Transmission Systems
Certificate of Proficiency Automotive Technology – Engine Performance
Sarah Anne Ridgley Certificate of Applied Science Practical Nursing *
Marc Rova Associate of Applied Science Paramedicine
Holly Anna Ruffe Certificate of Proficiency Business – Entrepreneurship Fundamentals
Carsen T. Sargent Certificate of Proficiency Computer Information Systems – Commercial Graphics Fundamentals
Becca Dawn Seeley Associate of General Studies
Dalilah Jean Seeley Certificate of Proficiency Business – Entrepreneurship Fundamentals
Savanna Airanna Shaffer Certificate of Proficiency Early Childhood Development – Early Childhood Studies
Jaden Hunter Lee Shay Certificate of Proficiency Automotive Technology – Electrical & Electronics Systems
Certificate of Proficiency Automotive Technology – Engine Repair
Thomas Ralph Shipitalo Associate of Science *
Tabitha Ann Simpson Certificate of Proficiency Automotive Technology – Drive Train, Suspension & Steering, HVAC
Certificate of Proficiency Automotive Technology – Brake & Transmission Systems
Certificate of Proficiency Automotive Technology – Engine Performance
Jamie Lynn Smith Certificate of Applied Science Cosmetology *
Certificate of Proficiency Cosmetology *
Jennifer May Sprung Certificate of Applied Science Practical Nursing
Destiny Ann Stemm Certificate of Proficiency Business – Entrepreneurship Fundamentals
Sabrina Haley Stock Associate of Applied Science Nursing ‡ *
Kathryn Josie Stock Associate of Applied Science Welding *
Certificate of Applied Science Welding *
Certificate of Proficiency Welding Level III
Ryan Anthony Taylor Certificate of Proficiency Automotive Technology – Drive Train, Suspension & Steering, HVAC
Certificate of Proficiency Automotive Technology – Electrical & Electronics Systems
Certificate of Proficiency Automotive Technology – Brake & Transmission Systems
Certificate of Proficiency Automotive Technology – Engine Performance
Certificate of Proficiency Automotive Technology – Engine Repair
Carolyn Thomas Associate of Applied Science Nursing
Eli Tristin Valencia Certificate of Applied Science Medical Assistant
Jonah Leroy Valencia Certificate of Applied Science Medical Assistant
Stephen R. Valichnac Certificate of Proficiency Automotive Technology – Engine Performance
Certificate of Proficiency Automotive Technology – Engine Repair
Ulises Vizcarra Certificate of Proficiency Automotive Technology – Electrical & Electronics Systems
Certificate of Proficiency Automotive Technology – Engine Repair
Elizabeth Allison Waddell Certificate of Proficiency Business – Entrepreneurship Fundamentals
Jonathan Phillip Rich Wakefield Certificate of Proficiency Automotive Technology – Engine Repair
Legend Wesley Watson Associate of Arts
Sean Connor Watson Certificate of Proficiency Business – Entrepreneurship Fundamentals
Jaime Lynn Watson Associate of Applied Science Business – Management and Leadership
Certificate of Applied Science Business – Management and Leadership
Certificate of Proficiency Business-Management and Leadership
Quentin R. Webb Associate of Applied Science Paramedicine *
Maia Ayanna Williams Certificate of Proficiency Construction Technology
Deanna Lynn Williams Associate of Applied Science Medical Assistant
Certificate of Applied Science Medical Assistant
Certificate of Applied Science Medical Assistant
Casey D. Williams Certificate of Proficiency Paramedicine
Kaysha Linn Williams Certificate of Applied Science Practical Nursing **
Marcus N. Williams Certificate of Proficiency Welding Level III
Snowflake
Caleb Richard Aragon Certificate of Proficiency Industrial Maintenance & Operations – Industrial Plant Operations
Michael Lee Baldwin Certificate of Proficiency Fire Science – Firefighter
Timothy Lyndel Baum Associate of Applied Science Nursing
Nathan Koltin Carpenter Certificate of Proficiency Welding Level III
Shane A. Ciminski Certificate of Proficiency Fire Science – Firefighter
Sheridan D. Click Certificate of Proficiency Welding Level I
Certificate of Proficiency Welding Level II
Alyssa Cluff Certificate of Proficiency Cosmetology
Nicole Davenport Associate of Applied Science Cosmetology
Kimberly Janae Flake Certificate of Applied Science Business – Medical Office Technologies
Jessica Ann Flake Associate of Applied Science Nursing *
Regina Louise Foshee Associate of Applied Science Business – Medical Office Technologies *
Brisa Danay Guevara Associate of Applied Science Medical Assistant *
Certificate of Applied Science Medical Assistant *
Kristin Dyan Hagelstein Certificate of Applied Science Practical Nursing ‡ **
William Lance Hancock Associate of Applied Science Welding
Samantha Doris Hankins Certificate of Proficiency Fire Science – Firefighter
Shandon E. Hatch Certificate of Proficiency Automotive Technology – Electrical & Electronics Systems
Certificate of Proficiency Automotive Technology – Engine Repair
Sharay Lynn Haws Certificate of Proficiency Cosmetology
Andrea Y. Hernandez Certificate of Proficiency Automotive Technology – Electrical & Electronics Systems
Certificate of Proficiency Automotive Technology – Engine Repair
Brenda Berenice Hernandez Certificate of Proficiency Cosmetology
Breanna Dawn Jakary Certificate of Applied Science Business – Entrepreneurship **
Certificate of Proficiency Business-Entrepreneurship Fundamentals
Christopher Jestis Certificate of Proficiency Automotive Technology – Electrical & Electronics Systems
Certificate of Proficiency Automotive Technology – Engine Repair
Marybeth May Lewis Certificate of Proficiency Cosmetology
Taylor Mae McKinlay Associate of Applied Science Nursing
Mariah Elise Moffatt Associate of Applied Science Cosmetology *
Certificate of Applied Science Cosmetology *
Certificate of Proficiency Cosmetology
Janessa Ann Moore Associate of Applied Science Film and Digital Video *
Karla Itzel Moreno Estrada Associate of Applied Science Medical Assistant
Certificate of Applied Science Medical Assistant
Sariah Anitarose Nelson Certificate of Proficiency Cosmetology
Delberta Nez Certificate of Proficiency Business – Medical Office Technologies Fundamentals
Rodgrick James Nez Certificate of Proficiency Welding Level III
Danielle Nezgoda Associate of Applied Science Nursing ‡ *
Cody James O'Keefe Associate of General Studies
Alexis Hope Orr Certificate of Proficiency Business – Entrepreneurship Fundamentals
Crew D. Perkins Certificate of Proficiency Welding Level I
 Certificate of Proficiency Welding Level II
Emma Ruby Prestwich Certificate of Proficiency Cosmetology
Caitlin Alyssa Prothro Certificate of Proficiency Welding Level I
Certificate of Proficiency Welding Level II
Jordan Martin Reinholtz Certificate of Proficiency Mechatronics Industrial Electrical, Motors and PLCs
Bobbi Jean Richards Certificate of Applied Science Practical Nursing
Kari Beth Rolfe Certificate of Proficiency Cosmetology - Cosmetology Instructor
Mckenna Ren Sargent Associate of Science ‡ † *
Joshua Eric Seigfried Certificate of Proficiency Paramedicine
Zechariah Patrick Smith Certificate of Proficiency Energy and Industrial Technology – Industrial Plant Operations
Cassie Lyn Spaulding Associate of Arts
Austin Thomas Stanislawski Associate of Arts ‡ † *
Jacqueline Stinnett Associate of Arts ‡
Colton F. Stradling Certificate of Proficiency Welding Level I
Certificate of Proficiency Welding Level II
Adrienne Tiara Tims Certificate of Proficiency Cosmetology
Jared Brian Tooley Associate of Applied Science Welding
Certificate of Applied Science Welding
Robert James Tryon Certificate of Proficiency Paramedicine
Randy David Whirlow Certificate of Proficiency Automotive Technology – Drive Train, Suspension & Steering, HVAC
Certificate of Proficiency Automotive Technology – Brake & Transmission Systems
Certificate of Proficiency Automotive Technology – Engine Performance
Katharina Ann Marie Wiens Associate of Science
Alexander Michael Williams Certificate of Proficiency Automotive Technology – Drive Train, Suspension & Steering, HVAC
Certificate of Proficiency Automotive Technology – Brake & Transmission Systems
Certificate of Proficiency Automotive Technology – Engine Performance
Marisa Dawn Willis Associate of General Studies *
Jaden Marshall Willis Certificate of Applied Science Practical Nursing †
Springerville
Sadee Rose Beeler Associate of Applied Science Nursing
Robert Lee Burton-Baker Certificate of Proficiency Energy and Industrial Technology – Industrial Plant Operations
Certificate of Proficiency Energy and Industrial Technology – Operations/Maintenace
Nicolas C. Coffelt Associate of Applied Science Welding
Erik Enriquez Montoya Certificate of Proficiency Energy and Industrial Technology – Industrial Plant Operations
Certificate of Proficiency Energy and Industrial Technology – Operations/Maintenace
Jessica Linda Gustin Certificate of Applied Science Practical Nursing *
Draeden Ray Hill Certificate of Proficiency Welding Level III
Marilin Stacie Meadows Associate of Arts *
Associate of Applied Science Nursing *
Blake Anthony Moya Certificate of Proficiency Welding Level I
Certificate of Proficiency Welding Level II
Colter Brendan Muldoon Certificate of Proficiency Welding Level III
Christopher Lyn Oakes Certificate of Proficiency Industrial Maintenance & Operations – Industrial Plant Operations
Martin M. Orona Certificate of Proficiency Industrial Maintenance & Operations – Industrial Plant Operations
Chandler Wayne Orsak Certificate of Proficiency Industrial Maintenance & Operations – Industrial Plant Operations
Kaden Cole Padilla Certificate of Proficiency Welding Level I
Certificate of Proficiency Welding Level II
Kenneth Tyler Pena Certificate of Proficiency Welding Level I
Certificate of Proficiency Welding Level II
Isaac Neiland Prochnow Certificate of Proficiency Welding Level I
Certificate of Proficiency Welding Level II
Jace Walton Taylor Certificate of Proficiency Welding Level I
Certificate of Proficiency Welding Level II
Deborah Lynne Wade Certificate of Proficiency Early Childhood Development – Preschool
Sun Valley
Ian Daniel Alexander Associate of Applied Science Construction Technology *
Taylor
Dustin Robert Burgess Certificate of Proficiency Welding Level III
Kenly Quinn Crandell Associate of Applied Science Welding
Certificate of Applied Science Welding
Certificate of Proficiency Welding Level III
Cooper Lynn Hancock Certificate of Applied Science Welding
Certificate of Proficiency Welding Level III
Rinda Jolene Hancock Associate of Applied Science Nursing
Amanda Louise Hatch Associate of Applied Science Nursing ‡ † **
Joss Hensley Certificate of Proficiency Automotive Technology – Drive Train, Suspension & Steering, HVAC
Treven T. Hensley Certificate of Proficiency Automotive Technology – Electrical & Electronics Systems
Joss Hensley Associate of Applied Science Automotive Technology
Certificate of Applied Science Automotive Technology
Certificate of Proficiency Automotive Technology – Brake & Transmission Systems
Certificate of Proficiency Automotive Technology – Engine Performance
Shane Kelton Holladay Certificate of Proficiency Automotive Technology – Electrical & Electronics Systems
Certificate of Proficiency Automotive Technology – Engine Repair
Chandler Daniel Kriter Certificate of Proficiency Fire Science – Firefighter
Rhonda A. Krouse Associate of Applied Science Fire Science ‡ † *
Levi R. Lewis Certificate of Proficiency Automotive Technology – Electrical & Electronics Systems
Certificate of Proficiency Automotive Technology – Engine Repair
Justina Nicole Maennche Certificate of Proficiency Welding Level I
Certificate of Proficiency Welding Level II
Kaitlyn McNeil Associate of Applied Science Nursing
Ramon Luther Mercer Associate of Applied Science Welding
Ryan Kwade Nichols Certificate of Proficiency Automotive Technology – Drive Train, Suspension & Steering, HVAC
Certificate of Proficiency Automotive Technology – Brake & Transmission Systems
Certificate of Proficiency Automotive Technology – Engine Performance
Mckiley Denae Peters Certificate of Proficiency Cosmetology
Anjelica Rosales Associate of Applied Science Nursing
Chase S. Sherwood Associate of Applied Science Industrial Maintenance & Operations – Industrial Plant Operations *
Payson R. Stepp Certificate of Proficiency Automotive Technology – Electrical & Electronics Systems
Certificate of Proficiency Automotive Technology – Engine Repair
Coy M. Swarts Certificate of Proficiency Automotive Technology – Electrical & Electronics Systems
Certificate of Proficiency Automotive Technology – Engine Repair
Mason Joseph Van Zelf Certificate of Proficiency Welding Level III
Guy Allen Warner Certificate of Proficiency Automotive Technology – Drive Train, Suspension & Steering, HVAC
Certificate of Proficiency Automotive Technology – Brake & Transmission Systems
Certificate of Proficiency Automotive Technology – Engine Performance
Larry Joel Yarn Certificate of Proficiency Mechatronics Electrical and Instrumentation
Elaine Ladd Zook Associate of Applied Science Cosmetology *
Certificate of Applied Science Cosmetology *
Certificate of Proficiency Cosmetology *
Tempe
Nicole Michele McConnell Associate of Science ‡ † *
Thatcher
Martha A. Finch Associate of General Studies
Vernon
Nickolas Haynes Associate of Applied Science Computer Information Systems ‡
Certificate of Applied Science Computer Information Systems
David Syler Westbrook Certificate of Proficiency Welding Level III
Maurissa Alice Wilhelm Certificate of Proficiency Fire Science – Firefighter
Whiteriver
Amber Dawn Altaha Certificate of Proficiency Early Childhood Development – Early Childhood Studies
Certificate of Proficiency Early Childhood Development – Early Childhood Studies
Deeandre Derrick Anderson Certificate of Proficiency Early Childhood Development – Early Childhood Studies
Latisya June Begay Associate of General Studies
Associate of Applied Science Early Childhood Development-Preschool
Brian Begay Certificate of Proficiency Construction Technology
Gabriel T. Burnette Certificate of Proficiency Business – Entrepreneurship Fundamentals
Laurel Joyce Clarkson Associate of Applied Science Early Childhood Development – Early Childhood Management
Odessa Ciara Clendon Certificate of Proficiency Computer Information Systems – Commercial Graphics Fundamentals
Sherwon Michael Colelay Certificate of Proficiency Business – Entrepreneurship Fundamentals
Kirstian Jonelle Cosen Certificate of Proficiency Early Childhood Development – Early Childhood Studies
Desmond Cromwell Certificate of Proficiency Early Childhood Development – Early Childhood Studies
Gregory Dazen Certificate of Proficiency Business – Entrepreneurship Fundamentals
The'Ron M. Ethelbah Certificate of Proficiency Early Childhood Development – Early Childhood Studies
Phyllis Ann Fenton Certificate of Proficiency Construction Technology
Alajuwon Mike Gordon Associate of General Studies
Malik Dan Goseyun Associate of General Studies
Vania Ilene Gushoney Associate of Arts
Samira Haven Certificate of Proficiency Early Childhood Development – Early Childhood Studies
Carolyn Havier Associate of Applied Science Business – Medical Office Technologies
Cali Summer Joe Certificate of Proficiency Computer Information Systems – Commercial Graphics Fundamentals
Krista Dawnea Joe Certificate of Applied Science Paramedicine
Krista Dawnea Joe Certificate of Proficiency Paramedicine
Gerald K. Kasey Associate of Business
Harrison Kayson Certificate of Proficiency Early Childhood Development – Early Childhood Studies
Jeanette Kindelay Certificate of Proficiency Early Childhood Development – Early Childhood Studies
Eli Steve Lee Certificate of Proficiency Construction Technology
Laney M. Lupe Certificate of Proficiency Business – Entrepreneurship Fundamentals
Corey Sylas Lupe Certificate of Proficiency Early Childhood Development – Early Childhood Studies
Tracy Beth Lupe Certificate of Proficiency Early Childhood Development – Early Childhood Studies
Virginia R. Massey Associate of Applied Science Business – Medical Office Technologies
Kashia Danelle Nosie Certificate of Proficiency Early Childhood Development – Early Childhood Studies
Jaylen Marie Moses Parker Certificate of Proficiency Early Childhood Development – Early Childhood Studies
Precious Autumn Perez Certificate of Proficiency Early Childhood Development – Early Childhood Studies
Destiny D. Preston Certificate of Proficiency Business – Entrepreneurship Fundamentals
Lia J. Quintero Certificate of Proficiency Business – Entrepreneurship Fundamentals
Kayli Quintero Certificate of Proficiency Computer Information Systems – Commercial Graphics Fundamentals
Jada J. Sanchez Certificate of Proficiency Business – Entrepreneurship Fundamentals
Eddie Sanchez Certificate of Proficiency Construction Technology
Samantha Silas Associate of Science
Jaymie Paige Smith Associate of General Studies
Monte Stover Certificate of Proficiency Construction Technology
Shayne David Stover Certificate of Proficiency Early Childhood Development – Early Childhood Studies
Candace Suttle Associate of Arts
Caleb Jalen Tate Certificate of Proficiency Early Childhood Development – Early Childhood Studies
Lailani Marie Thompson Certificate of Proficiency Construction Technology
Robby Wayne Titla Associate of Arts
Robby Wayne Titla Associate of Science
Joaquin J Truax Certificate of Proficiency Business – Entrepreneurship Fundamentals
Hermmono W. Truax Certificate of Proficiency Early Childhood Development – Early Childhood Studies
Vaughn Reece Willeto Certificate of Proficiency Construction Technology
Derek Jay Yazzie Certificate of Applied Science Construction Technology
Window Rock
Shaylynn Begay Certificate of Proficiency Early Childhood Development – Early Childhood Studies
Wyatt David Reese Certificate of Proficiency Welding Level I
Certificate of Proficiency Welding Level II
Ivonna G. Yazzie Certificate of Proficiency Early Childhood Development – Early Childhood Studies
Chelsea Yazzie Associate of Applied Science Medical Assistant
Winslow
Angelica June Baca Associate of Applied Science Nursing
Max Garret Ballinger-Lugo Certificate of Proficiency Welding Level I
Certificate of Proficiency Welding Level II
Brandon Mark Barbone Associate of Science
Savannah V. Begay Certificate of Proficiency Early Childhood Development – Early Childhood Studies
Deirdre Dion Begay Associate of Applied Science Nursing
Oriana Kristin Begay Certificate of Proficiency Welding Level I
Certificate of Proficiency Welding Level II
Gavett Ben Certificate of Proficiency Industrial Maintenance & Operations – Operations & Maintenance
Levi R. Cavin Certificate of Proficiency Welding Level I
Shereen K. Charley Associate of Arts
Certificate of Applied Science Practical Nursing
Christopher Lloyd Curnutte Certificate of Proficiency Welding Level I
Certificate of Proficiency Welding Level II
Aaron Jay Davis Certificate of Proficiency Welding Level I
Certificate of Proficiency Welding Level II
Michael Joseph Densmore Certificate of Proficiency Welding Level III
Trevon David Flanagan Associate of Applied Science Medical Assistant
Nathaniel Thomas Flores Certificate of Proficiency Welding Level I
Certificate of Proficiency Welding Level II
Arleen Rose Freddie Certificate of Proficiency Human Services – Residential Child/Youth Care Assistant
Isaac Edison Fuson Certificate of Proficiency Welding Level III
Cazar Alize Gonzalez Certificate of Proficiency Welding Level I
Certificate of Proficiency Welding Level II
Issac Ray Gourde Certificate of Proficiency Welding Level I
Certificate of Proficiency Welding Level II
Justin Dale Hanno Certificate of Proficiency Welding Level I
Certificate of Proficiency Welding Level II
Seth Jay Alan Hawley Certificate of Applied Science Practical Nursing
Nolan Hugh Horn Certificate of Applied Science Fire Science
Abigail Grace Hunt Certificate of Applied Science Mechatronics Industrial Electrical, Motors and PLCs
Certificate of Proficiency Mechatronics Industrial Electrical, Motors and PLCs
Certificate of Applied Science Mechatronics Industrial Mechanics and Fluid Power
Certificate of Proficiency Mechatronics Industrial Mechanics and Fluid Power
Gavin Eli Jack Certificate of Proficiency Welding Level I
Certificate of Proficiency Welding Level II
Latanya Laine Jake Associate of Applied Science Cosmetology *
Monique Jauregui Associate of Arts
Kelafer Devon Kinlecheenie Associate of Applied Science Nursing
Samantha Renee Lee Certificate of Applied Science Practical Nursing
Taramika Lee Certificate of Applied Science Practical Nursing
Mark Anthony Lopez Certificate of Applied Science Practical Nursing *
Atalaya Alexa Lucero Associate of Applied Science Early Childhood Development – Preschool Associate of Applied Science Early Childhood Development – Early Childhood Studies
Katrina Velinda Martinez Certificate of Proficiency Cosmetology - Cosmetology Instructor
Monica Mora Certificate of Proficiency Early Childhood Development – Early Childhood Studies
Suzette Morris Certificate of Applied Science Industrial Maintenance & Operations – Electrical
Certificate of Applied Science Mechatronics Electrical and Instrumentation
April Lynn Morris Certificate of Proficiency Welding Level I
Certificate of Proficiency Welding Level II
Minisha Nez Associate of Business
Larrilynn Oso Associate of Arts ‡ † *
Jessica Anne Pipkins Certificate of Applied Science Practical Nursing
Kayce Ann Price Associate of Arts
Alycia June Price Associate of Applied Science Cosmetology
Felicia Kimberely Scott Certificate of Applied Science Practical Nursing
Mason Palmer Scott Certificate of Proficiency Welding Level I
Certificate of Proficiency Welding Level II
Dylan Ray Sellens Certificate of Proficiency Welding Level I
Certificate of Proficiency Welding Level II
Catrell Francis Sells Certificate of Proficiency Welding Level I
Certificate of Proficiency Welding Level II
Sandramarie Setalla Certificate of Applied Science Practical Nursing
Krystal Lynn Shaw Associate of Applied Science Medical Assistant
Stepanova E. Shirley Certificate of Proficiency Mechatronics Industrial Electrical, Motors and PLCs
Certificate of Proficiency Mechatronics Industrial Mechanics and Fluid Power
Landon Burke Shorty Certificate of Proficiency Welding Level I
Certificate of Proficiency Welding Level II
Avery Yazzie Smith Associate of Science
Nicole Briana Smith Associate of Applied Science Nursing
Dashawn Deante Spencer Certificate of Proficiency Welding Level III
Anthony Micheal Sundwall Certificate of Proficiency Welding Level I
Certificate of Proficiency Welding Level II
Tanya Marie Wagner Associate of General Studies
Allison Josephine Webb Certificate of Proficiency Welding Level III
Cameron Ladell Wilbanks Certificate of Proficiency Welding Level I
Certificate of Proficiency Welding Level II
Hadley O. Wilson Certificate of Proficiency Welding Level III
Leah Marie Wischmann Associate of Applied Science Nursing *
Cody Belone Yazzie Certificate of Proficiency Welding Level III
Sierra Rayn Yellowhair-Thompson Certificate of Proficiency Welding Level I
Certificate of Proficiency Welding Level II
Christian Brenden Young Associate of Arts
Woodruff
Saretta Abbygail Gardner Associate of Arts *
Keith H. Wilhelm Associate of Applied Science Construction Technology *
Certificate of Applied Science Construction Technology *
Certificate of Proficiency Construction Technology
– – – N P C — Expanding Minds • Transforming Lives – – –