SHOW LOW — Success in business doesn't happen by accident, especially with new start-ups. Snowflake native Terril Kay has started four businesses and, thanks to the expert guidance he's received from the Small Business Development Center (SBDC) at Northland Pioneer College (NPC), each of these businesses is thriving. For the second time in the past three years, Kay has won the NPC SBDC Success Award, this time for his business KSI Metals, Inc., a metal fabrication and wholesale supply company.
Kay started KSI Metals Inc., in Phoenix in 2012 and opened a second facility in Albuquerque four years later. The business is expanding to Snowflake/Taylor with plans to open in July.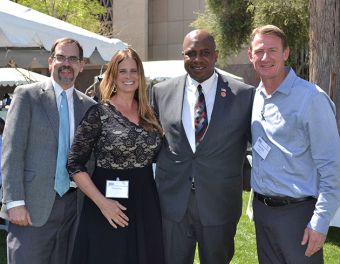 "Winning the Small Business Award is a great honor, and I can't say enough good things about the SBDC at Northland Pioneer College," said Kay, who previously won the NPC award in 2016 with his business Kay Supply. "I've been working with Tracy Mancuso (executive director of the NPC SBDC) for several years, and most of our staff has trained there in Show Low. If anybody ever went above and beyond to help businesses, it's Tracy. I took advantage of their opportunities and it's been a great decision. They are a great resource because they lead you in the right direction. Each and every year you'll find me in Tracy's office six or seven times getting valuable business advice."
Kay said the SBDC analyzed KSI Metals Inc., and helped the company understand where it ranks in its market and how it can compete effectively on a regional level. SBDC also developed Kay's successful multi-million dollar bank loan application for the Snowflake/Taylor expansion.
Mancuso said, "Terril Kay has been an SBDC client for the last five years and has used our services for everything from training, business analysis, the Franklin Covey Four Disciplines of Leadership and more. We celebrate him for demonstrating that seeking technical assistance and working to expand individual and company skillsets are the key to creating sustainable business success and economic impact in rural Northeastern Arizona."
KSI aims to become the premier metal manufacturer in Northern Arizona and to expand its reach throughout the Western U.S. A regional sales force is already in place.
The new location in Snowflake/Taylor will focus on the manufacture of custom metal roofing materials and metal siding supplies and fixtures. Eventually, Kay plans to provide jobs for 30 employees.
KSI Metals Inc., is one of Kay's four highly successful business startups. The others are U.S. Insulation,  All Custom Exteriors and Kay Supply, all located in Snowflake or Taylor. For the KSI expansion into Navajo County, Kay acquired the former Western Molding property, a 47,000-square foot building located on 13.5 acres and revitalized it into an industrial park that will boost the local economy and provide good jobs. When completed, the new building will include the KSI manufacturing facility, corporate offices for US Insulation and All Custom Exterior, along with a new showroom.
Born and raised in the community, Kay says, "I'm a Snowflake guy. It's pretty amazing to look at what's been accomplished here with these start-ups. To go from zero to outstanding success, to be largely debt-free and to be recognized for that says something."
KSI Metals Inc., is one of 13 small businesses recognized at the recent Arizona SBDC Success Awards Luncheon in Phoenix. Each company worked with its local Small Business Development Center to create jobs and economic impact in its respective community.
Northland Pioneer College's Small Business Development Center serves Navajo and Apache counties, including reservation areas, providing quality educational programs, resources and confidential, no-cost, "one-on-one" counseling focused on a broad range of business issues. The SBDC staff and consultants guarantee discussions are held in the strictest confidence, working with small businesses to maximize their successes.
Questions   Please visit www.npc.edu/sbdc, or contact Tracy Mancuso, director of NPC's Small Business Development Center, 532-6170 or toll-free (800) 266-7845, ext. 6170.  |  email
– – – N P C — Expanding Minds • Transforming Lives – – –