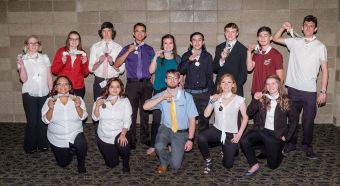 NPC's SkillsUSA Arizona medal winners for 2019 are (front row, L-R), Floy Carr, Jasmine Ramirez, Matt Meade, Samantha Weller and Alice Wilhelm; (back row, L-R), DeAnna Penrod, Kylie Peck, Craig DeWitt, Trace Thomas, Kathryn Stock, Quintin Adorno, Westin Lee, Raymond Rhodes and Jordan Lunsford. Medal-winning students not available for the photo include Eddie Sanchez, Monte Stover, Lailani Thompson and James Wilkinson. – Photo by Laird Brown Photography
---
Eighteen Northland Pioneer College students in career and technical education fields won medals during the SkillsUSA Arizona state competition April 12-13, 2019, in Phoenix. Seven students won gold medals and will advance to national championship competition in Louisville, Ky., June 24-28.
Floy Carr, a Winslow student pursuing an associate of applied science (AAS) degree at NPC, qualified for nationals in two post-secondary events, cosmetology and job interview.
Kylie Peck, of Taylor, is returning to nationals to defend her title in post-secondary employment application process. Last year she became only the second student in NPC history to win a national SkillsUSA championship. Peck has already earned an AAS in welding and is now pursuing the same degree in cosmetology.
Matt Meade, an AAS student from Show Low, will compete at nationals for the second consecutive year after winning state in post-secondary automotive technology.
State champion Alice Wilhelm of Vernon advances to national competition in fire science.
Two NPC students from Saint Johns pursuing the AAS in welding have also earned berths in the upcoming national competition, both in welding sculpture. They are Westin Lee, a high school student (Northern Arizona Vocational Institute of Technology, or NAVIT), and post-secondary student Jordan Lunsford.
NPC students earning state runner-up honors and silver medals include: Peck, in cosmetology; Trace Thomas, a Keams Canyon student pursuing an AAS, in welding; NAVIT student James Wilkinson, of Holbrook, in carpentry; DeAnna Penrod, of Joseph City, in post-secondary job interview; the post-secondary construction team of Eddie Sanchez, Monte Stover and Lailani Thompson, all of Whiteriver; and the NAVIT welding fabrication team of Samantha Weller, Adorno Quintin and Raymond Rhodes, all of St. Johns.
Two Show Low students took third place and won bronze medals in state welding competition: Kathryn Stock (NAVIT) and Craig DeWitt, in the post-secondary division. Jasmine Ramirez, a Holbrook student aiming for the AAS in cosmetology, also came home with a bronze medal, in post-secondary job interview.
Frank Pinnell, welding program faculty member and coordinator of SkillsUSA activities for NPC, said the outstanding results at state reflect the dedication and hard work of career and technical education students and their instructors. "Our faculty poured themselves into the preparation of their students, and our students accounted for themselves very well in Phoenix. They demonstrated that they will leave NPC ready to perform their skills exceedingly well and attract quality employment offers leading to successful careers."
SkillsUSA is a partnership of students, teachers and industry working together to ensure America has a skilled workforce. SkillsUSA helps students excel by providing educational programs, events and competitions that support career and technical education in the nation's classrooms.
Northland Pioneer College serves the residents of Navajo and Apache counties through four regional campuses and five centers with a variety of educational options for academic, career and technical and personal enrichment. NPC supports each student's educational goals through affordable tuition, small class sizes and caring, professional instructors. For more information about NPC programs and services, visit www.npc.edu or call (800) 266-7845.
– – – N P C — Expanding Minds • Transforming Lives – – –