SNOWFLAKE – Tickets are now available for Northland Pioneer College's Performing Arts Department's four April performances of Kate Hamill's adaptation of Jane Austen's Sense and Sensibility at NPC's Performing Arts Center (PAC) on the Snowflake Campus, 1611 S. Main St.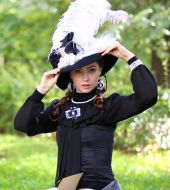 Performances will be at 7 p.m. on Thursday, April 25; Friday, April 26; and Saturday, April 27; with an additional Saturday matinee performance at 2 p.m. Tickets are $7 in advance, or $9 on the day of the show, with a $1 discount for senior citizens (60+) and NPC students and staff. Call the Box Office, 536-6250 or reserve online.
Actor/playwright Kate Hamill provides a fresh female voice in her adaptation of Austen's novel and originated the role of Marianne in award-winning Off-Broadway performances of her play. Hamill was one of the top 20 most-produced playwrights in the country this season. NPC Performing Arts Chairman Dr. Michael Solomonson will be directing the performances. Lighting design is by Patrick Day, the PAC facilities manager.
Set in gossipy late 18th-century England, the play follows the fortunes, and misfortunes, of the Dashwood sisters – sensible Elinor, portrayed by Mary Szabo, and hypersensitive Marianne, played by Kathleen "K.J." Palmer  – after their father's sudden death leaves them financially destitute and socially vulnerable. "The play is full of humor, emotional depth and bold theatricality," adds Solomonson. "Sense and Sensibility examines our reactions, both reasonable and ridiculous, to societal pressures. When reputation is everything, how do you follow your heart?"
Other cast members include KayBree Raisor as Margaret; Charlotte Skousen as Mrs. Dashwood; Austin Stanislawski as John Dashwood; Meagan Moldrem as Fanny (Ferrars) Dashwood; and Jackson Kittrell as Edward Ferrars.
Kobe Teller portrays Colonel Brandon; Garrett Moldrem is John Willoughby; Thomas Szabo is Sir John Middleton; Anna Smith plays Mrs. Jennings; Kayla Race plays multiple roles, as Lady Middleton, Mrs. Ferrars and Gossip #5.
Lindsey Owen and Heather Gardner portray Lucy and Anne Steele, respectively. Joshua Kishbaugh is in the roles of Robert Ferrars, the dead Mr. Dashwood and the doctor. Emmalee Mackay, Cruz Denetso, Mikayla Pitterle and Mitchell Armer are the other Gossips. Darion Douglas plays Thomas and a servant.
Cassie Spaulding-McDowell is the Stage Manager, with Betty Guo assisting Patrick Day as the lighting board operator.
Performances are produced through a licensing agreement with Dramatists Play Service, Inc.
Performance Questions   Please contact Dr. Michael Solomonson at (928) 536-6217.  |  email
– – – N P C — Expanding Minds • Transforming Lives – – –