Community members and college employees will have an opportunity to meet-and-greet the four finalists to become Northland Pioneer College's next Vice President for Learning and Student Services (VPLSS) the week of March 18 - 22, during two-day, on-site visits.
The four finalists are:
Dr. Daniel Koopman
Dr. Jeffrey Thies – withdrew application March 12.
Dr. Jessica Clark
Dr. Mark Van Den Hende
The Vice President for Learning and Student Services is responsible for the oversight of all instructional areas, ensuring quality delivery of learning opportunities to all students, whether in a classroom or via distance learning technology. All student services of the college also fall under the oversight of the VPLSS, providing student-centered processes from admission through graduation.
The VPLSS position became vacant when Mark Vest became NPC President in July 2018. Arts and Sciences Dean Rickey Jackson has been filling the position on an interim basis until a national search could be conducted. These four finalists were selected from those who applied for the position.
Vice President for Learning and Student Services Meet-n-Greet Schedule
 
Show Low Campus
Ponderosa Center Symposium
11:00 a.m. – Noon
Holbrook Campus
Tiponi Community Center
4:00 – 5:00 p.m.
Dr. Daniel Koopman
Monday, March 18
Monday, March 18
Dr. Jessica Clark
Wednesday, March 20
Wednesday, March 20
Dr. Mark Van Den Hende
Thursday, March 21
Thursday, March 21
Dr. Jessica Clark
Dr. Jessica (Jess) Clark is presently serving Western Wyoming Community College (Western) as the Social Sciences & Education Division Chair. Clark has a BA in History: Broad-Area Secondary Education from Central Washington University (CWU), a MA in Modern European History from North Dakota State University (NDSU), and a PhD in Rural History from NDSU. This May, she will also complete a Post-Doctoral Certificate in Higher Education Leadership, with an emphasis in Community Colleges. She began her career in the academy as an Adjunct Faculty in the Social and Behavioral Sciences Division at North Dakota State College of Science in 2007.
In 2010, Clark completed her doctoral studies at NDSU, and moved to Western, since they had two positions: one for her husband (who had also recently completed his doctoral studies) and one for herself (who had experience teaching online). Her first position at Western was as an Instructional Designer in Distance Education. As the Instructional Designer, Clark worked with faculty in best practices for online (e-learning) delivery. In addition, she was permitted the opportunity to teach a couple classes for the History Department. This provided her the opportunity to grow the demand and interest for history offerings at Western, and in 2012 she secured herself a full-time faculty position as an Assistant Professor of History and Political Science, teaching 28 to 32 credits a year, while coordinating the History Department (which consisted of 6-8 part-time faculty members, adjunct and concurrent instructors).
From here, Clark was promoted to Associate Professor of History in 2016, and then to the non-rotating, administrative position – Division Chair of Social Sciences and Education in 2017. As the Division Chair, she is responsible for 9 full-time faculty and 40 plus adjunct/concurrent faculty in Anthropology, Criminal Justice, Education (various levels), Emergency Management, History, Political Science, Psychology, Social Science, Social Work, Sociology. She also serves as the Honors Program Coordinator and the Outward Mindset Facilitator (an Arbinger program that focuses on training employees to see people as people, to consider the needs, wants, and objectives of others).
Clark's strengths, according to the Clifton Strengths Finder, are 1) learner (continuous improvement), 2) achiever (hard working), 3) focus (task-oriented), 4) responsibility (honesty and loyalty), and 5) analytical (critical thinker). Clifton Strengths Finder classifies these strengths as strategic thinker and executer. She likes to plan and do. In her current role, for instance, Clark has worked extensively with faculty in creating and redesigning Guided Pathways, regional colleges and universities on establishing 2+2 articulation agreements, and K-12 schools on building partnerships and creating pathways. She has experience with the National Alliance for Concurrent Enrollment Partnerships (NACEP) and the Higher Learning Commission (HLC), as well as with the Alliance for Innovation and Transformation (AfIT). This past year, Clark was also fortunate enough to assist her current college president at the Joint Education Committee meeting and the State Legislative Session – gaining her legislative experience as well. Most recently, she has had two papers accepted at the annual Western Social Science Association conference and plans to submit them for publication review with journals in higher education leadership. One of these papers examines the role of technology and innovation in higher education relevancy, and the other examines the role of gender diversity in higher education leadership. Clark is committed to the academy and strives every day to provide others with opportunities – opportunities to learn and grow.
Dr. Daniel Koopman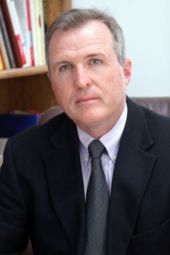 Dr. Daniel Koopman has 30+ years of educational experience as a classroom instructor and administrator, with the last 14 years serving at the college level. He earned a Bachelor's degree in Religion with a minor in Physical Education and a teaching certificate from Walla Walla University as a first generation college student.
As an adult student, Daniel went on to earn his Master's and Education Specialist degrees in Educational Administration from the University of Idaho. He completed his Doctoral degree in Adult and Higher Education Administration from the University of South Dakota. His dissertation entitled, "Transformative Learning Experiences of Mentors and Ex-Offenders in an Oregon Faith-Based Community Corrections Program" was the first qualitative study on recidivism prevention programs in Oregon's Department of Corrections. Daniel continues to teach some college level courses while exploring the topics of resilience, grit, and restorative justice in the context of adult learning.
Daniel spent his early career as a classroom teacher in Washington and later as a k12 building administrator and summer school coordinator for a variety of alternative school programs in Idaho. In 2004, he began service as a teacher education faculty and program director at Oglala Lakota College in South Dakota. An opportunity to serve as a visiting professor at Chadron State College in 2008 afforded him the ability to complete his doctoral coursework from the University of South Dakota.
Returning to his home state of Oregon in 2010, Daniel joined the administrative team at Blue Mountain Community College leading a variety of programs including correctional education, numerous career and technical programs, adult basic education, and several large private and federal grants in support of student persistence and success. In 2015, he was appointed Center Director and later named Regional Director of two counties (Baker and Union) that comprise a large geographical area of the Blue Mountain Community College service district.
Dr. Koopman is passionate about life-long learning and inspirational leadership. His greatest reward is seeing students and staff succeed in achieving their hopes and dreams. He also enjoys community involvement in a variety of service clubs and agencies. Daniel has 4 adult children. Mindy, a realtor in Sarasota, FL. Andrew, a Sergent, serving full-time in the Idaho National Guard. Molly, a professional musician sailing somewhere warm with Carnival Cruise Lines. Finally Austin, a copy editor in Claremont, CA. Daniel's hobbies include jeeping, a little hunting and fishing, and ultra-light back-packing.
Dr. Mark Van Den Hende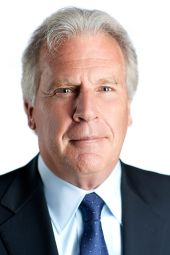 Dr. Mark Van Den Hende is a Senior Executive and community college leader with more than 20 years of success spanning teaching and learning at every level. Dr. Van Den Hende has extensive experience in collaborative leadership for educational organizations with accreditation, strategic partnerships, faculty and staff support, program development, and international relations.
Dr. Van Den Hende has held Vice President positions abroad at Bermuda College (a British Overseas Territory) and in the USA at South Georgia State College as well as Dean level positions in the Northwest at South Puget Sound Community College, Cascadia College, and Columbia Basin College. Dr. Van Den Hende has developed high school programs at three colleges and has taught teacher training courses at the college, university, and graduate levels.
Academically, Dr. Van Den Hende began his career at Ventura College earning an A.S. in Journalism ultimately leading to a Ph.D. in Higher Education Leadership from Washington State University, an M.Ed. in Student Personnel Administration in Higher Education, and a B.A. in Secondary Education/US History from Western Washington University.