Master John Accardo will be providing basic instruction in personal self-defense in noncredit classes this spring at Northland Pioneer College locations in Show Low, Springerville/Eagar, Holbrook, and Snowflake.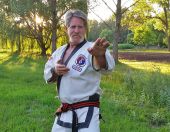 You don't have to be big or strong to use the techniques Master Accardo will share in the four-week Self-Defense In-Depth class (reference HPE 099x) on Fridays, February 1 to 22, from 2 to 4 p.m., at the Show Low Campus, 1001 W. Deuce of Clubs. "You just need to know where to hit to put someone down," he explains. The cost of the In-Depth classes, open to ages 14 and up, is $50.
He will be offering one-day basic Self-Defense classes at NPC's Springerville/Eagar Center, 940 E. Maricopa in Springerville, on Friday, March 22; at the Holbrook Campus, 2251 E. Navajo Blvd., on Friday, April 12; and at the Snowflake/Taylor Campus on Friday, May 3. All classes meet from 2 to 4 p.m. and cost $20. These classes are also for ages 14 and up.
Master John Accardo is a 6th Degree black belt with over 43 years of experience in martial arts. Master Accardo was voted instructor of the year in 1990, and is still a top instructor today, not just teaching his own class but teaching black belts and other masters instructors. Master Accardo was also two-time state champ and 3rd twice in the world competition for fighting. In the last 30 years, he has been working on and perfecting the simplest self-defense from punching and kicking to knife defense, very simple to use and very painful for the attacker.
Sign Up
Register for any of the
In-Depth
or
Basic Self-Defense
classes at least four days before the class starts to ensure it is not canceled due to insufficient enrollment.
You can now register and pay for noncredit classes online. Need help registering? NPC campus offices have computers available to use for registering for classes.
NPC's Community and Corporate Learning Department provides personal interest and specialized corporate training throughout NPC's service area. For more information about noncredit, personal interest classes, contact Katharine Olsen, community learning specialist, (800) 266-7845, ext. 6244, or email. For corporate training, contact Royce Kincanon, corporate learning coordinator, (800) 266-7845, ext. 6239, or email.
– – – N P C — Expanding Minds • Transforming Lives – – –