By Everett Robinson
Media Relations Coordinator
A publicly elected five-member District Governing Board sets college policies and oversees the general operation of Northland Pioneer College. The board hires the college president, who, in coordination with an executive team of vice presidents and directors, implements board policies and carries out day-to-day operations at the college.
When we asked two board members, James Matteson and Derrick Leslie, why they volunteer their time to serve, both stressed the importance of education as the key to a better future.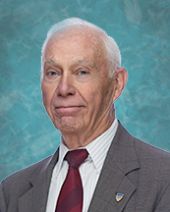 Matteson, who represents District 4 – the communities of Show Low, Taylor and Snowflake, is a "retired" civil engineer. "I am a strong believer in 'giving back' and try to help others as I was helped," he explains. "I cannot count the number of people who helped me get through school, and then in my professional life, but can see them, in my mind's eye, and regularly mutter a prayer of thanks for all they did to help me."
He continues, "A good education is the keystone to a successful and meaningful life, and I believe it is my responsibility to others to help them attain it. That's why I try to assist others through gaining an education at NPC and NAU."
The last of seven kids, Matteson was born in Conrad, Montana, and spend his pre-teen years on the family's ranch. "Dad had little formal education, but was self-taught. Mom was a Hugh school teacher." The family relocated to Lewiston, Idaho, in 1947. Matteson met and married his wife Karen there in 1957.
After a six-year enlistment with the Army's 883rd Amphibious Engineering Battalion, Staff Sgt. Matteson returned to school, graduating from the University of Washington with a Bachelor of Science (BS) in Civil Engineering. A fellowship helped him complete his master's degree, specializing in transportation engineering. He also served as a Civil Engineering assistant professor at UW.
In addition to being an engineering consultant, Matteson served as city engineer and director of public works at two Idaho cities before moving to Phoenix in 1983 to become Assistant City Engineer. He was promoted to be head of the new Department of Transportation the following year and was responsible for a number of major projects in the Valley, including the Squaw Peak Parkway, now known as SR 51.
He and Karen retired and moved to the White Mountains in 2001. He was coaxed out of "retirement" to serve as Show Low's City Engineer. He also consulted on several projects for the Town of Pinetop-Lakeside before becoming Navajo County's Engineer and Director of Public Works.
"I 'retired' again in 2008, but am still licensed (as a civil engineer) in five western states, and still consult a little." Matteson is vice chair of Northern Arizona University's College of Engineering Industrial Advisory Board and, until recently, was active with several professional organizations including the American Public Works Association (president of two state chapters and served on the national board of directors for six years), American Association of Civil Engineers (fellow and life member), and the Institute of Transportation Engineers (fellow and life member). He remains active with Tau Beta Pi, the Engineering Honorary, and serves on two committees of the Arizona State Board of Technical Registration.
He was appointed to the NPC Governing Board in 2012 and elected to a full six-year term in 2014. He also volunteers at NPC Friends and Family's Pedal the Petrified and annual golf tournament. "I'm still working on my golf game, but seem to be going backwards," he adds with his usual broad smile.
"My family and I have been truly blessed, and have had opportunities that few have. I don't know why," concludes Matteson.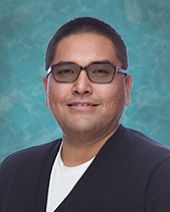 Leslie, who represents District 5 – Pinetop-Lakeside and the White Mountain Apache tribal communities, is the Higher Education Coordinator for the tribe, a position he has held for the last two-and-a-half years. "I deal with everything in promoting higher education for my people," notes the Whiteriver native. He especially focuses on the financial aid process, and has been a valuable resource in helping to restructure NPC's financial aid processing.
"I'm a firm believer that higher education is one key to a better future. Being a policy enthusiast, I know it is through policies that most change happens. The NPC board drives policy, so I'm able to be a part of meaningful change for our community and the students we serve," says Leslie.
"By enrolling in classes, students are preparing for a better future. This in the short and long term positively impacts my tribal community, as well as the greater community we are all a part of," he explains.
Leslie was born and raised in Whiteriver by a single parent mom. He lived in Salem, Oregon, where he earned his associate degree from Chemeketa Community College. He would later enroll at Grand Canyon University, where he completed his Bachelor of Science (BS) degree in psychology, and also earned a graduate certificate in public health from John Hopkins University in Baltimore, Maryland.
"I find no greater honor than serving my people, which inspired me to work for my Tribe," continues Leslie. He serves on the First Things First Regional Council for WMAT; co-chairs the State of Arizona's Indian Education Advisory Council for the Department of Education; chairs the board of the Tsee Tanodoz Community Alliance Corporation, a nonprofit aimed at raising the social and economic status of the communities of East Fork, Seven Mile and Turkey; and serves on the Institutional Review Board of Summit Regional Medical Center.
Leslie is an avid fan of anything Harry Potter. He also enjoys traveling, reading, promoting Indian Education, watching movies and walking and hiking in our beautiful White Mountains.