By Everett Robinson
Media Relations Coordinator
She is known throughout Arizona's Emergency Medical Services (EMS) as The Legend. Her students, who easily include over 50 percent of the state's EMS first responders, call her LBW, or a very respectful Ma'am.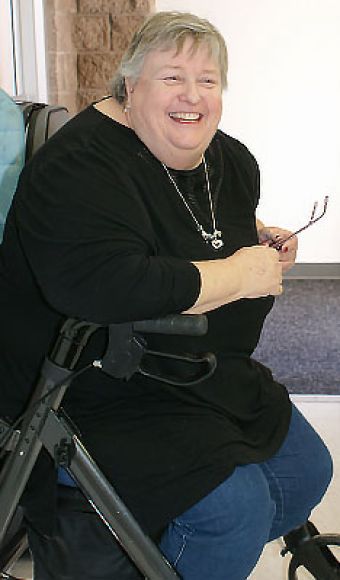 Lynn Browne-Wagner has dedicated her life to helping others, encouraging them to learn more about their health and bodies. "I take the difficult concepts and medical terms and explain them in words everyone can understand," she says in her bubbly, slightly Canadian way. That's what makes her a sought-after educator and lecturer on health and EMS throughout the state. Northland Pioneer College, and the White Mountains, are fortunate she has chosen to be a part of our community.
"I always had plans to be a doctor," Lynn relates. But life took her on a different course. Her parents didn't finish high school. But her dad was an avid reader. "Every week he would open up the big dictionary and pick out a word for me to memorize that week." That instilled in her a love of reading and learning new things.
After graduating from high school at 17, she enrolled in nursing school. She soon backed out of school, telling her mom she "wasn't ready" – but a job at Sears that paid $1.10 an hour may have also been a factor. Mom, however, forced the issue by enrolling Lynn in medical assistant school the coming January. That would lead back to nursing school and, upon graduation, to her first job working at the new Boswell Memorial Hospital in Sun City.
A mentor at Boswell encouraged her to keep challenging herself, something that stuck with her through rotations in Medical-Surgical, Surgical ICU, Emergency Department and to this day. After Boswell, Lynn became a Flight Nurse with Samaritan Air Evac and later their Education Coordinator.
The average workaholic is a slacker compared to LBW. She would do shifts at the hospital, then with AirEvac, go home to sleep 4 hours before starting the cycle over again. That is until a hip injury in 1986 opened a new chapter in her life as a prehospital educator.
Lynn would create the first air ambulance paramedic training program in Arizona, providing the training to out-of-state flight ambulance programs as well. Her expertise in public speaking and education attracted the attention of the director of Banner Good Samaritan's Poison and Drug Information Center, that provides toxicology information statewide to healthcare providers and phone patient care. Lynn became a poison information specialist in 1990 and still covers holiday and spring break shifts at the center.
Her double shifts as an Emergency Room Charge Nurse and part-time paramedic educator for Maricopa Medical Center continued until 1998, when Maricopa decided to shut down the paramedic education program. So, Lynn set up her own business, offering Advanced Cardiac Life Support (ALCS), Pediatric Advanced Life Support (PALS), Cardio Pulmonary Resuscitation (CPR) and paramedic education and refresher courses statewide.
It was through her business enterprise that Lynn, and her sister, Bonnie Pasterino, became involved with NPC's paramedicine (EMS) program. Lynn became a regular lecturer as an adjunct faculty member from 2003 to 2006. Bonnie, who was a partner in Lynn's enterprise, became the part-time EMS program clerk, working 3 days in Show Low and 4 for the business in the Valley. When EMS Program Coordinator Donna Fargas accepted another position, Lynn applied and was chosen as her replacement.
Teaching for NPC, Lynn continued to offer training throughout the state. Her workaholic ethic continued until 2013, when she finally took the advice of her cardiologist and shut down the Valley business.
"I slowed down, relaxed, felt better and discovered my doctors were right. Many of my health issues were stress-related," admits the educator who wants people to better understand their body. Last spring pneumonia took her out of the classroom for several months, so she resigned from her EMS program coordinator's position, but remains as an adjunct instructor in the program and allied health areas.
This spring, she will be teaching an Anatomy & Physiology (A&P) class of Northern Arizona Vocational Institute of Technology (NAVIT) students wanting to pursue careers in healthcare. "I've always taught adults and demanded respect in the classroom. This is going to be very interesting," Lynn adds with a bit of worry on her brow.
Lynn's contributions to Arizona's Emergency Medical Services have drawn numerous awards, including the 2015 MURSE Lifetime Achievement Award for 30+ years of providing EMS education. MURSE is a combination of Medic and Nurse, appropriate for LBW since she was instrumental in creating the Paramedic to Registered Nurse program at NPC.
Lynn served on the Show Low Fire District Board from 2009 through 2014, when the district merged into the newly-created Timber Mesa Fire & Medical District, where she was just re-elected. "Most calls are medically-related and I provide an EMS perspective on the board."
Lynn serves on the Northern Arizona EMS Steering Committee, EMS for Children Partners and Advocates Group, and the Pediatric Prepared Emergency Care/Injury Prevention Committee. She has been an assigned mentor for new EMS program directors through the Arizona Department of Health Services Bureau of Emergency Services.
She is called to lecture at numerous conferences, has served as a technical editor/reviewer of almost every currently-published EMS textbook, and has been asked three times to write the exam questions for the National Registry of Emergency Medical Technicians.
So, what does this workaholic plan to do when she finally "retires" – possibly in 2020? "I'm planning to spend three months eating BonBons and watching TV in my PJs." Then she wants to get involved with encouraging children to read, or perhaps a Grandparents program – providing hugs and interactions for school kids who do not have a grandparent. You might also find her in the neonatal nursery, providing the much-needed human bonding for preemie babies and a break for the parents.
LBW has dedicated her life to helping others, and like many other NPC employees, plays an important role in our White Mountain communities.